Meet amazing people,
make lifelong friends.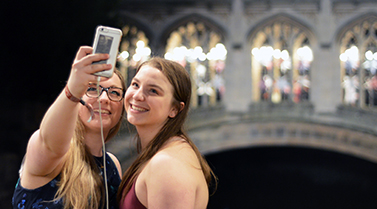 Although studying is a big part of life at Cambridge, what you do in your spare time is just as important. At St John's, students are at the heart of a multicultural community where there is always plenty going on.
The College has more than 40 societies and sports clubs, all of which are run by the students themselves. If you can't find something that suits you, we'll help you to set another one up. It's a great way to meet amazing people and make lifelong friends.
Clubs and societies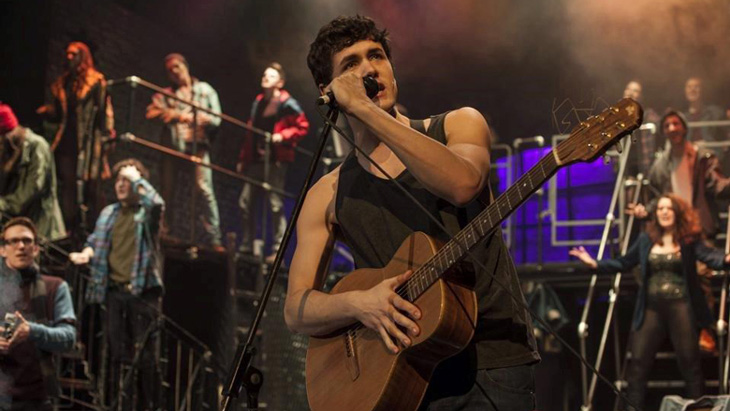 St John's has societies on subjects as diverse as art, philanthropy and beekeeping. If you want to delve further into your own academic specialism, or find out more about a different one, we also have a wide range of academic societies which run events and bring in top speakers.
Both the Fisher Building and the Old Divinity School offer fantastic venue spaces which have enabled the College to become a major hub in Cambridge for drama, music and the arts. We are a frequent host venue for bigger events, such as the Cambridge Science Festival, the Cambridge Shakespeare Festival, and the Cambridge Festival of Ideas.

Thinking of setting up a student society? Read our FAQs
Other queries regarding student societies should be directed to the Administrator for the Associated Societies.
Click on any of the links below to find out more about the different societies at St John's
Academic societies
Sport at St John's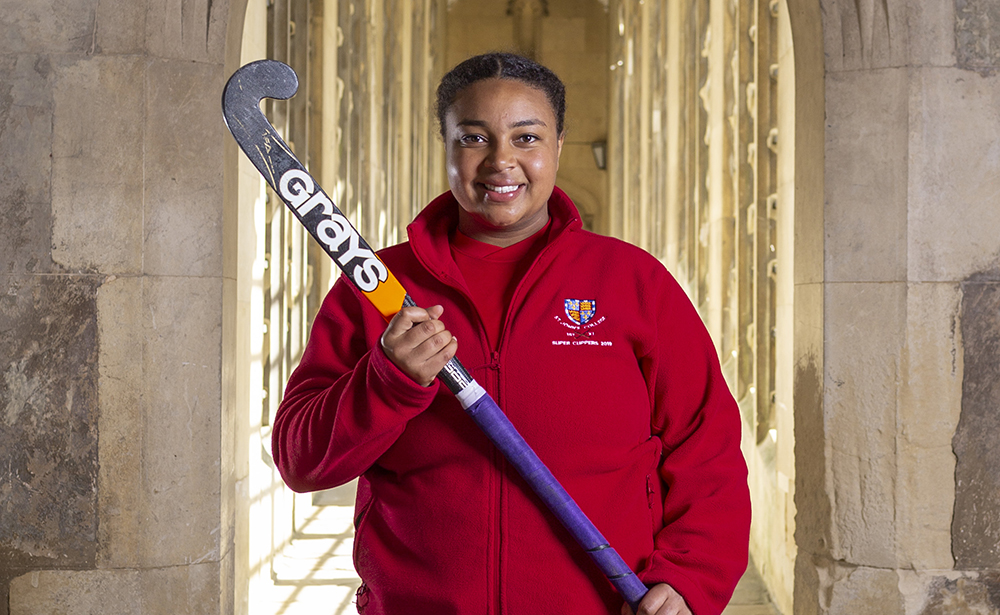 As a College that has produced gold medal-winning Olympians, English cricket captains and international rugby players, we've got a big sporting history. Our sports teams regularly compete in the top ranks of inter-collegiate contests and are the pride of the College.
If you're not exactly an Olympic athlete, however, don't worry. There are enough people here for everyone to get involved in sport, and we strongly believe that you should try new things out and play for fun. Many of our rowers in the Lady Margaret Boat Club, for example, had never touched an oar before they arrived at Cambridge.
The College is unusual for having its extensive sports grounds just across the road, where you'll find space for football, rugby, cricket, hockey and lacrosse. There are also tennis, badminton and squash courts.
If you fancy trying your hand at something else, we have teams playing ultimate Frisbee, mixed volleyball, basketball, netball, hockey, athletics and plenty more.
Sports Clubs
Find out more about our sports clubs below. For current members of St John's, please visit the JCR website for more information. Visit the Hard Courts Availability and Booking Page here (logged in users only).
Athletics
Badminton
Basketball (Men's)
Cricket
Dancesport Club
Football (Men's)
Football (Women's)
Hockey (The Mogs) (Men's)
Hockey (Women's)
Lacrosse (Mixed)
Netball (Women's)
Netball (Mixed)
Rugby (Men's)
Rugby (Women's)
Sailing
Squash (Men's)
Swimming
Tennis (Men's)
Tennis (Women's)
Ultimate Frisbee
Volleyball (Mixed)
Water Polo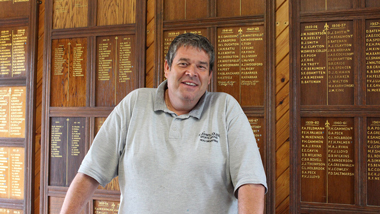 Keith Ellis: Head Groundsman
"Our ethos is to let people play sport regardless of their ability, whenever we can. That's been key to making John's one of the best sporting Colleges in Cambridge."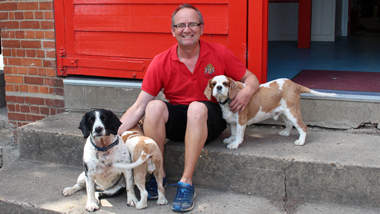 Lance Badman: Boat House Manager
"We've got fantastic facilities including some of the best training facilities on the Cam, which makes us one of the busiest boathouses on the river."
Meet Dominic: Chemical Engineering student and University swimmer
Music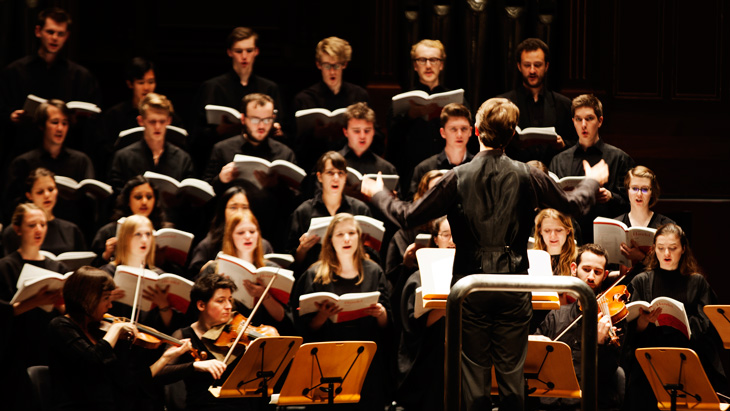 St John's has a reputation for being a big musical College, and there are opportunities to get involved in music whatever your taste.
Our College Choir is one of the best collegiate choirs in the world, with an audience of millions following its concerts, tours and broadcasts. We have our own record label, "St John's Cambridge", which provides an outlet for music by the choir, as well as exciting new talent from the student community.
St John's Voices, the College's mixed voice choir, was formed in 2013 to complement the work of our sister choir, and has quickly developed a remarkable reputation for its emotionally-charged, musically committed performances. Weekly evensongs in the College Chapel complement concerts, tours and recordings to offer an inspiring and immersive experience for choir and listener alike.
Musicians of all standards and tastes may want to get involved with the Music Society, which runs an informal College orchestra, a Chamber music scheme for players of all standards, weekly informal lunchtime recitals, and a full and varied programme of other recitals and concerts held in the Chapel, New Music Room, Main Lecture Theatre and the Lightfoot Room throughout each term.
Aside from the above, the College also runs an all-female close harmony singing group called Aquila and the St John's College Jazz Band which is a 20-piece big band playing a range of classic, original, and modern jazz tunes. Both have been going for five years strong, performing at May Balls, College functions, as well as hosting their own concerts. 
There are 4 small practice rooms, a band room and one larger rehearsal space which can be booked by students. Should you wish to be added to the list of approved bookers please get in touch with Sophie Kirk, the College Music Administrator, who can add you to the list.
May Ball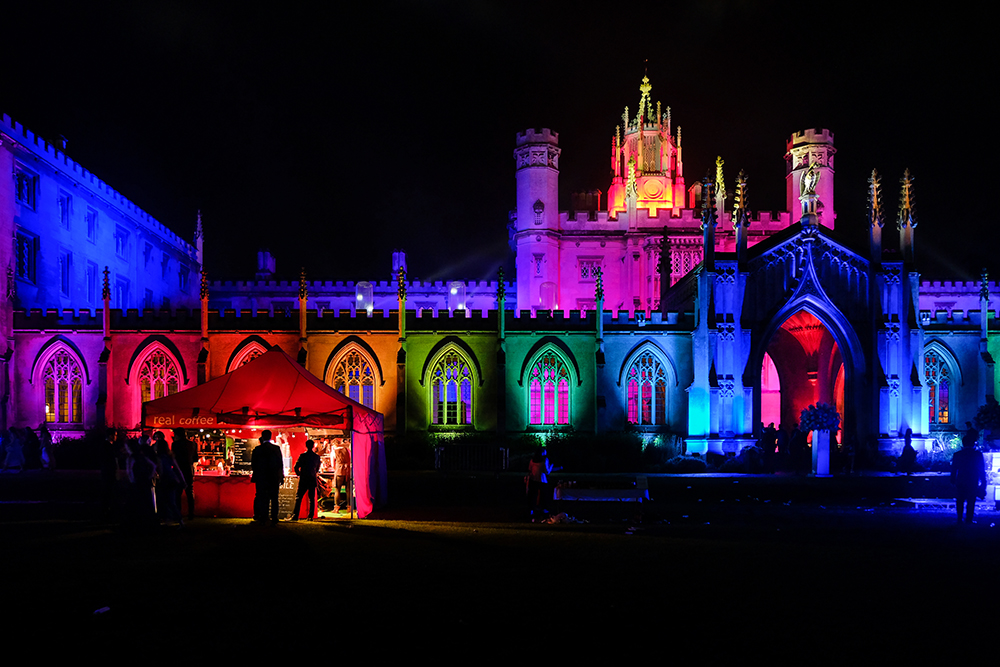 May Balls are a great Cambridge tradition of spectacular, all-night parties that mark the end of exams and the academic year. Even by Cambridge standards, however, the St John's ball is pretty special. Legend has it that it was once described by Time Magazine as the seventh best party in the world – not bad when you consider all those Oscars aftershows…
For one night only, the Ball sees College transformed into a massive party venue. Previous events have hosted the likes of Basement Jaxx, Katy B, Nina Conti, Rudimental, Bombay Bicycle Club and Ellie Goulding. Tickets are in high demand, and our students and members get priority access.