A beautiful riverside setting in the very centre of Cambridge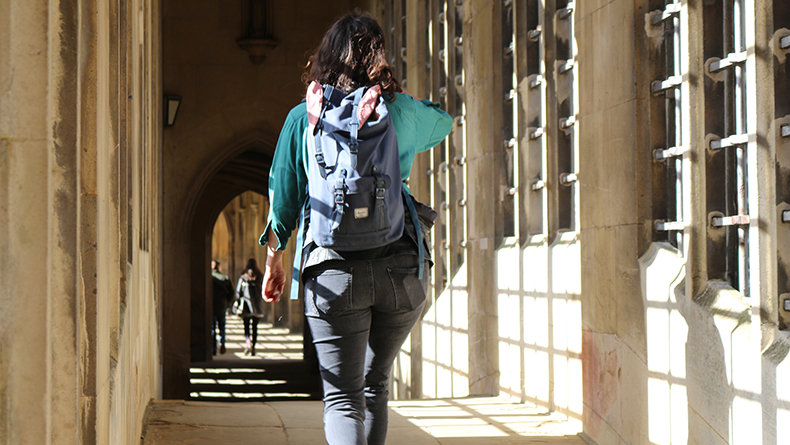 With its breath-taking architecture and tranquil gardens, all set on the banks of the River Cam, St John's is a fantastic setting in which to spend your University years. It is also right in the middle of Cambridge. Most University facilities are virtually on the doorstep, as are the comforts and convenience of city life.
We provide guaranteed undergraduate accommodation throughout your course, while our rooms, food and facilities are reckoned to be some of the best in Cambridge.
The best of both worlds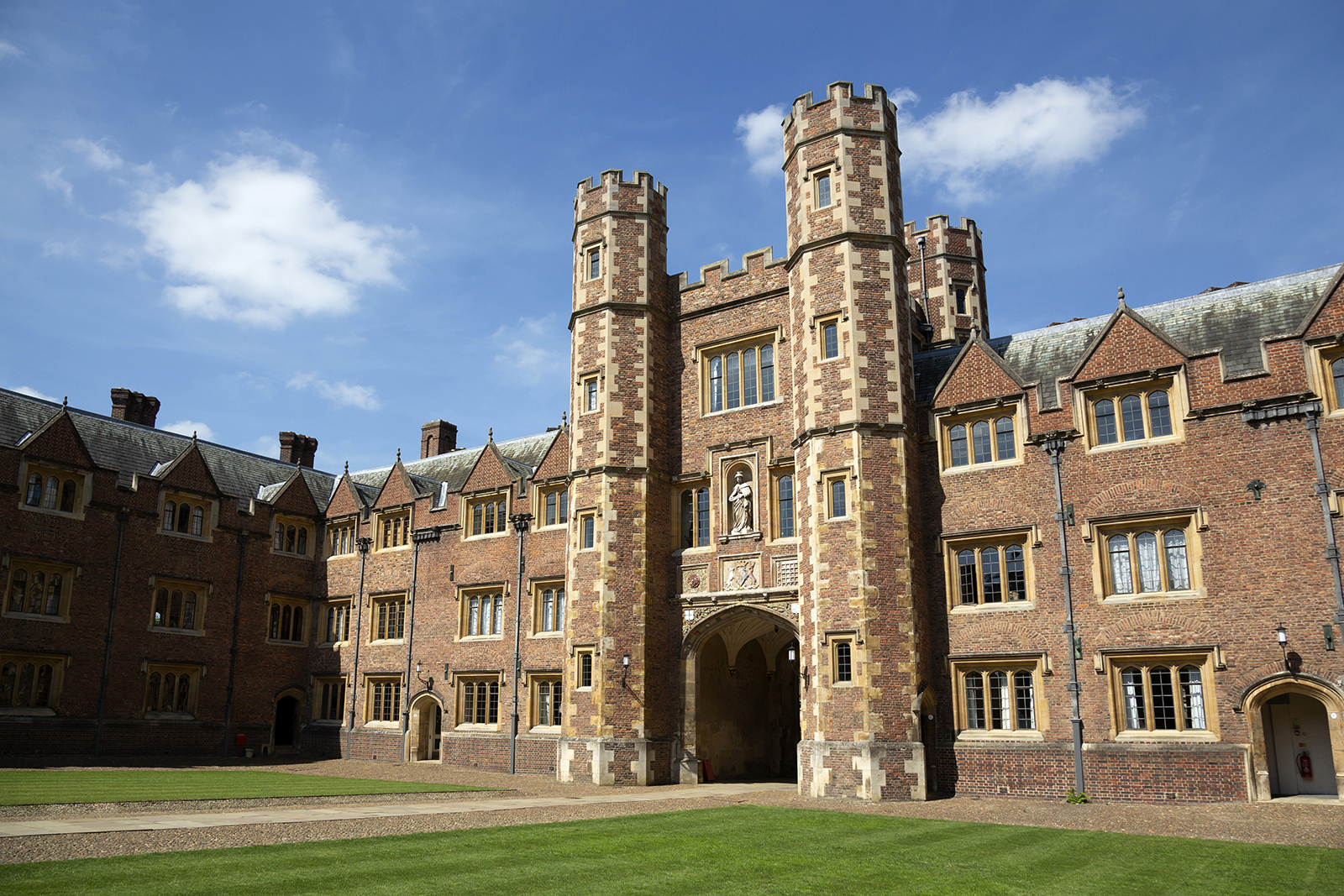 Once you step through the Great Gate, the College is a self-contained community made up of enclosed squares known as Courts. The oldest of these date back to the 16th century.
From here, the College stretches down to and over the River Cam, via its famous Bridge of Sighs, and across riverside lawns known as "The Backs". It's nearly half a mile to the back gate, beyond which lie a further 28 acres of playing fields!
This beautiful setting makes for one of the most serene environments in Cambridge. Yet St John's is also in the heart of the city, so you'll never be more than a short walk or cycle from numerous pubs, clubs, restaurants, cafes, theatres, cinemas, bars and shops.
With students accounting for about a fifth of the local population, there is always plenty going on.
Your room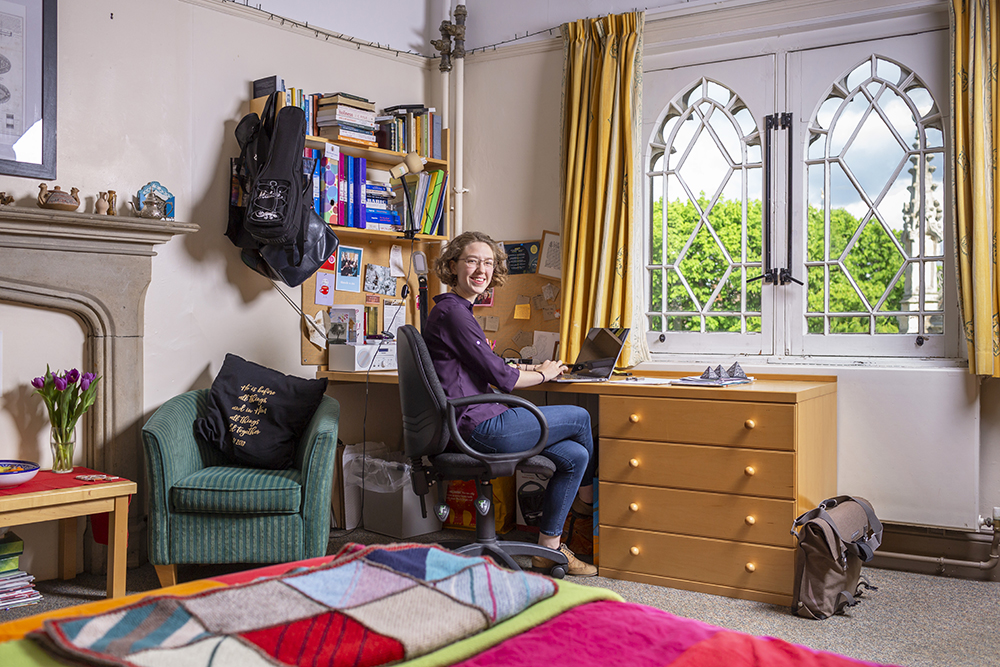 The College provides undergraduate students with accommodation throughout their time at Cambridge, and your room is at your disposal from October until June, which is handy if you want to leave your stuff here during the vacations!
Information on postgraduate accommodation
There are more than 500 rooms on our main site, occupied by Fellows and undergraduate students. If you're really lucky, you might find yourself living somewhere previously occupied by one of our famous alumni, such as William Wordsworth, Douglas Adams or Paul Dirac.
Many undergraduate first years, or freshers, start off living together in any of the Cripps Building, Chapel Court or North Court. In Cripps, typically, you will find yourself in a single room, sharing a bathroom and kitchen with up to three other people. For North and Chapel Court rooms, the sets consist of two student bedrooms, one being a smaller bedroom and one a larger bedroom (with the larger room being priced at a higher rent), sharing a bathroom and small kitchen with up to three other people. 
Later on, you can opt for a single room, share with friends, or live with a group in one of the nearby houses that the College owns. All rooms have high-speed internet connections and access to a kitchen. We are also committed to ensuring that disabled students have all of the accommodation support they need.
Food and Drink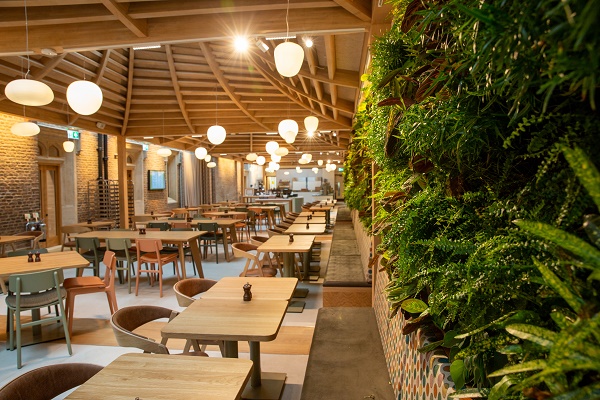 If you don't fancy cooking for yourself, there are plenty of other options. The College has a newly refurbished self-service restaurant, called the Buttery, and a new Cafe which provides meals, snacks, sandwiches at subsidised prices and caters for most dietary needs. We pride ourselves on our selection of free-range, organic and locally-sourced products.
For something really special, students can enjoy dinner in Hall with friends or guests. This is one of the great Cambridge traditions, and involves a fantastic, three-course plated meal for which gowns are worn. There are 150 tickets available every evening, except Mondays and Saturday, during term-time, and students are encouraged to come along.
The College Bar is the social hub of the College, where students, Fellows and staff can relax, mingle and discuss. The College Bar serves locally sourced artisan beers and lagers, ciders, soft drinks and classic bar snacks. There are tables with power-points for laptops
A wide programme of events take place throughout term, including weekly quiz nights, music evenings, beer and cheese tastings, and games evenings. Look out for details on the College Bar Facebook page and also at the St Johns Instagram page
College Meals
The Buttery Dining Room is open everyday during the academic year (apart from one week at Christmas), offering a set menu for both lunch and dinner, including a daily vegan and vegetarian option. The self-service, restaurant provides a varied selection of meals and snacks at subsidised prices, ranging from take-away baked potatoes, freshly baked pizza and sandwiches, to a choice of three main meals with vegetables along with a varied selection of homemade desserts. We also offer a selection of free-range, Fair Trade and organic products, as well as locally-sourced items.
Wi-fi is available throughout
U-pay Account
U-pay is the main payment method within the College.  You will need to set up a U-pay account in order to use the Buttery Dining Room (BDR) and College bar.  U-pay is also the only way to purchase tickets for Formal Hall and any other events which are happening in College
Hall
Dinner in Hall (also known as Formal Hall), at which gowns are worn and Grace is read, is a traditional part of College life, and it is hoped that Junior and Graduate members of the College will dine regularly. Junior members can of course invite personal guests to dine in Hall with them. Members wishing to bring in extra guests (more than 2 guests) into Hall must first seek permission from the Dean. Rules and conduct for dining in Hall can be found in the Student Handbook.
College Bar
The College Bar offers a wide range of alcoholic and non-alcoholic beverages, along with coffees, teas and toasted sandwiches and other lite bites. We also sell hand-picked College wines, ports and sherries. The Bar is a focal point for College social activity with a very friendly atmosphere. Weekly run quizzes via the SBR/JCR and music events are run regularly throughout term. The College Bar also has regular updates on its Facebook page. Rules and conduct for the College Bar can be found in the Student Handbook.
Catering times -  Michaelmas Term 2023
Breakfast(Continental)

Served from the Cafe

Mon-Fri

08.00-10.00

Cooked Breakfast
Weds(Only)
08.00-10.00

Lunch 

Monday - Sunday

11.30-13.30

 

Saturday (Brunch)

11.00-14.00

Dinner 

Monday - Sunday

18:00 -20.00

HALL(BA TABLE ONLY)
(Bookable Via U-pay)
Parsons Room

Tues & Frid

19.30-21.00

COLLEGE BAR 
 

Mon - Thurs
Fri
Sat
Sun

17.00-23.00
17.00-00.00
12.00-23.00
12.00-22.30

CAFE

Mon- Fri
Sat-Sun

08.00-16.30
08.30-14.30
Day-to-day living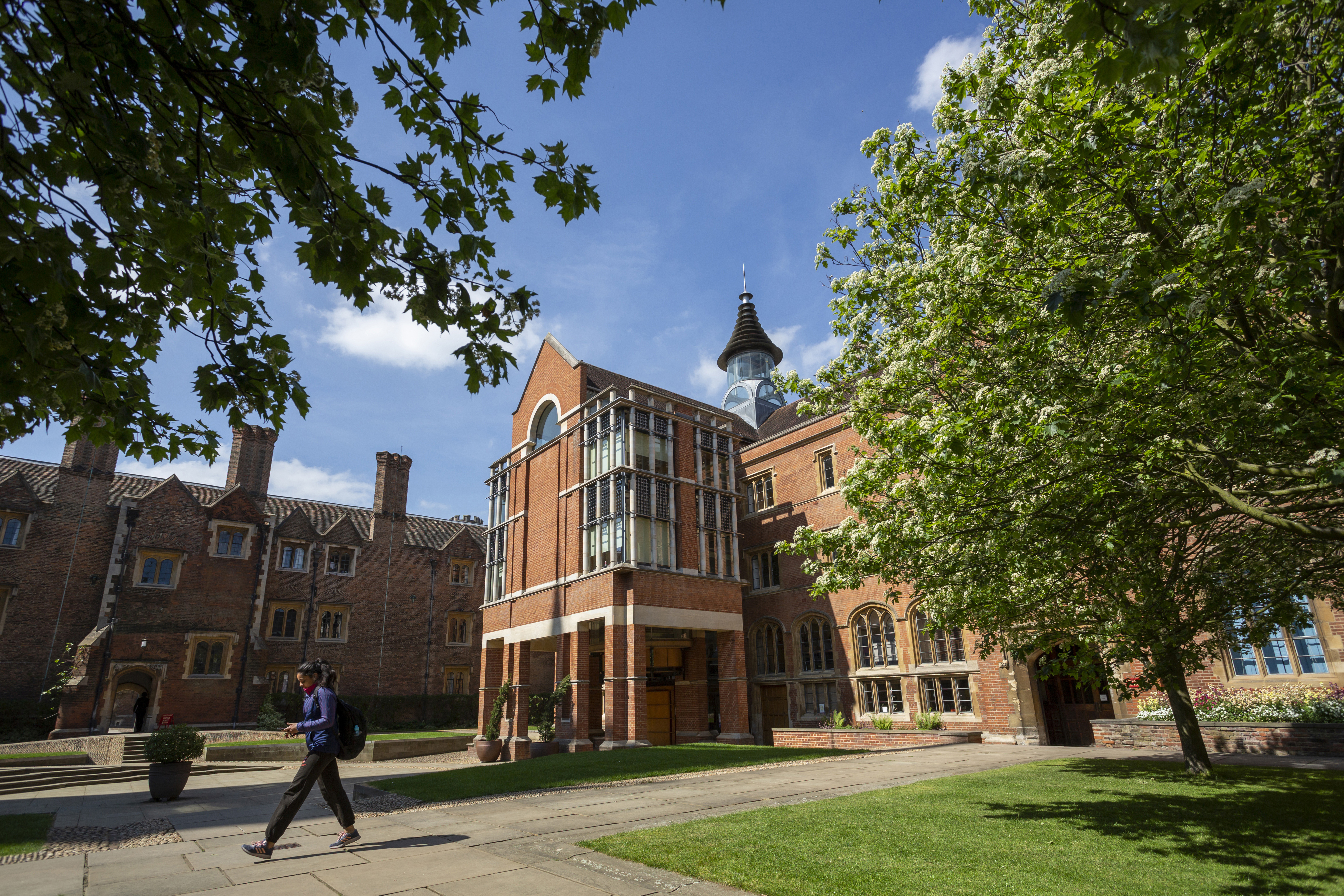 Pretty much everything you need is somewhere on site. There are laundry facilities in College and all St John's properties and rooms are cleaned by College staff known as "Bedders". In the College's Postgraduate Hostels, the "Bedders" only clean the communal areas.
Every student has their own "pigeonhole" in the College's mail room, next to the Great Gate Porters' Lodge, where you can pick up parcels and personal messages. You will also be given a University Email account when you arrive.
If you are into keeping fit, there is an on-site Fitness Centre with a range of cardiovascular and individual resistance equipment, as well as a free weights area.
There are also music rooms, an art room, punts to take out on the river and exceptional sports facilities. Take a look at the Sport & Leisure at St John's page for more information about what you can do here in your spare time.
Supporting our students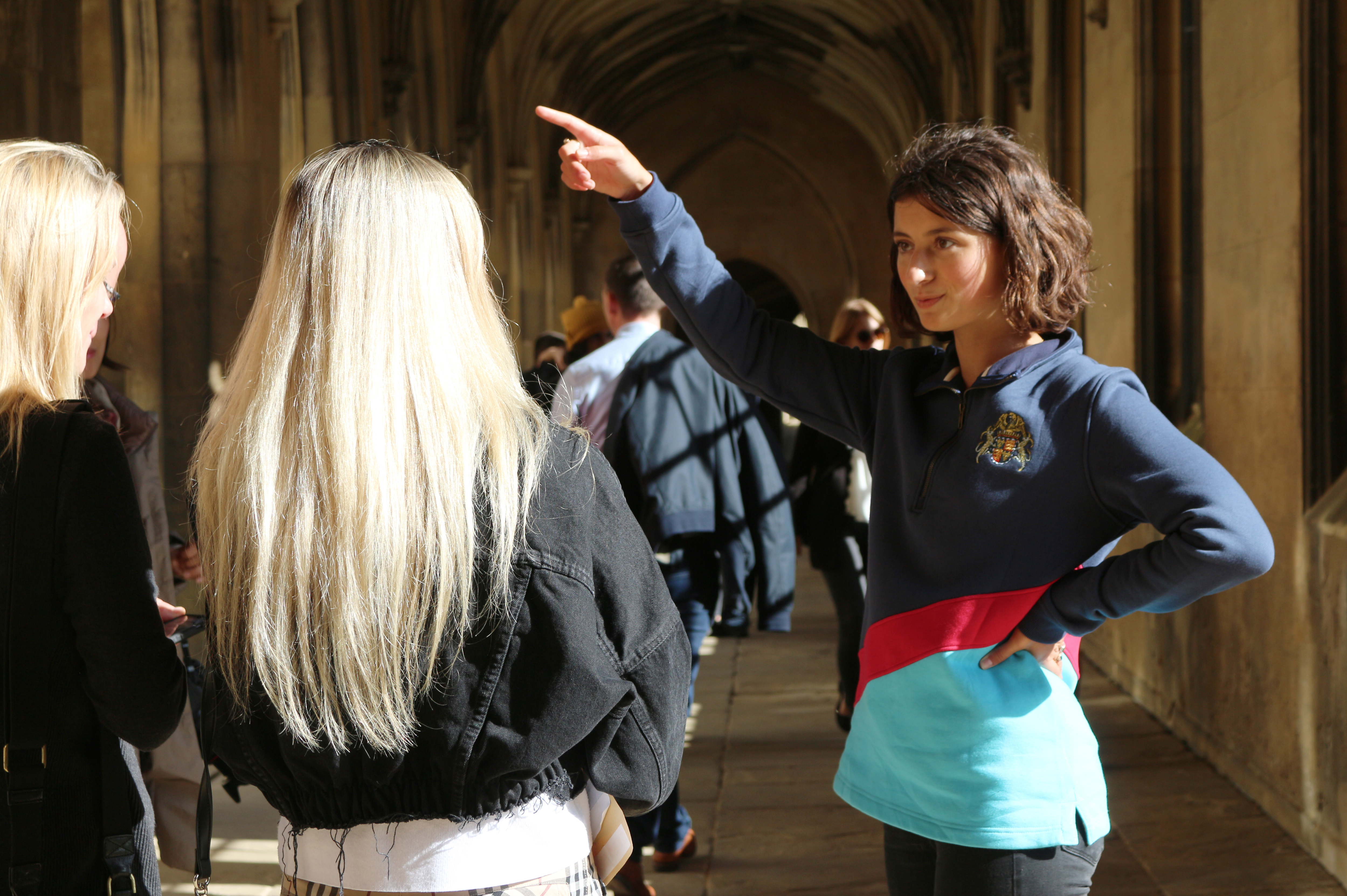 For many students, College is their first experience of living away from home for an extended period, so we're committed to ensuring that you remain well looked after.
During term, the College Health & Wellbeing Centre is open Monday to Friday by appointment. Our friendly College Nurses can help with a wide range of health and welfare problems, which are dealt with in the bounds of confidentiality as befitting the situation.
Although it was originally a Christian foundation, St John's has for generations welcomed people of all religions, and none. Nowadays, our Chaplain offers everyone support and advice, regardless of your beliefs.
Students are also allocated a Tutor, a Fellow of the College, who looks after the general welfare of their students. Students have the same Tutor throughout their time in College.
Student Unions
All members of College are part of the Junior Combination Room (JCR). The JCR committee represents the student community in College and has its own welfare and equal opportunities officers. They also organise the entertainments in Freshers' week – a week of ice-breaking activities that help new members to settle into life at St John's.
Graduate students are also members of the SBR (the Samuel Butler Room, the College common room for graduate students). The SBR committee represents graduate students in College and organises social activities for them.

Further information about the JCR
Further information about the SBR