Graduation and Congregations
Graduation - COVID-19
Due to the ongoing COVID-19 pandemic, from June 2021 congregations on wards, it will be possible to have degrees conferred in person, in a socially distanced manner without guests. Congregations will continue for those who wish to take their degree in absence. 
The next congregation is on 17 September 2021 - registration for this has now closed, please see below for more information on other dates.
If you would like to take your degree in absence, or in person, on 22 October 2021, this is available to register via CamSIS. The deadline to register is 4 October. Those who would like to celebrate their degrees will be contacted by 17 September with more information, and asked to complete this form: joh.cam.ac.uk/legacycelebrations2021 - this is NOT for those having degrees conferred for the first time, please use CamSIS for this.
If you have any questions please contact the Praelector's Secretary. Once the registration deadline passes, the Praelector's Secretary will be in touch to confirm registration.
Dates are listed at the bottom of the page for the next academic year, however these are still subject to change.
Postgraduate congregation for 2020 cohort (including MA): For those who have had their degrees conferred in absence only, email invites have been sent on 20/07/2021, and the date will be 17 September 2021. All information is included in the email.
We would encourage students to graduate in absence if they can so that they can use their title - this cannot be confirmed to employers until it has been conferred at a congregation. This will also provide students with the opportunity to join their cohort at an alternative ceremony when it is safe to do so. More information about this is below.
Future graduation ceremonies for those who graduate in absence
The University and the Colleges recognise the importance of celebrating students' achievements in a fitting way. For students who graduate in absence because of the Covid-19 crisis, the University and Colleges' Congregations Working Group has adopted the key principle of seeking to offer a ceremony in the Senate-House that will be as close as possible to the usual in-person graduation. Our aim is to make it possible for College cohorts to reunite in their College and to process together to the Senate-House in academic dress, where those still to graduate will have their degrees conferred and those who have graduated in absence will have their degrees celebrated in a similar way. How soon this can happen will depend on when social distancing rules have eased and large gatherings are again possible, but in the hope that this could take place next year, the Working Group is consulting with Colleges on a range of potential dates for 2021. The website will be updated when dates are confirmed. 
Further information will be posted to those who graduated in absence regarding registering for a congratulatory ceremony. These can be done at any standard congregation, although it is not confirmed yet when guests are permitted and this may be some time yet. We will get in touch with everyone who has not returned for the alternative ceremony when guests are permitted. If you were interested in any of the congregation dates for the next academic year anyway, please get in touch with the Praelectors Secretary.
Certificates and transcripts
(03/09/2021 update: Transcripts and Certificates for all congregations from March 2020 - July 2021 have now been posted to Johnians' addresses on CamSIS.
Transcripts for degrees awarded based on assessments modified as a result of COVID-19 will include brief wording explaining that the candidate undertook alternative assessments, and provide a link to a fuller explanation of the nature of the assessment, hosted on the CamData website.
Paper copies of certificates and transcripts for everyone who has graduated in absence during the lockdown period will be produced and posted as soon as University staff are able to return to the workplace
Further copies may be ordered once this service is available again. A service that allows you to access your official transcript electronically remains in place. This subscription service to Digitary allows you to share documents on-line with other organisations such as employers or other educational institutions. Degree certificates are now available digitally via your CamSIS Self-Service or Digitary. Further information is available here https://www.cambridgestudents.cam.ac.uk/your-course/graduation-and-what-next/degree-certificates-and-transcripts/academic-transcripts
Jet Photographic offers St John's College specific certificate frames. These are available direct from the photographer at https://jetphotographic.com/showphoto.php?id=470050813. You may wish to purchase these now ahead of receiving your certificate in upcoming weeks.
Graduation and Congregations
What is a Congregation?
The Congregation ceremony is one of the oldest traditions in the University. The conferment of each Degree is still an act of the whole University, approved by "Grace of the Regent House", that is by a resolution of the governing body. Graduands are presented one by one to the Vice-Chancellor of the University or a deputy, in the presence of the Proctors who are the elected representatives of the Regent House. Although Congregations are held throughout the year, the June Congregations are set aside for what is called "General Admission" to Degrees, at which most undergraduates proceed to their first Degrees at the end of their final term.
Students or alumni who are eligible to receive their degrees may do so at Congregations of the Regent House held on Saturdays at regular intervals throughout the year. The College Praelector is responsible for presenting students at Congregations when they receive their degrees.
You cannot use your degree title until you have been conferred to your degree at a congregation, so it is the student's responsibility to make sure they register for a congregation, either in person or in absentia.
Information about what happens on the day will appear here when congregations resume in person.
Congregation Dates and Deadlines 2020-2021
Please scroll to the bottom of the page to find the dates and deadlines for congregations - these may be subject to change due to the pandemic and the most recent congregation information will appear at the top of the page.
BChir Information
Those admitted to the BChir in June 2021 have one year in order to take their MB at a congregation. Please note that the May 2022 ceremony is the last occasion at which the MB can be conferred in person. If the MB is not conferred by then it will be automatically conferred in June 2022.
MA Information
*Those wishing to take the MA in 2022 are particularly encouraged where possible to do so at the May congregation; candidates will not normally be presented for other degrees on this occasion. You are advised not to make travel arrangements for this, or any ceremony, until you have received confirmation of your place after the deadline has passed for others to apply.
How to Register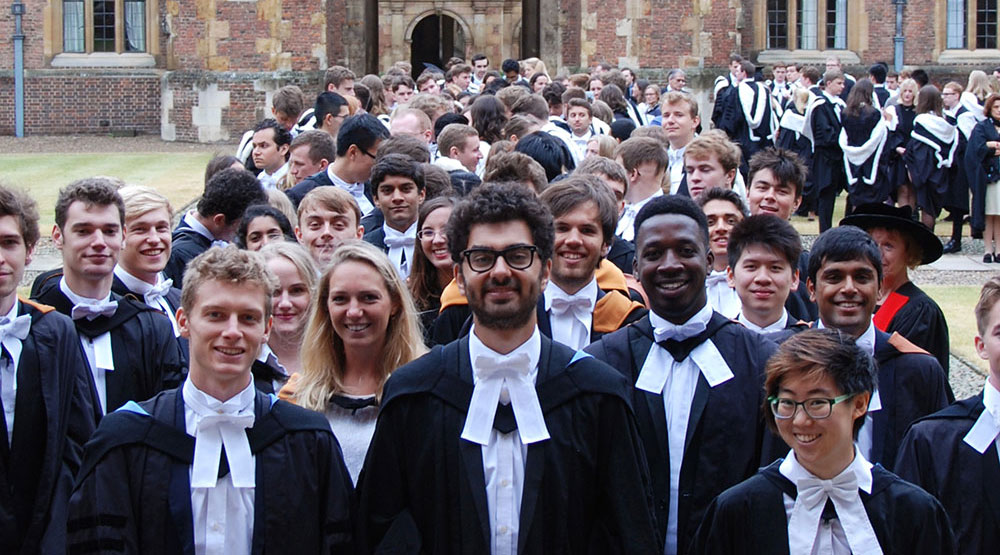 Please read all the following information carefully to avoid missing anything important!
If you wish to put your name forward to receive your degree at any Congregation (other than General Admission) you will need to read the Congregations Information which includes academic dress information, and then register for the congregation by accessing your Extended Self-Service account on CamSIS. You can register and access ESS here. Once you have logged in, you will be able to directly register for a congregation yourself.
Note: Current students can apply via their normal self-service and alumni, who matriculated Michaelmas 1980 onwards, once registered can apply via Extended Self-Service
You might not be able to register for a congregation that is a few months away and it will need to be done closer to the time (you can aim to do this two months before the congregation).
It is vital that you update your contact details before submitting your application. You will need to update the following information:
E-Mail Address: You will most likely be contacted at some point before the ceremony (make sure your preferred one is marked as such)
Phone Number: In case of emergency (make sure your preferred one is marked as such)
Address: Please update your mailing address, which we will send correspondence to at any point up until the time of the ceremony, including your tickets and confirmation letter.
Name: Please check the spelling of your name carefully, as this will appear on your degree certificate. If it is incorrect please change this and notify the Student Services Officer.
You will then receive the confirmation email after the deadline has passed for the congregation you are registering for (usually three weeks before the ceremony). If you do not receive such a letter by two weeks prior to the Congregation, please contact the Student Services Officer.
General Admission
Undergraduate finalists from 2021 have been emailed information on 25 May 2021. The deadline to register for 30 June 2021 General Admission is strictly Sunday 30 May 2021. 
Only the following degrees are awarded at General Admission:
Master of Engineering: M.Eng.
Master of Natural Science: M.Sci.
Master of Mathematics: M.Math. (not including MAST)
Bachelor of Veterinary Medicine: Vet.M.B.
Bachelor of Arts: BA
Bachelor of Education: B.Ed.
Bachelor of Theology for the Ministry: B.Th.
MA Degree Ceremony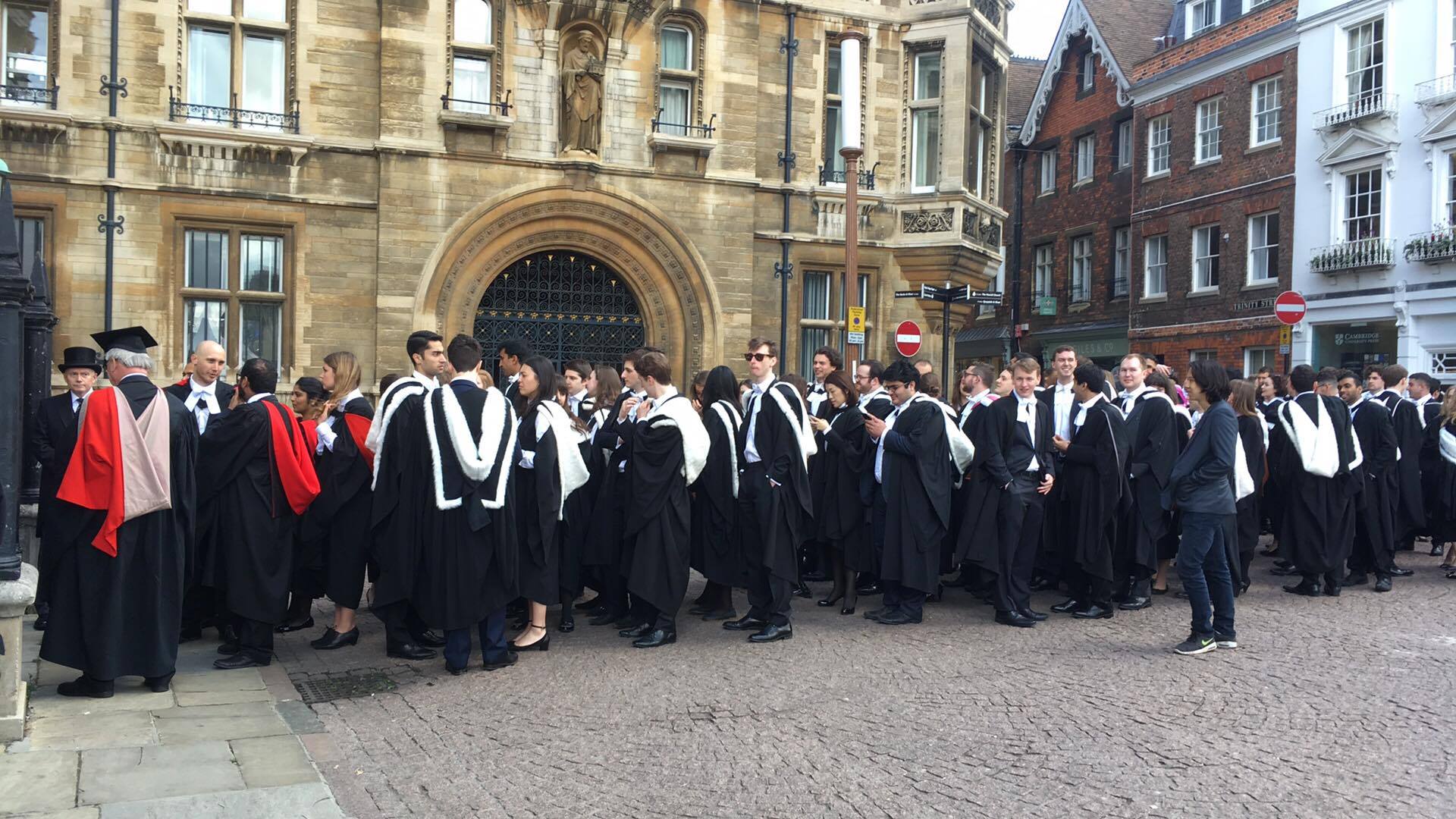 Six years and one term after matriculating, a Bachelor of Arts is entitled to take his or her Master of Arts degree, either in person or in absence, provided that two years have elapsed since the BA degree was awarded. So, from January 2022 those who matriculated in October 2015 and graduated with the BA degree prior to December 2019 will be eligible.
2021 Cohort: For all those expected to receive their MA degree in May 2021, you will have been emailed on 9 March. Please get in touch with the Praelector's Secretary if you haven't heard anything. On 20 July, invites were emailed to attend celebrations on 17 September as mentioned at the top of the page.
Information about the MA Congregation Day will appear when congregations in person resume.
Academical Dress
The Praelector is obligated to emphasize to Graduands the rules for dress for those taking degrees In Person.
Dress Option One
| | |
| --- | --- |
| Suit | black/very dark grey/very dark blue (not brown) lounge suit or dinner jacket without adornments. These must be dark enough not to contrast obviously with a black gown. |
| Shirt | plain, collared and white (long sleeves) |
| Collar | wing collars may be worn, but are not required |
| Tie | white bow tie with white 'bands' must be worn |
| Socks | unpatterned black/very dark grey |
| Shoes | formal, black (not boots, not sandals) |
Dress Option Two
| | |
| --- | --- |
| Suit or Skirt | black/very dark grey/very dark blue trouser or skirt suit, or a dark skirt without a jacket, or a dark long-sleeved dress. These must be dark enough not to contrast obviously with a black gown. |
| Blouse/shirt | plain, white (long sleeves unless a long-sleeved dress is worn) |
| Stockings/tights | unpatterned black/nearly black or natural coloured |
| Shoes | formal, black (not boots, not sandals) |
| Tie/Bands | white bow-tie and bands may be worn (optional) but only with a properly collared white shirt. |
A black cassock may be substituted for a dark suit, skirt or dress in either Dress One or Two, but it must be worn with either a white bow-tie and bands or a clerical collar and bands.
The rules also exclude conspicuous jewellery and hair-grips.  Exaggerated hair styles or colouring are inappropriate.  Handbags should not be carried.
Please note that the national dress rules have been tightened up considerably. Now, national dress, uniforms etc. are generally allowed only if the national dress is black, white and grey, and if the national dress is what the graduand would usually wear at other formal University occasions. Exceptions are made if there are religious requirements. Please note that for sleeves, long ones (that come down further than the gown sleeve) are preferred. If you wish to wear national dress it is essential that you contact the Student Services Officer at least 3 weeks before the Congregation, as permission will need to be sought from the Proctor.
Headdress
The square cap, or 'mortarboard', is optional for graduands at Cambridge. If you do decide to wear one on the day, you should take it off and carry it in your left hand inside the Senate-House.
Gown and hood
Graduands already holding a Cambridge Degree:  Gown and hood of the highest Cambridge Degree the Graduand already holds.
Graduands not already holding a Cambridge Degree:  Graduate Students in this category wear a BA Status gown or (if granted MA Status) an MA Status gown - if you are 24 years or over you will need to wear an MA status gown if you do not hold a Cambridge degree. Undergraduates proceeding to the BA degree wear an undergraduate gown. All Graduands not already holding a Cambridge degree wear the hood of the degree to which they are about to proceed.
For those conferred to two degrees at once (such as the BA & MMath) and are then going to be conferred to an MA for example, you would need to wear the gown and hood of the highest degree you hold (so in this case the MMath gown and hood).
For incorporations and MA under Statute B III 6 (you will be aware if this applies to you): Gown and hood of the degree to which the Graduand is about to proceed.
For more information about academical dress please visit this page: http://www.gradunion.cam.ac.uk/facilities/gown-shop/gown-guide
'Bands', Gown and Hood can, of course, be hired locally.  The following tailors may be able to hire academical dress to graduands:
Ede & Ravenscroft, 71-72 Trumpington Street
Ryder & Amies, 22 King's Parade
Contact details for the above listed companies can be found on the University website: http://www.admin.cam.ac.uk/univ/degrees/dress/ 
The University's practices for graduation is part of an ancient and unique tradition, strictly enforced by its officers. If after reading the website you have any further questions, please contact the Praelector's Secretary who will advise you further about the day.
Graduation FAQs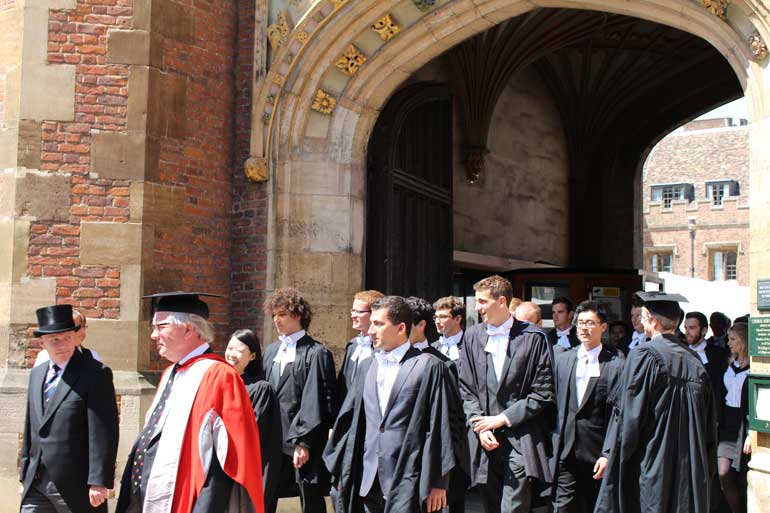 Dates and deadlines
22/10/2021 : 10:00 - 13:00
Deadline to register for the 22 October 2021 congregation
27/11/2021 : 10:00 - 13:00
Deadline to register for the 27 November 2021 congregation
View more events and deadlines