Graduation and Congregations
Graduation - Important Information
IMPORTANT: Please read the information below first if you would like to receive your degree at a congregation.
2023 Congregations - Dates are also listed at the bottom of the page, however some may still subject to change and some cohorts/degrees may not be eligible to attend certain dates, so please do not make any travel plans before receiving confirmation from us after the deadline passes. Once registrations are open when the date is confirmed information will be posted here.
Further dates and deadlines will be published here once known.
If you have any questions please contact the Praelector's Secretary. Once the registration deadline passes, the Praelector's Secretary will be in touch to confirm registration.
Next Congregation Dates:
Saturday 25 March 2023 - The deadline has passed to register for this congregation.
Friday 28 April 2023 - You can register for this congregation via CamSIS. The deadline to register is 3 April 2023.
Friday 19 May 2023 - Those who are eligible to receive their MA degree this year have been invited via email to register by 16 April 2023. Celebrants will not able to attend this congregation.
Wednesday 28 June 2023 - This is General Admission, reserved for this year's Undergraduates only (please read further down for more information). Finalists will be sent invites via email at the start of the Easter Term.
Friday 21 July 2023 - This is not open to registrations until the beginning of April, when you will be able to register for this congregation via CamSIS. The deadline to register is 30 June 2023. 
Caps on Graduation Numbers
We aim to accommodate as many graduands and their guests as possible during each Congregation, but there are practical limitations. Degree Congregations take place in our historic Senate-House, where members of the University have graduated since the Eighteenth Century, but although we hold repeated ceremonies across each day, each one can only hold so many people and, to provide the best experience, ceremonies should take place during daylight. Please confirm with your College that you have a place booked at a ceremony before making any other arrangements. If there is no space at a particular ceremony, there will be later occasions and Degree Congregations take place across the year.  
Certificates and transcripts
Transcripts for degrees awarded based on assessments modified as a result of COVID-19 will include brief wording explaining that the candidate undertook alternative assessments, and provide a link to a fuller explanation of the nature of the assessment, hosted on the CamData website.
Further copies may be ordered once this service is available again. A service that allows you to access your official transcript electronically remains in place. This subscription service to Digitary allows you to share documents on-line with other organisations such as employers or other educational institutions. Degree certificates are now available digitally via your CamSIS Self-Service or Digitary. Further information is available here https://www.cambridgestudents.cam.ac.uk/your-course/graduation-and-what-next/degree-certificates-and-transcripts/academic-transcripts
Jet Photographic offers St John's College specific certificate frames. These are available direct from the photographer at https://jetphotographic.com/showphoto.php?id=470050813. You may wish to purchase these now ahead of receiving your certificate in upcoming weeks.
Graduation and Congregations
What is a Congregation?
The Congregation ceremony is one of the oldest traditions in the University. The conferment of each Degree is still an act of the whole University, approved by "Grace of the Regent House", that is by a resolution of the governing body. Graduands are presented one by one to the Vice-Chancellor of the University or a deputy, in the presence of the Proctors who are the elected representatives of the Regent House. Although Congregations are held throughout the year, the June Congregations are set aside for what is called "General Admission" to Degrees, at which most undergraduates proceed to their first Degrees at the end of their final term.
Students or alumni who are eligible to receive their degrees may do so at Congregations of the Regent House held on Saturdays at regular intervals throughout the year. The College Praelector is responsible for presenting students at Congregations when they receive their degrees.
You cannot use your degree title until you have been conferred to your degree at a congregation, so it is the student's responsibility to make sure they register for a congregation, either in person or in absentia.
Information about what happens on the day will appear here when congregations resume in person.
Congregation Dates and Deadlines 2022-2023
Please scroll to the bottom of the page to find the dates and deadlines for congregations - these may be subject to change due to the pandemic and the most recent congregation information will appear at the top of the page.
BChir Information
Those admitted to the BChir in June 2022 have one year in order to take their MB at a congregation. Please note that the May 2023 ceremony is the last occasion at which the MB can be conferred in person. If the MB is not conferred by then it will be automatically conferred in June 2023.
MA Information
*Those wishing to take the MA in 2023 are particularly encouraged where possible to do so at the May congregation; candidates will not normally be presented for other degrees on this occasion. You are advised not to make travel arrangements for this, or any ceremony, until you have received confirmation of your place after the deadline has passed for others to apply.
How to Register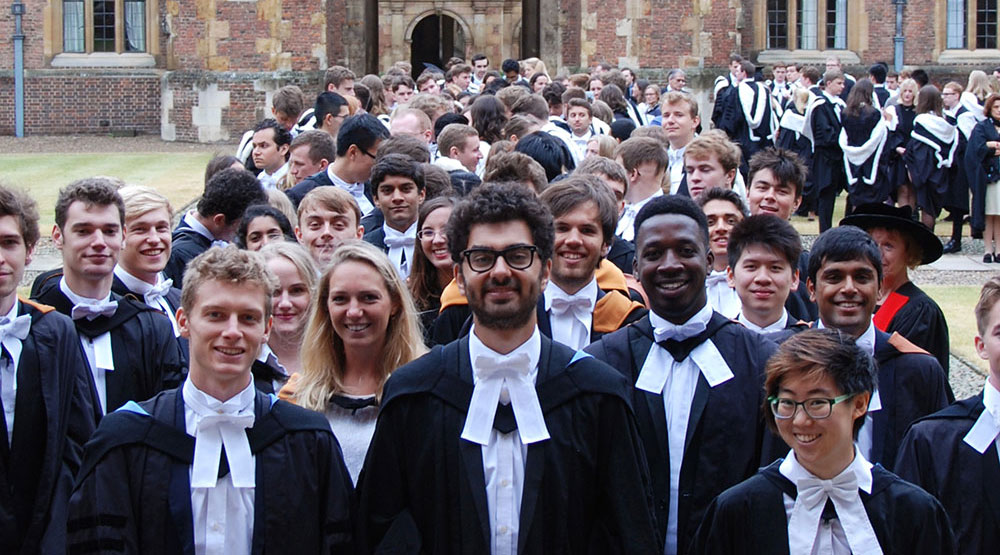 Please read all the following information carefully to avoid missing anything important!
For those receiving degrees for the first time: Please register via your CamSIS Self-Service.
If you wish to put your name forward to receive your degree at any Congregation (other than General Admission) as a celebrant who has already received their degree in absence during the pandemic, please check the top of the page to see what dates you will be eligible to attend. You will need to read the Congregations Information which includes academic dress information, and then register for the congregation by emailing praelectorssecretary@joh.cam.ac.uk with the following information:
Surname: 
First Name: 
Pronunciation of Name for the Senate House speakers (if applicable):
Degree (conferral/celebration?): 
Date of Congregation applying for: 
Do you need to opt out of the non-religious formula/request an in nominei Dei version?:
Number of guests in the Senate House (max. 2): 
Attending lunch?:
Number of guests to lunch (max. 2): Any dietary requirements?: 
To help keep your contact details up-to-date, please also access your Extended Self-Service account on CamSIS. You can register and access ESS here. 
It is vital that you update your contact details. You will need to update the following information:
E-Mail Address: You will most likely be contacted at some point before the ceremony (make sure your preferred one is marked as such)
Phone Number: In case of emergency (make sure your preferred one is marked as such)
Address: Please update your mailing address, which we will send correspondence to at any point up until the time of the ceremony, and certificates if being conferred in absence.
Name:
Please check the spelling of your name carefully, as this will appear on your degree certificate. If it is incorrect please change this and notify the
Praelectors Secretary
.
You will then receive the confirmation email after the deadline has passed for the congregation you are registering for (usually three weeks before the ceremony). If you do not receive such a letter by two weeks prior to the Congregation, please contact the Praelectors Secretary.
Academical Dress
The Praelector is obligated to emphasize to Graduands the rules for dress for those taking degrees In Person.
Dress Option One
| | |
| --- | --- |
| Suit | black/very dark grey/very dark blue (not brown) lounge suit or dinner jacket without adornments. These must be dark enough not to contrast obviously with a black gown. |
| Shirt | plain, collared and white (long sleeves) |
| Collar | wing collars may be worn, but are not required |
| Tie | white bow tie with white 'bands' must be worn |
| Socks | unpatterned black/very dark grey |
| Shoes | formal, black (not boots, not sandals) |
Dress Option Two
| | |
| --- | --- |
| Suit or Skirt | black/very dark grey/very dark blue trouser or skirt suit, or a dark skirt without a jacket, or a dark long-sleeved dress. These must be dark enough not to contrast obviously with a black gown. |
| Blouse/shirt | plain, white (long sleeves unless a long-sleeved dress is worn) |
| Stockings/tights | unpatterned black/nearly black or natural coloured |
| Shoes | formal, black (not boots, not sandals) |
| Tie/Bands | white bow-tie and bands may be worn (optional) but only with a properly collared white shirt. |
A black cassock may be substituted for a dark suit, skirt or dress in either Dress One or Two, but it must be worn with either a white bow-tie and bands or a clerical collar and bands.
The rules also exclude conspicuous jewellery and hair-grips.  Exaggerated hair styles or colouring are inappropriate.  Handbags should not be carried.
Please note that the national dress rules have been tightened up considerably. Now, national dress, uniforms etc. are generally allowed only if the national dress is black, white and grey, and if the national dress is what the graduand would usually wear at other formal University occasions. Exceptions are made if there are religious requirements. Please note that for sleeves, long ones (that come down further than the gown sleeve) are preferred. If you wish to wear national dress it is essential that you contact the Student Services Officer at least 3 weeks before the Congregation, as permission will need to be sought from the Proctor.
Headdress
The square cap, or 'mortarboard', is optional for graduands at Cambridge. If you do decide to wear one on the day, you should take it off and carry it in your left hand inside the Senate-House.
Gown and hood
Graduands already holding a Cambridge Degree:  Gown and hood of the highest Cambridge Degree the Graduand already holds.
Graduands not already holding a Cambridge Degree:  Graduate Students in this category wear a BA Status gown or (if granted MA Status) an MA Status gown - if you are 24 years or over you will need to wear an MA status gown if you do not hold a Cambridge degree. Undergraduates proceeding to the BA degree wear an undergraduate gown. All Graduands not already holding a Cambridge degree wear the hood of the degree to which they are about to proceed.
For those conferred to two degrees at once (such as the BA & MMath) and are then going to be conferred to an MA for example, you would need to wear the gown and hood of the highest degree you hold (so in this case the MMath gown and hood).
For incorporations and MA under Statute B III 6 (you will be aware if this applies to you): Gown and hood of the degree to which the Graduand is about to proceed.
For more information about academical dress please visit this page: http://www.gradunion.cam.ac.uk/facilities/gown-shop/gown-guide
'Bands', Gown and Hood can, of course, be hired locally.  The following tailors may be able to hire academical dress to graduands:
Ede & Ravenscroft, 71-72 Trumpington Street
Ryder & Amies, 22 King's Parade
Contact details for the above listed companies can be found on the University website: http://www.admin.cam.ac.uk/univ/degrees/dress/ 
You may also wish to look at https://churchillgowns.com/, which focuses on creating sustainable gowns.
It is strongly advised that you wear a shirt/blouse that has a button that does up quite high on the neck, as this is where you will attach your hood. Please also bring a couple of safety pins if you can in order to keep your hood pinned at the collarbone close to your neck.

What should you bring?
In addition to a face-covering, graduands should bring with them a means of payment, if they wish to buy photographs at the Senate House. Preferred payment methods (for reasons of hygiene) are card or phone payments; cash is also accepted. Ideally, students should not bring bags, as they will have to be left on the Senate House lawn for collection after the ceremony. If the weather is wet, umbrellas can be left on the lawn for collection after the ceremony. Mobile telephones must be switched off inside the Senate House.
The University's practices for graduation is part of an ancient and unique tradition, strictly enforced by its officers. If after reading the website you have any further questions, please contact the Praelector's Secretary who will advise you further about the day.
General Admission
The next date for General Admission is Wednesday 28 June 2023 (for the 2022/23 cohort only). Invites will be sent to all finalists at the start of Easter Term.
Only the following degrees are awarded at General Admission:
Master of Engineering: M.Eng.
Master of Natural Science: M.Sci.
Master of Mathematics: M.Math. (not including MAST)
Bachelor of Veterinary Medicine: Vet.M.B.
Bachelor of Arts: BA
Bachelor of Theology for the Ministry: B.Th.
MA Degree Ceremony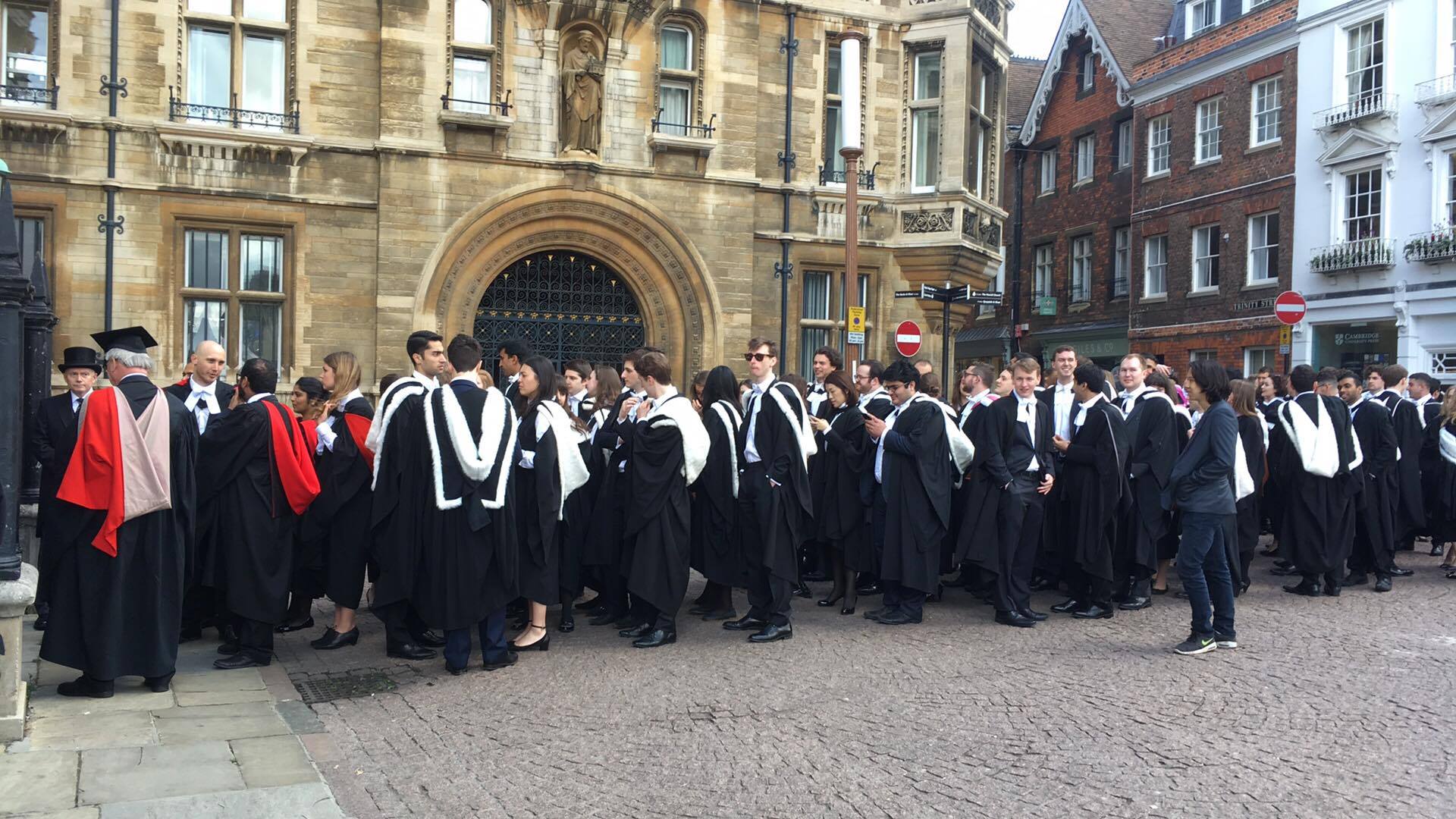 A Bachelor of Arts may be admitted to Master of Arts not less than six years from the end of his or her first term of residence, provided that a supplicat for the latter degree may only be entered after the former degree has been conferred.
This removes the previous requirement for the B.A. Degree to be held for two years before the M.A. can be conferred.
Someone who qualified for the BA but has never had it conferred cannot be entered for the MA, even if the necessary time has passed since the end of their first term of residence, unless and until the BA has been conferred on them. 
Friday 19 May 2023 will be the next MA congregation - This is not open to registrations yet, and this priority will be given to this year's MA cohort who will be invited via email at the end of January to register.
Graduation FAQs