Further applicant information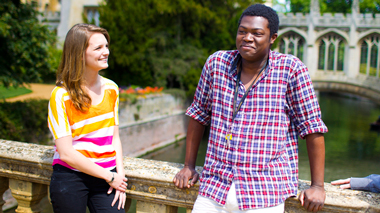 Various types of application can be made to St John's. Some are defined by where you live, others by age, or timing of application. Others have specific requirements for scholarships or exist because the applicant already holds a bachelor's degree.
Some deadlines, fees and forms will be affected by application type. Click on the menu below to see which application type is right for you.
Deferred entry
Deferred entry is where a candidate plans to take a year out between school and university: i.e. interviewed in December 2023 for entry in October 2025.
The College's policy is to treat every case on its merits. No subject excludes deferred entry as an option.
In general, the Teaching Fellows conducting admissions interviews will wish to probe your motives for seeking deferred entry and your plans for your year out. They will wish to assess its educational benefit and to reassure themselves that, at least for part of the year, you are pursuing activities that will keep you in touch with your proposed degree subject.
We will consider candidates for deferred entry on the same basis as those applying for direct entry in 2024. However, in order to plan our student numbers, we do need a firm commitment to a particular year of entry and you have to indicate your choice on your UCAS application. Please be aware that it is very unlikely we would amend a year of entry after an offer has been made, although we would consider it in very exceptional cases. If you are considering the possibility of taking a gap year, you should mention it at interview.
English language requirements
Mature applicants
A Mature student is defined by the University of Cambridge as one over the age of 21. At St John's College we take only a small number of such students each year, typically four or five in a total undergraduate intake of about 170.
There is no specific quota of places for mature applicants, and they are judged individually on their merits, alongside our more conventional school-leaver applicants. Because of the intense competition for places at Cambridge (with about five well-qualified candidates for every undergraduate place) we demand high academic standards from our mature students. You will be asked to produce evidence of high academic ability and recent study (e.g. educational qualifications achieved within the last three years). Many mature students prepare for entry by taking two or more A-levels, Open University credits, an Access Course or other qualifications at a higher level. You should also bear in mind that whilst an Access Course, for example, is likely to satisfy the minimum University Matriculation requirements, we would usually look for evidence of higher-than-average achievement on the course, and some element of assessment by examination. This is because end-of-year exams play such an important part in the Cambridge Tripos.
Applications will be considered from mature students in all subjects. However, in Medicine and Veterinary Medicine the length of the course and of subsequent professional training, together with the particularly intense competition for a rigidly controlled quota of undergraduate places, mean that places can only exceptionally be found for mature students. 
In judging an application from a mature student, we are concerned mainly with three questions:
Is the applicant someone who would find it easy to fit into the College community, who would benefit from it and contribute to it?
Has the applicant the intellectual capacity and preparation not merely to cope with, but also to make a success of, the course here?
How does the applicant compare with other applicants this year?
In considering the first two points, we are guided by references from the applicant's recent employers and/or teachers, by the results of any examinations taken recently or in the past, and by interviews with the Admissions Tutor, the Tutor handling the applications in the subject concerned, and with the relevant Director of Studies. We also find it helpful to see written work prepared in the course of the applicant's employment or part-time study. 
Although formal application involves submitting application forms to both the College of first preference and to UCAS by the usual application deadline
of 15 October for a place in the following year, we encourage those thinking of applying as mature students to discuss their plans with us informally well before this closing date. We may also be able to offer advice on possible further study that many strengthen your application. It is important that mature applicants appreciate fully that Cambridge is a residential university, and that the University Statutes require all undergraduates to live in Cambridge for the whole of each Full Term in order to qualify for a degree. It is also important to consider the full costs of the proposed course, and to explore possible sources of finance.
Post-qualification applicants
If you have already taken your A-levels and have achieved high grades that meet the standard offer grades, we will be pleased to consider your application as a Post-A-level candidate. Although the formal closing date for all applicants is the same, if you are applying as a Post-A-level candidate and are hoping to spend your 'year out' abroad, you should ensure that your Gap Year plans do not clash with the interview period in early/mid-December. Candidates should note that they will still be require to sit the relevant admissions assessment/test if required by the subject you are applying for. Please see under "Entry Requirements" on the relevant Subject page for further details. Applicants for subjects requiring a pre-registration required assessment should ask their school or college for support in administering these exams for them.
Prospective candidates who have taken examinations other than GCE A-levels are also most welcome to apply. We regularly make offers based on performances in other public examination systems, for example, the Scottish Advanced Highers, the German Abitur and the International Baccalaureate. 
Affiliated applicants
If you hold, or expect to hold, a Bachelor's degree of Honours standard from another university, and wish to follow a further undergraduate course at Cambridge, you may apply to become an Affiliated student. Affiliated students are full student members of the University, and differ from others taking undergraduate courses only in that they commence studies in year 2, completing their course one year earlier than standard entry students.
At St John's College we take only a small number of such students each year. Applicants are assessed individually on their merits, in competition with other applicants for entry at undergraduate level. Because of the intense competition for places at Cambridge, at all levels, we demand high academic standards from our Affiliated students. In cases where the student's first degree is classed, we might expect a First Class or at least a very high Upper Second. Attention is also paid to performance in the relevant school-leaving examination, where applicable. A strong academic reference is also essential. 
Applications can be considered from potential Affiliated students in all subjects except Medicine, Veterinary Medicine and Architecture. Applicants need to provide evidence of their academic suitability and potential to study the subject for which they are applying, and for many subjects considerable prior knowledge is essential in order for a student to be able to enter the ordinary undergraduate course at an intermediate point (as an Affiliated student effectively does). Affiliated students often study the subject in which they have already taken their first degree, or a cognate subject in which their previous education will be helpful to them.
Some subjects may be better pursued after a first degree by taking a Master's degree or Diploma course, rather than by following a second undergraduate course as an Affiliated student. Further information about admission to these courses can be found on the University's Graduate Admissions page. 
Application for admission as an Affiliated student is made via UCAS and are subject to the standard UCAS deadline. Full instructions are provided here.
Any offer of a place will be conditional on satisfactory evidence of financial support, in addition to any other offer conditions. 
Affiliated applicants may be eligible for the John Crook Scholarship at St John's College, please check the eligibility requirements here. 
Choral studentships
Choral Scholars are undergraduates who sing in the College's Choir. There are normally vacancies for all voice parts, however candidates are strongly advised to check with the Director of Music before applying and he is always happy to meet candidates on an informal basis before the voice trials. The Choral studentships are open to all offer holders, the College is also keen for candidates to apply for deferred entry.
St John's (in common with all Cambridge Colleges) has high academic standards and will not admit students who will find it difficult to read successfully for an Honours degree.
Organ scholarships
If you wish to apply for an Organ Award you need to complete an additional application questionnaire by 1 September as well as submit a UCAS application (please see here for further information). Your UCAS application does not have to be submitted until the 15 October deadline.