Tributes paid to Master of St John's College who has died age 69
"Chris was loved by so many and will be hugely missed by us all"
Professor Sir Christopher Dobson, Master of St John's College, died on Sunday, September 8 2019.
He is survived by his wife, Dr Mary Dobson, their sons, Richard and William, and his beloved dog, Jimbo. He was diagnosed with cancer earlier this year and died at the Royal Marsden Hospital, Surrey.
Sir Christopher, known to most people simply as Chris, was a member of the St John's community for 18 years. He was elected to a Fellowship in 2001 after moving to Cambridge from the University of Oxford when he accepted the John Humphrey Plummer Professorship of Chemical and Structural Biology.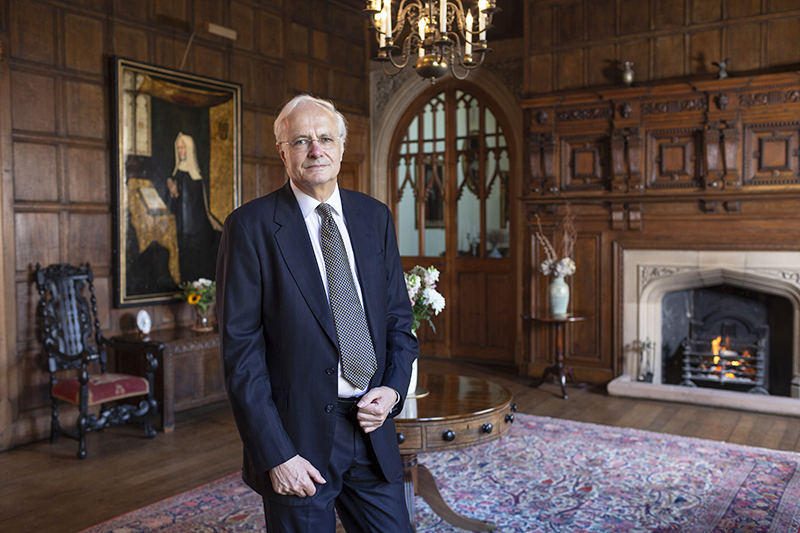 Sir Christopher was elected as the 44th Master of St John's in 2007 and for 12 years he led the College community with dedication, precision and compassion. During his time as Master he directed the Quincentenary celebrations as St John's marked its 500th birthday, oversaw transformational refurbishment projects across the College estate, and introduced the ground-breaking St John's Studentships.
He was an innovative and prolific chemist with more than 800 papers and review articles to his name – his prodigious scientific accomplishments significantly advanced global understanding of neurodegenerative conditions such as Alzheimer's and Parkinson's diseases.
One of his most notable achievements was in 2012 when he co-founded the Cambridge Centre for Misfolding Diseases and in 2018 he was knighted in recognition of his contributions to Science and Higher Education.  This accolade crowned the many honorary degrees, fellowships and prizes he received in his lifetime – including the 2009 Royal Medal of the Royal Society, of which he had been a prominent Fellow since 1996.
Dr Frank Salmon, President of St John's, said: "Chris's pioneering research investigating the origins of Alzheimer's and Parkinson's will undoubtedly lead to the discovery and introduction of new and effective treatments in the future that will benefit millions of people.
"His commitment to helping others will be an equally inspiring part of his enduring legacy – countless lives and careers were improved by his mentorship, support, advice and influence. In all of this he was supported and encouraged by his wife Lady Dobson.
"At St John's his commitment to the College was apparent by the remarkable fact that he knew every Fellow, student and member of staff by name. I'm sure everyone who had the pleasure of knowing Chris will join me in sending our deepest condolences to Mary, Richard and William. Chris was loved by so many and will be hugely missed by us all."
The College flag is flying at half-mast in honour of Sir Christopher. A book of condolence will be placed in the Porters' Lodge at the Great Gate entrance to St John's College and everyone is invited to sign it if they wish. There will also be a book of condolence in the Chapel which is open to those who would like to light a candle in remembrance of him. An online book of condolence has also been opened for anyone who would like to pay virtual tribute to him. 
Donations for The Royal Marsden Cancer Charity may be made in memory of Sir Christopher here.
Plans for a memorial service will be announced in due course.