The making of everything: St John's on the big screen
Eddie Redmayne, star of "The Theory of Everything" won Best Actor at the Oscars on Sunday. Many of the film's key scenes were shot at St John's College.
The Theory of Everything, a biopic of world-renowned physicist Stephen Hawking, was nominated for five Oscars at this year's Academy Awards, held on Sunday. Lead actor Eddie Redmayne, who plays Hawking in the film, picked up the award for Best Actor.
The movie is based on Travelling to Infinity, a memoir written by Hawking's first wife, Jane, which begins as the young Stephen Hawking is just starting his PhD at Cambridge before he was diagnosed with the debilitating motor neurone disease that he has lived with ever since. 
While the cast are the stars of the show, the locations come a close second. Many of the film's most eye-catching and iconic scenes were shot at St John's College, from the May Ball on the Backs to Stephen and Jane's kiss on Kitchen Bridge. Filming took place throughout the College over the summer of 2013, with a large crew and dozens of extras in period costume.
The film was always intended to be shot on location, as Cambridge is an integral part of Stephen Hawking's life story. The director, James Marsh, had originally planned to film at Gonville and Caius College, where Hawking is a Fellow, but the grand architecture and beautiful grounds of St John's made it the perfect location for the large and visually stunning set-pieces the film required.
Johnian Colin Burrows (BA 1981) worked on publicity for the film with his London-based company, Special Treats Productions. Colin described The Theory of Everything as "a love-letter to Cambridge". He said: "The College definitely feels like a supporting character in the film, and complements the cast and filming wonderfully".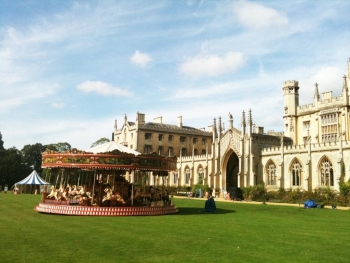 Colin said that coming back to St John's to work on the film was a "profoundly weird" experience, especially seeing the set-up for the film's lavish recreation of a 1960s May Ball. New Court and the Bridge of Sighs were lit with strings of fairy lights, lanterns were hung in the trees and champagne-drinking extras mingled in groups around the College to the sound of smooth swing music. There was even a carousel set up on the New Court lawns. Colin said:
"The director asked me if they had got the May Ball scene right. I told him that, in almost every possible detail, it was totally wrong, but it captured the spirit and feel of a St John's May Ball better than anything else I have ever seen".
The film-makers praised St John's for its "fantastically efficient" organisation and producer Lisa Bruce said that "St John's gave us amazing visuals. Cambridge is so beautiful, everywhere you look you go 'Wow!'"