Introducing 'Souvient' – a new Cambridge podcast series inspired by Lady Margaret Beaufort
"We're taking listeners behind the scenes at St John's as we talk to some fascinating members of College"
St John's is today launching new podcast series Souvient to intrigue, inform and inspire listeners.
In each episode host Heather Hancock, Master of St John's, will be joined by a notable person from across the St John's community for lively and thought-provoking conversations about their life and work.
St John's College combines eight centuries of tradition at the University of Cambridge with innovative and groundbreaking 21st century research. It was founded in 1511 as the result of a benefaction in the will of Lady Margaret Beaufort, Countess of Richmond and Derby, mother of King Henry VII and matriarch of the Tudor Dynasty.
'Souvient' is taken from 'Souvent me Souvient', the medieval French motto of Lady Margaret. 'Souvent me Souvient', usually translated as 'I often remember', or 'remember me often' is illustrated with forget-me-not blue flowers in the decoration surrounding the College's arms.
To mark the 40th anniversary of the admission of women as members of St John's College, the first guests to be interviewed on Souvient will be pioneering female alumnae of the College.
Heather Hancock said: "We're taking listeners behind the scenes at St John's as we talk to some fascinating members of College. The first episodes of Souvient feature the College's first female Olympian and our first woman Professor.
"Tune in to find out what inspires and motivates them and the difference St John's made to their lives and work. The Souvient series is inspired by our founder, Lady Margaret Beaufort, whose own story of political brilliance, self-preservation and personal influence is remembered often by members of St John's."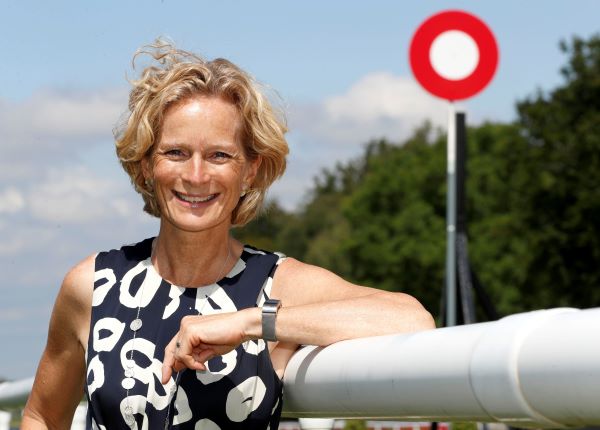 The first guest will be Annamarie Phelps CBE who applied to Cambridge as a bet, got a place, tried rowing at St John's and ended up representing Great Britain in the Olympics.
She talks about dinner table debates, being bloody-minded and the power of sport to transform lives.
LISTEN TO SOUVIENT, THE CAMBRIDGE PODCAST  
Published 18/11/2022