Climate change campaigner, mathematician and news editor amongst winners of prestigious 2019 Larmor Awards
"They truly reflect the tremendous talent of students at St John's and we will watch with great interest what this exceptional group will achieve in their careers."
Six exceptional St John's students have been honoured with Larmor Awards – an annual prize begun in the 1940s to recognise "intellectual qualifications, moral conduct, or practical activities".
Named after Sir Joseph Larmor, the 20th-century physicist and mathematician who was both a student and Fellow at St John's, the awards are presented in the Master's Lodge on the morning of graduation. Each recipient of a Larmor Award receives a unique piece of silver designed by a contemporary British silversmith and a cheque.
The winners of this year's awards were: Aoife Hogan, Charlie Smith, Sam Willis, Laurence Mayther, Jenny Griggs and Skye Fletcher.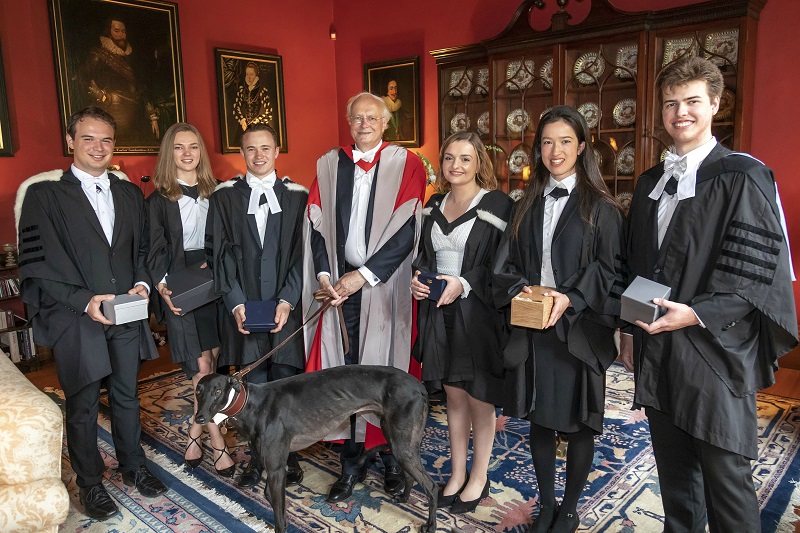 Aoife Hogan was nominated for her 'impressive contribution' to a wide range of College and University activities. She graduated with a First in English and in the past year alone she has played football for the College and been an active member of the St John's Feminist Society. She served as Teaching Director for Cambridge Summer Schools in China - interviewing hundreds of students for roles on summer camps. Aoife was also Events Director of the Women in Business Society, President and Secretary of the CU Australia/NZ Society, and Treasurer for Varsity. She trained for and ran in the Cambridge half-marathon this year.
In earlier years at St John's, Aoife played mixed lacrosse, was Digital Editor and Senior News Editor of Varsity, participated in the kick-boxing society, and was the JCR's Publicity officer and Pink Week 2017 College rep. Dr Mark Nicholls, the tutor who nominated Aoife, concluded: "In short, she is a perfect example of the successful Johnian all-rounder."
Charlie Smith was nominated for being a 'superbly talented and hardworking student' throughout his time at St John's. In addition to receiving First Class marks in both his Part I and Part II exams, he was ranked as one of the top historians at St John's in both years and was placed comfortably within the top 10 per cent of his cohort at University level. Charlie was commended not only for excelling academically, but for acting as a role model for other students.
He was the captain of the Men's rugby team and under his leadership St John's gained back the league title. He worked hard to continue charitable initiatives in the St John's sporting community including helping to raise £900 for Movember – a fundraising event to raise awareness of men's health issues. He also helped create a healthy social environment within the rugby squad by encouraging a large majority of members to participate in positive masculinity workshops organised by the Good Lad Initiative. Earlier this year he was also presented with the Bob Fuller trophy for outstanding sportsmanship at the St John's Annual General Athletics Club Colours Dinner.
Sam Willis was described as a 'remarkable student and an asset to the College'. He moved from English to History part-way through his first year and quickly caught up with the other students and achieved a First. His dissertation was commended by his supervisor as 'unusually innovative and complex'. Sam's academic achievements become even more impressive when considered with the range and scale his co-curricular contributions to College life. He was passionate about Access and Widening Participation initiatives since the start of his degree and was an active participant in College outreach events. Described as 'an approachable and engaging Student Ambassador' for the College, he helped at multiple College Open Days and school visits. This year he also started a band which performed at several May Balls, and took part in the College Library's Art and Photography competition where he was highly commended in both the Colour and Black and White photography categories.
Exceptional mathematician Laurence Mayther matriculated at Cambridge at just 15 after being home schooled. Despite his young age, he was commended by academics for 'showing great maturity and great character' throughout his undergraduate degree.
Dr Steve Edgley, who nominated him, said: "Mathematics is a tough course at Cambridge requiring long hours of hard work, yet Laurence packed many other activities into his time here. Perhaps most notably he is a consistent contributor to outreach events.
"As his tutor, I don't think I have attended any event since 2016 when he was not present. He has been a really outstanding ambassador for the College and for the University." Laurence also contributed to Chapel functions and rowed for the College.
Jenny Griggs was nominated for her academic high achievements, for her dedication to climate change campaigning, and for her contributions to music and sport at College and University level. The Classics student, who plays the piano and violin, graduated yesterday (June 26) with a First. She led the University Concert Orchestra during her time in Cambridge and she was the treasurer of the University String Ensemble. She was President of the St John's Classical Society, rowed for Lady Margaret Boat Club, and designed a sustainability education programme for St John's.   
Skye Fletcher graduated yesterday with a First in Manufacturing Engineering and she was credited for 'demonstrating just how much can be achieved through great personal determination and a willingness to persevere'. She was ranked top in her year group of 30 in her final year at St John's. In addition to her notable academic achievements, she was an active participant in student life and showed real leadership qualities, having been Vice President of the JCR in 2016/17 and Head of Entertainment with the May Ball Committee in 2019. She has also been a member of a number of sports clubs, including Lady Margaret Boat Club.
Many former recipients of the Larmor Awards have gone on to enjoy high-profile success in a wide range of different fields. Previous winners include the gold-medal winning international lacrosse player Laura Plant; British Consul-General to Istanbul, Judith Slater; Jonathan Miller of Beyond The Fringe fame; the former England Cricket Captain Mike Brearley; the historian Peter Hennessy and the organist and conductor Stephen Cleobury.
Professor Sir Christopher Dobson, Master of St John's College, said: "We honoured six wonderful young people for their talents, brilliance and charisma at this year's Larmor Awards. They truly reflect the tremendous talent of students at St John's and we will watch with great interest what this exceptional group will achieve in their careers."
Published: 27/06/19