"Anti-building" for the future: the world of Cedric Price
The life and work of Cedric Price, the unconventional and visionary architect best-known for buildings which never saw the light of day, is being explored in a new exhibition held at St John's College, where Price was an undergraduate.
A newly-opened exhibition at St John's sheds light on the life and work of the eccentric and influential 20th century architect Cedric Price, the designer of a "Fun Palace", a university on rails and a flexible geodesic dome which anticipated the Millennium Dome by decades.
In the words of Jude Kelly, the artistic director for the Southbank Centre, Price was "as famous for not building things as he was for building things". Many of Price's designs were so outlandish and unconventional they were never built, yet his influence on modern architecture remains considerable. Price's inspiration can be seen today in world-famous structures such as the Centre Pompidou in Paris and the London Eye.
The exhibition, on display in the College Library, explores his early life, his architectural career and his influence.
Price's best-known completed work is probably the aviary at London Zoo, the first walk-through "free-flight" aviary in Britain which is now a Grade II listed building, but it is his offbeat unfinished concepts which truly reveal who Cedric Price was as an architect.
One of Price's most ambitious unrealised designs was for a "Fun Palace" to be built on the banks of the Thames in 1961 for the progressive theatre director Joan Littlewood. Littlewood's idea of a theatre where the audience are also players combined well with Price's architectural vision of a collaborative and ever-changing environment which would be a "laboratory of fun", featuring moving walls and floors, interactive panels and even an "inflatable conference centre".
With its lack of doors to control entry and no solid roof, the Fun Palace became referred to as an "anti-building", designed to be dismantled and re-assembled to fulfil different needs. Despite critical acclaim from leading architects such as Buckminster Fuller, Cedric Price's design for the Fun Palace never came to fruition. Yet, according to New York's Museum of Modern Art, the Fun Palace was "the first of many projects that supported Cedric Price's idea that architecture should not determine human behaviour but rather enable possibility".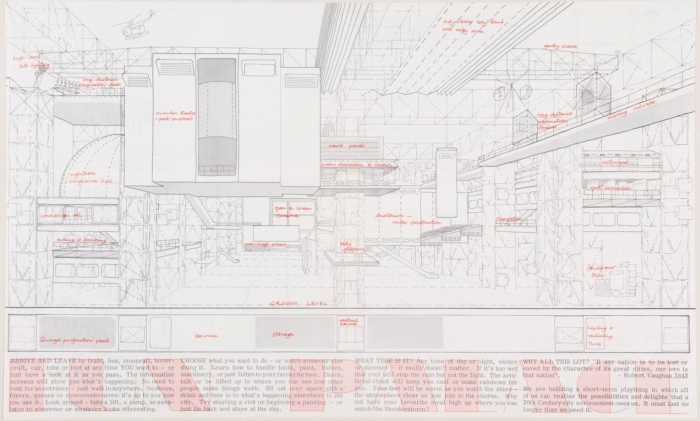 Price's architectural style came from his belief that buildings should serve the needs of the people, and be radically transformed or demolished if they no longer served their purpose. A life-long socialist, Price was deeply sceptical of political institutions and their tendency to use grand, monumental buildings as a means of consolidating power. Instead, Price proposed building temporary and mutable structures which would be open and accessible to all.
One of Cedric Price's more political projects was a design for a new form of university, called the Potteries Thinkbelt. Another unbuilt vision, the Thinkbelt was Price's response to the proliferation of new "glass-plate" universities being built in Britain during the 1960s. Price argued that the government were merely putting up "more monuments to a medieval sense of learning" when they could be re-thinking the concept of education itself.
The Potteries Thinkbelt was to be built on a huge site of around 100 square miles in the former manufacturing heartland of Staffordshire. It was a deeply personal project for Price, as his family home, where he was born in 1934, was right in the proposed Thinkbelt area. With the demise of factories and heavy industry, the Thinkbelt looked to harness the potential of the emerging information and knowledge economy, in order to revive the impoverished post-industrial regions of Britain.
The project was also an implicit critique of the mainstream university system, which Price felt concentrated on the academic, instead of practical and technical education. As an alternative, Price proposed a travelling university that utilised the redundant manufacturing sites of the area. It was designed to be an extended network of learning, rather than a centralised campus. Based mainly on a stretch of disused railway, the Thinkbelt would transport people between residential and learning areas, while the carriages themselves would be mobile classrooms complete with fold-out workspaces and inflatable lecture theatres.
The high-concept ideas behind the Fun Palace and the Potteries Thinkbelt found an outlet in one of the few structures of Price's design that actually got built: the Inter-Action Centre, a unique multipurpose community centre in Kentish Town. This was something of a scaled-down and more static version of the Fun Palace, but was still extendable and flexible. The Inter-Action Centre illustrates Price's insistence that buildings should not be monumental but mutable. He believed that buildings and institutions should not be preserved forever, but rather that obsolescence and demolition were a natural part of any building's "life cycle".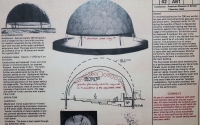 Price was a harsh critic of the tendency in the UK to continually list and preserve buildings and, alongside others proposed the influential idea of "non-plan", an organic approach to creating and changing architectural landscapes. At one point, he jokingly proposed demolishing the Palace of Westminster and replacing it with a "pop-up Parliament".
He intended the Inter-Action Centre, built in 1973-77, to have a lifespan of around 20 years, and argued in favour of its demolition when a plan was devised to have the building listed. In 1999, he finally persuaded English Heritage not to list the Centre, and it was demolished in 2003, the year of Cedric Price's death.
Price completed relatively little and never achieved stratospheric success, but his iconoclastic, eccentric and forward-thinking vision of architecture and its relationship with people shaped modern thinking and influenced a generation of architects and designers. His plans for a flexible geodesic dome, designed to be an auditorium and entertainment centre that could raise up to allow people entry, can be seen as an influence on the design of London's Millennium Dome, and at one point he anticipated the London Eye by several decades when he envisaged a giant Ferris Wheel to be erected on the banks of the Thames, for the enjoyment of local residents.
The St John's College exhibition, called Cedric Price: Outside the Box, examines Price's life and works from his very earliest days, sketching and designing under the encouraging eye of his architect father, through to his time as a student at Cambridge and beyond.
It showcases a new collection of Cedric Price material archived at St John's, including early sketches, letters and photographs revealing hitherto-unknown aspects of Price's personal and family life as well as examining his influences and design processes.
The exhibition runs from Monday 10 November 2014 – Thursday 15 January 2015 and is open to the public free of charge Monday-Friday 9:00-5:00 (closed between Christmas and New Year).
For more information, see Cedric Price: Outside the Box.