Student cancer survivor urges funding bodies to guarantee PhD candidates right to sick leave
Most PhD students receive a stipend, rather than a salary, as part of their research funding. Although this system has advantages, they often have very little right to sick leave.
More than 400 academics have backed a student's campaign to guaranteed PhD students the right to sick leave if they fall seriously ill. The initiative has also attracted support from Cancer Research UK.
Claudia Pama, a 29-year-old graduate student who is studying at St John's College, Cambridge, was diagnosed with cancer part-way through her PhD in 2015. Her experience highlighted the fact that, at present, the United Kingdom lacks a clear, standardised approach to managing PhD students' funding if they have to put their work on hold because of a serious illness.
Claudia had to postpone her research for 10 weeks so that she could receive treatment. She then found out that one of the funding bodies supporting her work had no sick pay policy, and planned to suspend its funding for the duration of her treatment. This threatened to cut off one of her main sources of income, while she was still dealing with the shock of discovering that she had cancer.
Together with two other students who had encountered similar problems– Edwin Dalmaijer at Oxford, and Stella Prins at University College, London – Claudia set up a small online campaign, urging funding bodies to adopt a standard model for providing students with sickness cover. They also published a letter in the leading academic journal, Nature, arguing that PhD students who fall ill should receive guaranteed income under a system that would be similar to the statutory sick pay available to people in work.
Hundreds of academics have now signed the group's online petition. In addition, Cancer Research UK, whom Claudia approached through an academic colleague at St John's, has now adopted a formal policy on paid leave entitlement for students in response. The charity, which runs a network of research centres training  around 550 PhD students, has committed to give them a period of four months fully-paid sick leave, as well as another four month period of half-pay if they need additional time off.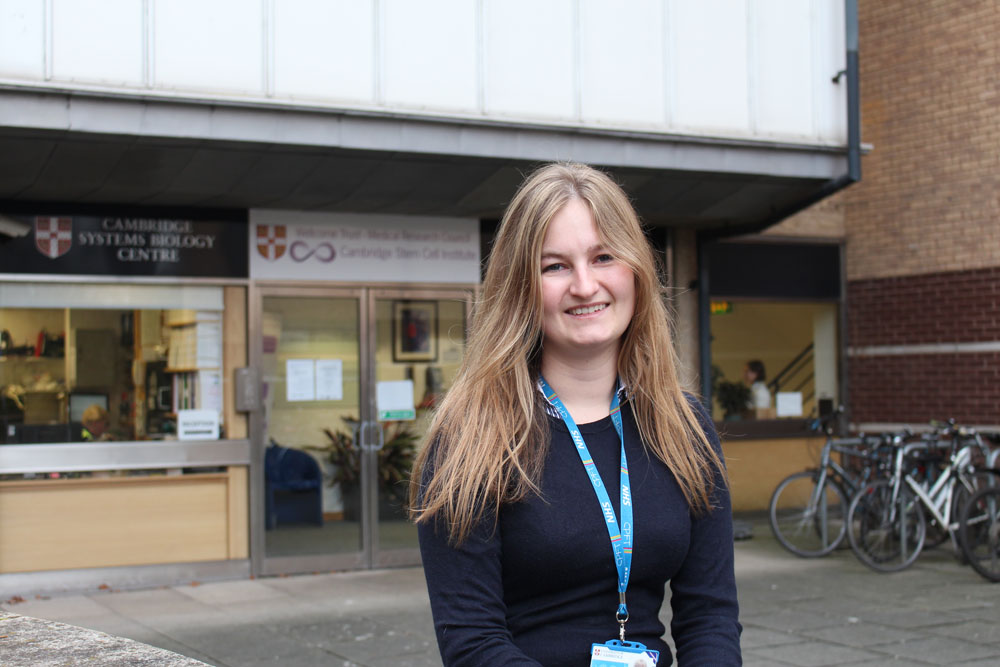 Image: Claudia Pama at the Cambridge Stem Cell Institute, where she is currently studying for a PhD
"Having enough money is the last thing that you want to worry about while you are dealing with serious problems to do with your health, your career, and your future."
"CRUK's response has been hugely encouraging," Claudia said. "They took into account the suggestions that we had made and made a very sensible policy change. My hope is that this will raise awareness of the existing problem and prompt other funding bodies to change their own systems as well."
Most PhD students receive a stipend, rather than a salary, as part of their research funding. Although this system has advantages, they often have very little right to sick leave. 
While some funding bodies do have contingencies in place (training grants from the UK research councils, for example, typically allow for 13 weeks of paid sick leave), there is no standard model. As a result, some students are forced to postpone their research – a process known as intermission – knowing that they will lose income as a result.
Claudia's aim is to draw attention to this problem and, if possible, encourage funding bodies to subscribe to a clear and consistent framework that protects PhD students against loss of income and employment due to illness.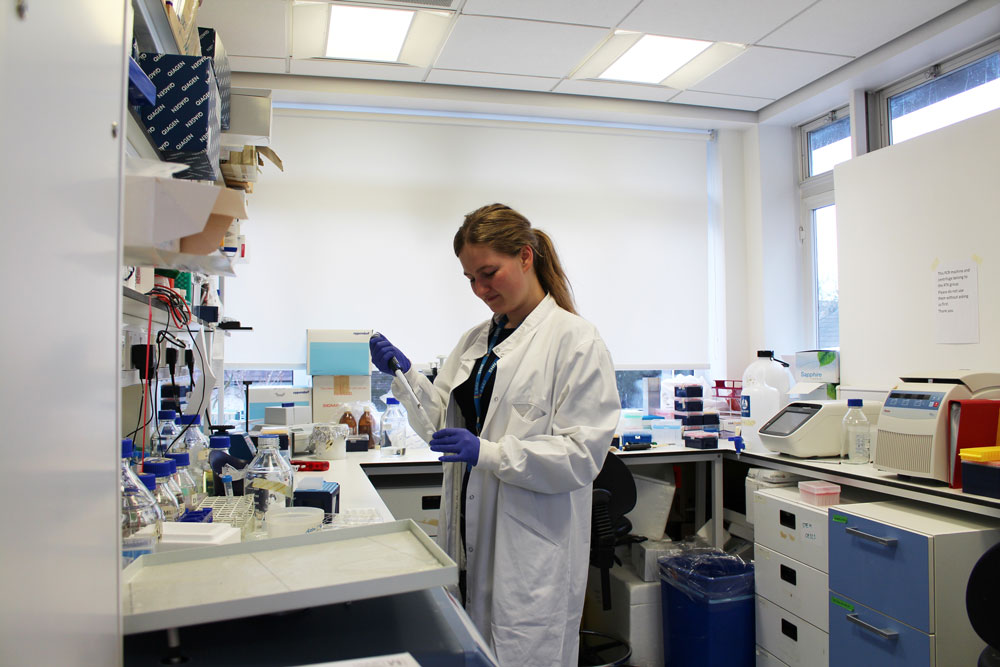 Image: Claudia at work in the lab
She herself was being funded by two different organisations when she was diagnosed with cancer in February 2015, during the first year of her PhD. When she contacted these to let them know that she had to take a 10 week intermission period, one of them told her that her funding was not available during periods of intermission and that she would have to pay back 10 weeks' worth of her stipend.
As this would have left her struggling to cover basic, daily expenses, Claudia eventually managed to renegotiate the arrangement. The funding body agreed to maintain her stipend during the 10-week treatment period, but in return she would have to forego payment during any extra time her PhD took at the end.
The experience left her feeling isolated at an emotionally challenging time. "It didn't feel right that this was happening, but I didn't know anyone in a similar situation, and at that time I had no idea what to do," she added.
Through social media, however, she then began to make connections with PhD students who had found themselves in a similar position. Eventually, she combined forces with Edwin and Stella to write a letter to Nature and then place a petition online calling for changes to the system.
To their surprise, many senior academics at their own universities and beyond, as well as numerous early-career researchers and postgraduate students, were enthusiastic to add their names to the petition. Their initiative has also been supported by Chronically Academic, a network of academics with disabilities and chronic conditions.
Claudia's own treatment appears to have proven successful and she has resumed her research. "I have been positively shocked by all the support that I have had from friends and colleagues in Cambridge, even people I didn't know that well," she added. "It really helped, because having enough money is the last thing that you want to worry about while you are dealing with serious problems to do with your health, your career, and your future."