Entrepreneurs' club to launch 'Dragons' Den' for St John's innovators
"We want to build a powerful entrepreneurial ecosystem, emanating from St John's"
Whether you're a wannabe Deborah Meaden or a budding Steven Bartlett, a new support hub for entrepreneurs at St John's aims to be a springboard to success.
Students and researchers with burgeoning business ideas will be able to attend the clinics run by the Johnian Entrepreneurs' Club (JEC) to gain advice, mentoring and support from successful start-up founders.
Postgraduate student Olivia Dovernor, JEC President, said: "We want to educate and inspire students, or those further along in their academic career, by hosting engaging talks and interactive events to ultimately give attendees knowledge and skills to join or found their own start-ups. As a starting point, most founders will draw on their own experiences academically or otherwise when looking to start a company.
"The hub will open on Wednesday afternoons in Easter Term hosted in the new Café, where founders and interested individuals can come talk to members and advisers of the committee. It's an opportunity to get some personal support and create a self-sustaining entrepreneurial network in our College."
Members and advisers of the JEC will be present in the new Café from 2pm every Wednesday. Undergraduates, postgraduates, post-doctoral researchers and Junior Research Fellows will all be welcome at the events to stimulate discussion and interest across the College.
St John's alumna Dr Liisa van Vliet, who was a founding member of the JEC, has her own biotech company, Drop-Tech Ltd, and mentors at the Judge Business School. Liisa is involved in the club as an adviser along with fellow Johnian Dr Andrea Dimitracopoulos, co-founder and COO of DeepMirror.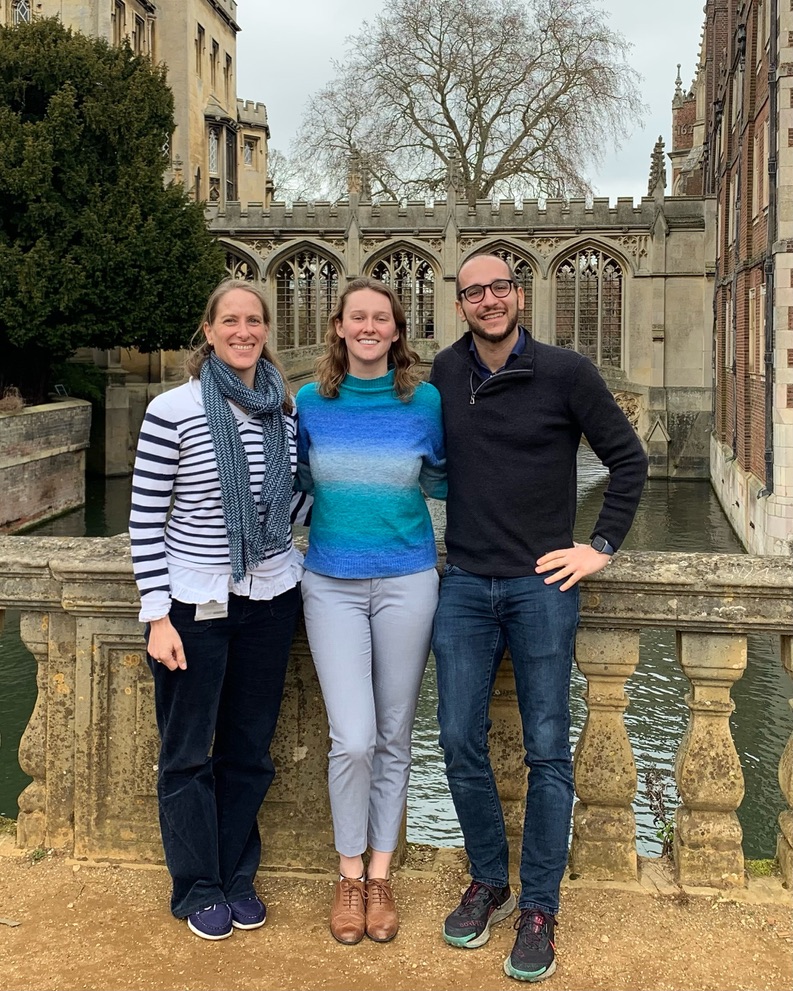 "We will be able to help anyone at St John's with a start-up idea, taking them through the process of ideation and commercialisation"
Olivia, who is in the third year of a PhD in Chemistry, launched her own software business, Student Bubble, during her studies. The business proposition came from her experience renting as an undergraduate at the University of St Andrew's in Scotland. She is also keen to lend fellow potential entrepreneurs the benefit of her own experience, from having the germ of an idea to talking to customers, sourcing finance and ultimately creating a marketable product that is used in her target sector.
Student Bubble is an online property marketplace aimed at streamlining the search and application process for students looking to rent privately in Glasgow, Edinburgh and other Scottish university towns and cities. The team is now working with lettings agencies to test the developed software ahead of launching next academic year.
"Through taking part in accelerator programmes, such as Geovation Scotland who support early stage start-ups navigate the challenging process, I have come up with the ideas and developed a commercial product. We are now focusing on constantly improving this product by talking with potential customers to add value in a tough market," said Olivia.
Her start-up has earned a place on various accelerator and venture builder programmes over the last three years and obtained a significant amount of grant funding. "Your network is key to navigating a start-up ecosystem and although it's not formally an accelerator, our community can help as it is full of current students or alumni who have experience navigating fast pace sectors. We can also suggest suitable programmes and help you get onto them.
"We will be able to help anyone at St John's with a start-up idea, taking them through the process of ideation and commercialisation and putting those interested in touch with alumni if helpful," added Olivia. "We want to build a powerful entrepreneurial ecosystem, emanating from St John's.
"Aside from founding companies, other businesses are looking to hire candidates with professional skills, leadership responsibility, teamwork and experience in addition to excellent grades, and these are integral attributes we aim to support."
The hub will run alongside a suite of events including talks, interactive sessions with successful entrepreneurs and other networking opportunities. "There will be a real synergy around what we are doing," said Olivia.
"My start-up is completely different in subject to my degree, Chemistry, but the mindset and attitude to working in a start-up and PhD is similar. Your idea could be focusing on solving issues in climate change, finance, software, biotechnology or sustainability, for example, and I would say the best place to start is with your own experiences. The probability is that someone else has the same problem you've faced and it may still need a solution. That could be your starting point."
She added: "We are already so proud of Johnians who have founded or are in the process of starting companies during their studies. Undergraduate Satoki Shimamune is enabling aircrafts to be more resilient against wind and has secured the relevant IP for Horizonist. PhD student Darius Zarrabian and his colleague, post-doc Nadia Radzman, were accepted onto the Nucleate UK Activator programme this year for their start-up, which aims to improve the delivery of DNA and gene editing machinery into legume crops for improved sustainability and climate-change resilience.
"Will Halfpenny from St John's and co-founder Joe Jollans, at Jesus College, who are both sixth-year medics, have developed Pullnote, which is a system that allows you to store and organise concepts from study materials as you read them, then generate high-quality flash cards, ready for high-yield learning. Pullnote was accepted onto the most recent cohort for Pre-Accelerate Cambridge and we are continuing to have conversations with Johnians starting their own podcasts, commercialising their own research or finding gaps in the market."
The JEC already collaborates with numerous university and college societies including Cambridge University Technology & Enterprise Club and Cambridge University Energy Technology Society. It also has a network external to the University including ties to the St John's Innovation Centre for those looking to develop hardware products or achieve growth of later stage companies. JEC would also like to hear from other collaborators and potential speakers, as well as students, who would like to get involved.

For more information and to get in touch, visit the JEC page on the St John's website or the Johnian Entrepreneurs' Club site.
Published 17/03/2023