Cicero's De Officiis (Mainz: Fust and Schoffer, 1466) (F.19)
Appears in manuscript:
Manuscript description
The colophon of this volume, the oldest printed book held by St John's, is printed in red and gives the name of Johannes Fust, the place of Mainz (Moguntium), and the date of 4th February 1466. Fust was originally Gutenberg's financier, but foreclosed on him in 1455, taking possession of most of Gutenburg's equipment and type, also getting Peter Schoffer, originally Gutenberg's foreman, into the bargain. Gutenburg was apparently left with very little and although he may have continued printing, it was left to others to begin to reap the true financial rewards of his innovative synthesis of technologies, Fust and Schoffer being the first. They printed two editions of De Officiis, Cicero's last work on moral philosophy, one in 1465 and this one the following year, which were the first editions of a classical work published in Germany. Fust died in October of the year in which this volume was printed, at about the same time that Schoffer married his daughter. Schoffer continued printing until 1502, and he was succeeded by his son in 1503.
Given by William Crashaw.
Manuscript image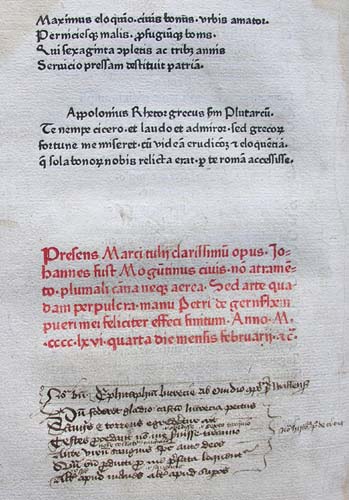 Related manuscript images