Green by name and green by nature: memories of a Head Gardener
"More than half of my lifetime has been spent at St John's and I feel like this is my garden"
Head Gardener Adam Green has retired from St John's after 35 years at the College. He spoke to Louise Hanzlik about his colourful career, from catching foxes and presenting lilies to the Queen, to building snowmen in the Scholars' Garden.
Adam Green's first day back after the Christmas break was also his last day as Head Gardener at St John's. In his final few weeks in the job, we chatted about what he'll miss the most in retirement. "It will be the people and being part of the College community. But I will visit everyone from time-to-time and to see how the trees I planted are doing! More than half of my lifetime has been spent at St John's and I feel like this is my garden – it is going to be hard to give it up."
Adam first joined the team in the mid-eighties, and after working his way up, he has spent 16 years as Head Gardener. "I've always loved being outdoors and working with nature." After a hip replacement two years ago, followed by an operation on his spine, the 62-year-old thinks now is the right time for him to step down. He says, "I need to value the health I have left while I can. I feel young in my head, but I can't always physically do what I used to and this is quite a demanding role."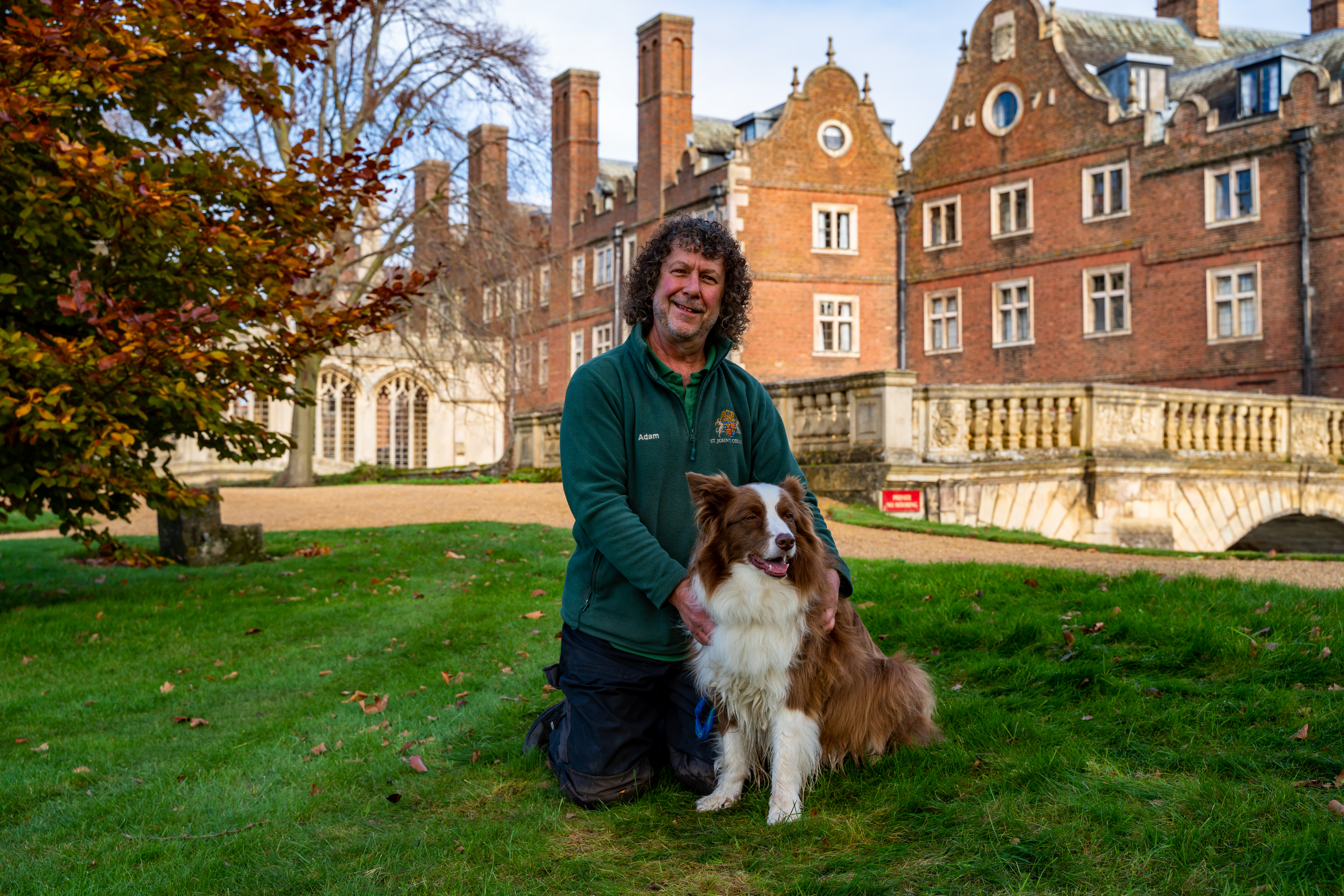 Along with his team of seven staff, Adam looked after 22 acres of land, including manicured lawns, the grounds of Master's Lodge, wildflower meadows, and the gardens of the student properties. The team recently finished planting thousands of bulbs so the College will bloom with tulips, daffodils, crocuses and muscari this spring. Last term also saw the ongoing battle with ever growing piles of autumn leaves… 
He has many happy memories of his time at St John's and used to bring his two grown-up children into College when they were toddlers, and took them on rides on the mower. "In those days, health and safety wasn't so rigorous!" Being green-fingered runs in the family and his daughter Rosie now works as a gardener at St John's. She got married in the College Chapel five years ago. "That was one of the happiest days of my life," says Adam. 
Building snowmen with his children in the Scholars' Garden was another popular family pastime, once Adam had checked the area for any more explicit creations made by mischievous students. 
"Students were sometimes rather imaginative with their sculptures. Many were humorous, but some were inappropriate, and I reluctantly had to remove them in case they caused offence."
Student pranks led to another memorable occasion when Adam was tasked with getting to the top of the famous 'Wedding Cake' in New Court because a large inflatable banana had been attached to it. "I had to free climb the last bit – not something I would want to do now even if health and safety allowed!"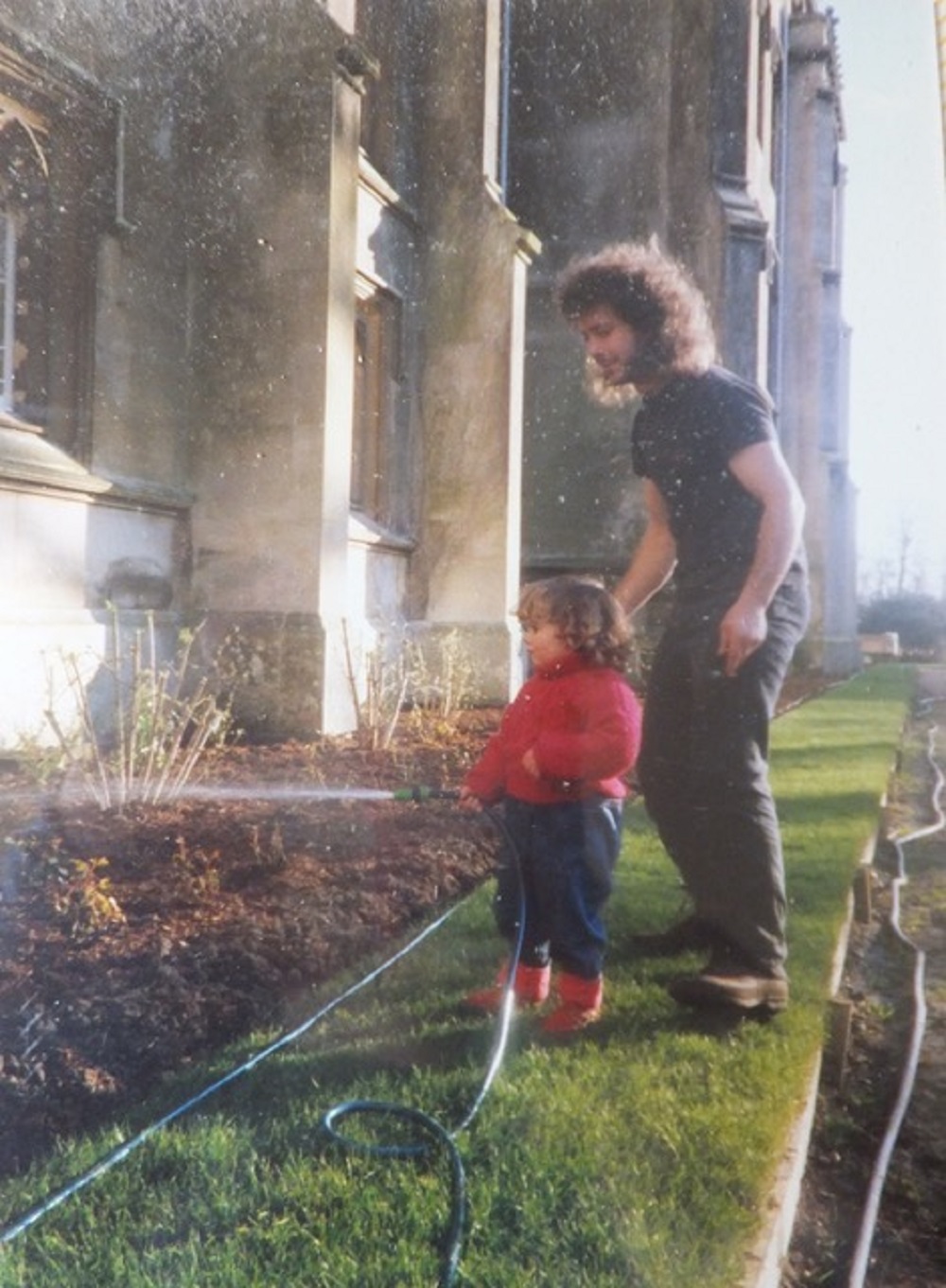 Other unusual sightings were usually of the furry kind, and wildlife spotting has always been a firm favourite. Adam has regularly seen deer, badgers, owls, foxes and peregrine falcons. He has also helped rescue his fair share – including coaxing out a scared fox who had run up the staircase in Second Court to the Old Library. And he has spotted the odd Royal too – meeting the Queen during the College's 500th birthday celebrations in 2011 was a particular highlight. He presented her with a pot of Martagon lilies grown in the Fellows' Garden, to be planted on her estate at Sandringham. 
Wherever Adam could be found, there was often a faithful dog by his side who earned his keep by chasing away the Canadian geese from The Backs. First there was Mr Rusty, then Jed joined him in 2013, and now there's Brynn. Jed died very recently after a short illness. "We loved him and the students loved him. His most important job was really to cheer up students who were missing their own pets."
It doesn't sound like Adam is planning to take it easy in retirement. He wants to do more volunteer work for the Woodland and the Wildlife Trusts, he is keen to be involved in rewilding projects in Scotland, and plans to look into how horticulture can be used in mental health schemes. "I'm sure I can keep myself busy!"
He might be hanging up his gardening gloves, but he is still thinking about the future of the College gardens he has loved for more than three decades. "I'd like there to be a woodland wildlife area and learning centre with pond dipping for children, and an orchard where the wildflower meadow is at Merton Court." Something tells me that Adam is retiring only in body, not mind.
*An edited version of this article appeared in the Michaelmas Term 2020 edition of Eagle Eye.
Published: 8/1/21