From ferries and market stalls to bacon butties and College feasts
"Meeting for food is such a powerful thing"
The new College Café, Bar and Buttery have been open for five weeks after an 18-month overhaul, and the facilities have proved an instant hit, with record-breaking numbers of students making the most of the popular Saturday brunch and thousands of lattes being served.
In the last of our three-part series profiling the staff who run the social spaces, we meet Buttery Manager Ray Stevenson and Ean Hogg, Assistant Catering Manager.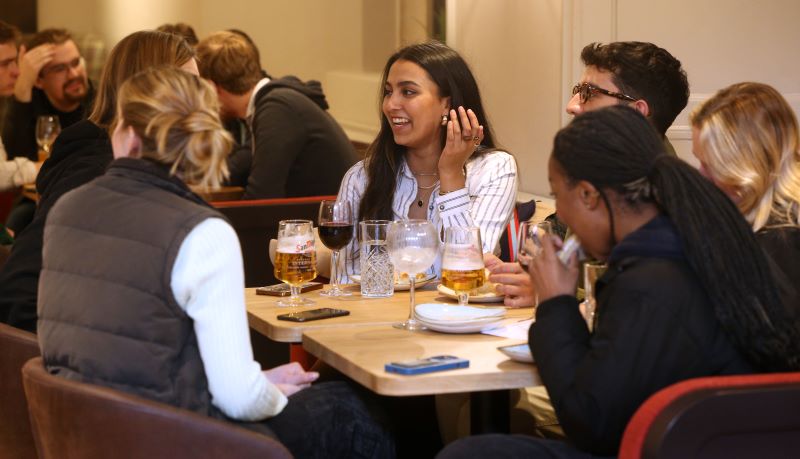 Ray Stevenson – Buttery Manager
"In a bar you're talking to people, you're their counsellor"
"I didn't really go to school from age 12," says Ray Stevenson, Buttery Manager at St John's. "I was working on the markets – on the fruit stall in Bury St Edmunds, where I lived, and then twice a week I'd go into London and load lorries for other people. I earned a lot, but I spent it quickly on the dog track or the fruit machines."
Ray's route to St John's may have been less conventional than some, but every element of his career has contributed to his role in College and his many charitable activities. A spell in the Army aged 16 quickly taught him that 'I didn't like people telling me what to do', but a couple of years later, keen to learn a trade, he was back, this time as a trainee chef. "I would have been in mischief if I hadn't gone," he says. He was stationed at Colchester, but the job took him to Cyprus, Croatia (with the United Nations after the Yugoslav wars) and to Northern Ireland; a total of nine years that would have an impact he would recognise only later.
Trading in the constant moves of Army life in 1997, he became a chef at Ipswich Hospital, then moved to take charge of the food stores and the finances of the catering operation, before finally managing the provision of all the non-medical goods needed on the wards. His success quickly saw him headhunted to set up the catering facilities at the new HSBC Tower in London's Canary Wharf, working in the fast-changing landscape where skyscrapers sprang up on all sides.
After two years of long commutes and demanding days, he returned to Ipswich Hospital to manage the full catering operation, looking after 190 staff and a £7m budget, then briefly took off on his own to run two pubs in Stowmarket and Bury. "I lost a shedload of money," he smiles, "but I enjoyed it; in a bar you're talking to people, you're their counsellor."
Finally, in 2007, he arrived at St John's, bringing to the role of Buttery Manager his long experience of catering organisation and budgeting, together with the customer-facing element of his pub role. "The College way of life is different from the commercial world," Ray says. "I'd come from contract catering where everything was all about money; here it's possible to have a better work-life balance. But still, if I see a member of staff standing around, I think – you should be working! I'm still very cost-driven."
Ray finds students friendlier and more polite now than when he first arrived and likes to tease those he gets to know – though anyone he finds sitting on tables will soon learn not to do so again: "I say, you might do that at home, but you're not doing it here."
Outside of the bustle of work, Ray has had little time to put his feet up. Aside from his family – the youngest of his three boys is just seven – he has been involved in an array of charity projects. Until recently, he was director of a farm set up to educate children about where food comes from and allow them to meet animals, while a 'Sunday catch-ups' scheme launched in 2018 brought elderly people and others feeling lonely together for free Sunday lunches on alternate weekends and at Christmas. "There are people who are so isolated and just don't see anybody over a weekend – meeting for food is such a powerful thing. I'd love to see a top chef back it and have it pushed out around the country."
In College, Ray's work team includes staff with special educational needs, who take supported roles in the plate wash section of the kitchens. He is able to harness his experience gained on the farm, where young people who struggled with school because of bullying or attention difficulties were able to find purpose and a welcoming environment.
As well as helping others, Ray has learned to recognise he too needs support, including counselling for PTSD he suffers following his experiences in Northern Ireland. "That was a huge eye opener. There were no emotions in the Army, and I took it as the norm."
After a busy – but rewarding - period shifting the College's catering operation to First Court, Ray is enjoying seeing the new social spaces in action at last. The Buttery, he reports, is less noisy than before thanks to the high, architect-designed roof. "It's a lovely space and the numbers using it are growing all the time."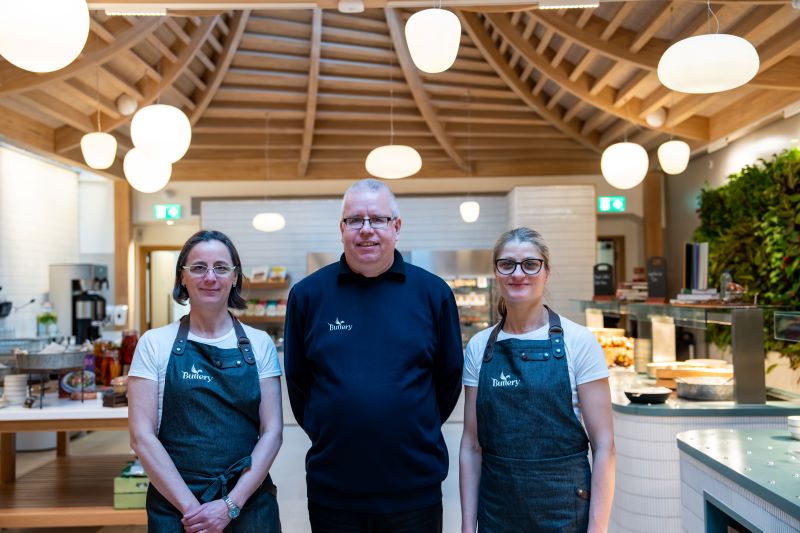 Ean Hogg – Assistant Catering Manager 
"These are special places that are keeping the tradition alive"
Before Ean Hogg arrived at St John's as Assistant Catering Manager, his workplace had barely stood still. He joined the College from a career overseeing bars and restaurants on ferries crossing to France and Ireland, coping with stormy weather, rough seas and a constantly changing roster of guests.
Safely on dry land at the College since 2005, Ean brought a wealth of experience managing busy front of house operations in often challenging conditions at sea. "We worked one week on, one week off," he recalls, "and lived onboard for the working week, making 10 trips a day between Dover and Calais. I absolutely loved the variety; every week was different, and every trip was different. The big sporting events were especially memorable – during Euro '96 and France '98 we had so many nationalities on board and a fantastic atmosphere." The 1990s brought changes to hospitality onboard ship: in-house catering facilities were supplemented by the first cross-Channel McDonald's outlets and branches of Langan's Brasserie. Ean was nominated a trainer for all new onboard staff working in the restaurants, ensuring that company standards were met throughout the fleet.
Irish Sea crossings, predictably, were often rough, but even the Channel could be hit by storms. "We once got stuck out at sea for three days because we couldn't get into Dover. We had to lay off near the Isle of Wight and just wait it out."
With changes of ownership among the ferry companies and a fall-off in day trips when the abolition of duty-free sales by the European Union in 1999 put an end to 'booze cruises', the position that Ean held onboard was made redundant. By chance, he spotted an advertisement for an Assistant Catering Manager's post at St John's, and 18 years ago made the move to Cambridge.
The role allows Ean to draw on his original training in hotels and hospitality. Growing up in Worcester, he studied for a BTEC then completed a two-year hotel management course, gaining experience in a wide range of high-end hotels such as the Brighton Metropole, spending time in kitchens and bars and discovering that front of house suited him best. "I like looking after events. In hotels, like the ships, you get very quick at gauging people and discovering what they really need as opposed to what they think they want."
Overseeing events at St John's – from College feasts and formal Hall to conferences and weddings – remains a favourite part of the job for Ean. "Although events within College happen annually, in practice they change every single year because there is a fresh intake of students. No two years are the same." His role involves ensuring service runs smoothly and on time, with all teams involved knowing their responsibilities. After a suspension of events during the Covid pandemic – when the College switched to an equally busy seven-day-a-week food delivery service – there has been no return to silver service dining, so food is served plated up. Another change has been the opening of the spectacular new social spaces, which, Ean says, are "bringing a sense of community back into the heart of College".
The end of Covid restrictions has also seen the resumption of St John's May Ball – an iconic annual party that involves detailed planning with the student organisers. "It's a day/night event I really enjoy working. The spectacle is incredible, and food and drink is at the heart of it. At 4am last year we served 2,500 bacon butties!"
A favourite event for Ean is the annual Officer Training Corps dinner. "I like the pomp and circumstance of that: it's very traditional, candlelit, everybody is dressed up and there's a lot of etiquette behind it. It's only these old establishments and venues where you still see these sorts of dinners being held, and there's something very magical about them. These are special places that are keeping the tradition alive."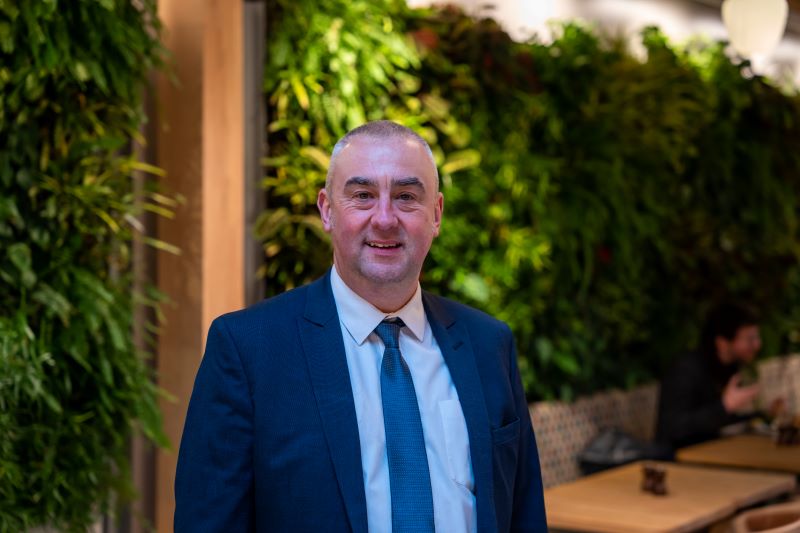 Published 13/03/2023