Coffee, cake and a jug of 'Party on the Backs' – meet the team ensuring St John's food and drink is second to none
"That's a privilege, a really great opportunity to do something positive to a longstanding institution, to create lovely spaces where people want to spend time and to provide sustenance and refreshment for them"
Our new social spaces have opened – bringing a new buzz to College (and some spectacular coffee and pastries). We meet the members of staff managing the new facilities.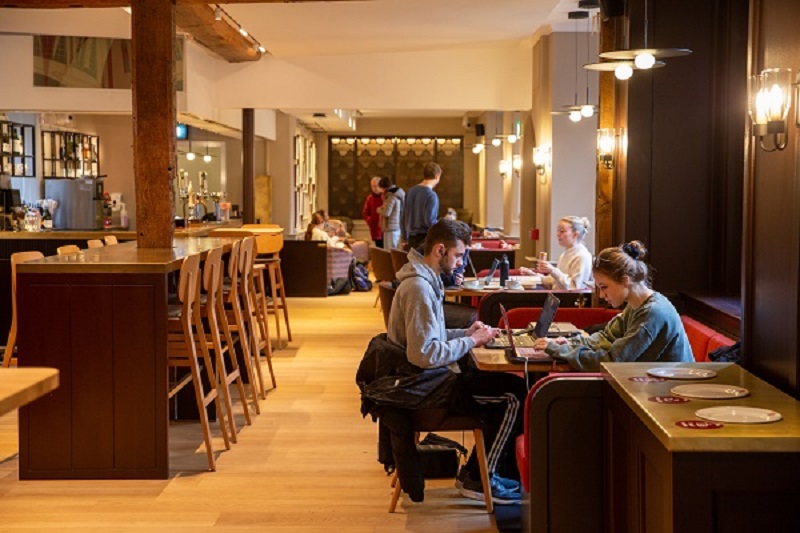 Camille Paris – Launch Project Manager, Social Spaces Project
"That taste and smell can take me back. They are literally my madeleines!"
As a little girl growing up in Laval, in North West France, Camille Paris went every Sunday with her father to the local bakery. There, they would buy croissants, and the baker would hand Camille a small treat of her own. "The boulangère would give me a free mini pastry called a chouquette – a little puff pastry with sugar pearls on top. To this day, and I am 30, that taste and smell can take me back. They are literally my madeleines!"
Now, in her role overseeing the redevelopment of St John's' social spaces, Camille is in charge of buying French pastries to stock the College's new Café, together with the equipment, crockery, cutlery, premium coffee and numerous other elements that define the look and feel of the new facilities. Every decision has been taken with the same care and enthusiasm as her childhood bakery trips: coffee machines have been trialled, lattes and flat whites tasted for excellence to match any Cambridge café, smoothies mixed and sweet and savoury snacks selected to ensure College members can eat and drink well - at affordable prices.
Arriving at St John's in May 2022 to manage the opening of the Buttery, Bar and Café, Camille had already spent five years in Cambridge, honing her skills in high-end hotels in the city. Her degrees in Business Management in France and then Tourism and Hospitality Management in Barcelona led to a graduate placement in the Hilton hotel here, which quickly became a permanent job. From there, Camille moved to the Parker's Tavern, and then on to a role as Director of Food and Beverage at Cambridge's The Fellows House hotel, which opened in July 2021.
At first, the move to a College was "very bizarre, very different to high street hospitality", she recalls. "It's less fast-paced, more laid back – in a good way. I really respect the fact that here it is seen as something positive not to work 70 or 80 hours a week. Even though hospitality is my passion, I didn't want that any more – although having said that I was almost living here [at St John's] in the weeks before our opening!"
At first, with the social spaces still a building site and the ways of the College still a mystery, she checked every purchase and decision, before recognising that "my understanding of the vision here matched what the Master and the team already wanted". With the furniture and aesthetic already chosen, the focus was on food and drink for the new Café, Bar and Buttery, and ways to serve them well - from plates and cups to trays and glasses. Camille visited other colleges' dining facilities, together with high street outlets. "A student café traditionally has been a bit dirty, a bit sticky. I took inspiration from the coffee shops. You look at our spaces now and you don't think this is a college café." Among the features tempting customers as they buy their morning cappuccino is a large counter displaying fresh Délice de France pastries. As yet, there are no chouquettes – but with Camille in charge, perhaps they may be on the menu soon.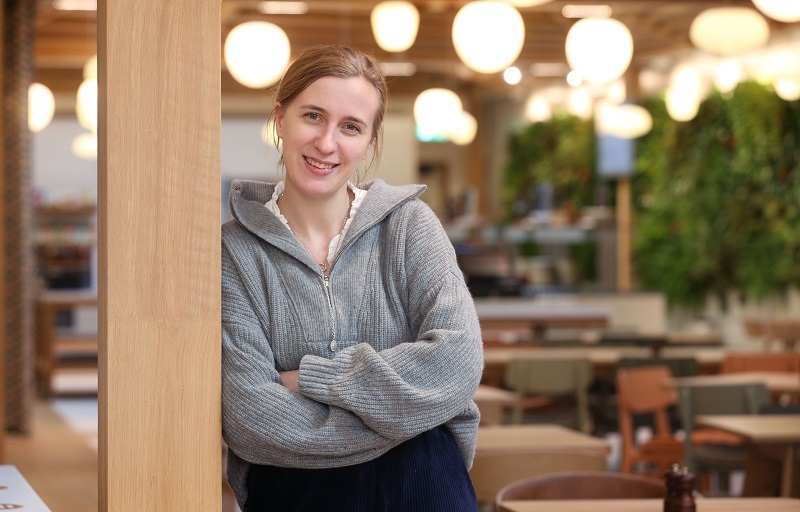 Chris Pope – Catering and Hospitality Manager
"John Major was talking about Boris Yeltsin getting incredibly drunk and waking up the neighbours. I was carving slowly because I wanted to hear the end of the story"
Overseeing everything from feasts to daily eating for hundreds of students in a 500-year-old Cambridge College might daunt some people, but Chris Pope, Catering and Hospitality Manager at St John's, is unfazed by iconic institutions – and their inhabitants. Over his 35-year career, Chris has worked as a banqueting chef in the House of Commons, where he was once ticked off by the then-Speaker, Betty Boothroyd (an exacting boss) because the last portion of potatoes were late.
In his next role, as head chef and then executive head chef at Norwich City Football Club, Chris oversaw the serving of 4,000 hot meals in the 90 minutes before kick-off each match day – all under the watchful eye of the club's majority shareholder, celebrity chef Delia Smith. "She's kind and caring, really genuine and with an amazing sense of taste, and knows her own recipes inside out," he says. "Like Betty Boothroyd, she's a force of nature. I don't think you excel in these fields unless you have a bit of steel running through you."
Chris came into catering almost by accident, leaving school in Barnet, north London, at 16 and more interested in playing rugby than schoolwork. Lacking the grades needed to join the army as he hoped, he enrolled in catering college and found he enjoyed the experience: "I'm a big lad, and I love food and drink."
Progressing up the career ladder to his busy House of Commons post, Chris found time to appreciate the drama of his Westminster workplace. "I would pull up in my battered Fiesta and the police on the gate would clear the way and wave me in. It would absolutely crack me up. Walking out of the Palace of Westminster, the sun shone off the clock face on St Stephen's Tower – you can't see it like that from the outside, and not many people get to see that view."
Inside the building, too, there was plenty of entertainment. "One night I was carving in one of the restaurants and John Major was talking about Boris Yeltsin getting incredibly drunk and waking up the neighbours. I was carving slowly because I wanted to hear the end of the story."
In 2012, Chris returned to Cambridge – where he had previously been head chef at the University Centre – to take up a role as General Manager at Murray Edwards College, overseeing catering, events and more. After over ten years in the role, he made the jump across the Cam to St John's in May 2022, just as the College was in the middle of reconfiguring its social spaces to create a revamped Bar, Buttery and Café.
"It was hard to get excited about the space at first as I couldn't even get into it," Chris says. "But as soon as we started having access I got really excited about it very quickly." Food is extremely important to the College, he notes. "Everybody has an interest, everybody has an opinion, and the facilities are used well. You get peaks and flows but people really come here to eat and drink together. Being responsible for helping facilitate that community in these new spaces – that's a privilege, a really great opportunity to do something positive to a longstanding institution, to create lovely spaces where people want to spend time and to provide sustenance and refreshment for them."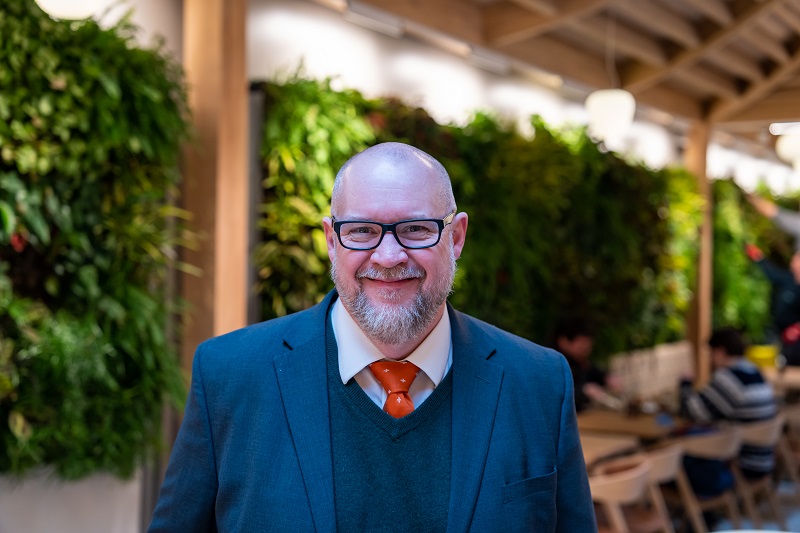 Jason Barker – Bar Manager
"You talk to the students about anything in the Bar – football, whatever – and you realise they're from such diverse backgrounds"
On his first day at St John's, Bar Manager Jason Barker looked at his rota for the week in disbelief. "I had the weekend off," he recalls. "I couldn't believe it. I showed my wife and she said, you'd better check, that can't be right."
After a career working 70-hour weeks managing pubs, in Staffordshire, Yorkshire and - for the past 15 years - here in Cambridge, Jason was unused to any kind of work-life balance. Also a surprise, when he took up his College role in January 2019, was the politeness of the student clientele. Where pub chucking out time had stretched after midnight as he persuaded boisterous drinkers to leave, students have proved far more co-operative. "They're a lovely bunch – we never get any aggro from them. At 11 o'clock, it's time to go and they go, as good as gold. On a busy night, some of them even help me tidy up. On graduation day, they bring their mums and dads in to say hello."
Chatting to students is one of the perks of the job for Jason, alongside more family-friendly working hours that mean he sees more of his wife, Sarah, and their two daughters. "You talk to the students about anything in the Bar – football, whatever – and you realise they're from such diverse backgrounds. Funnily enough, once one of them paid with a cheque and the account was based in Cheadle in Staffordshire, where I'm from – and I realised people from Cheadle could come here. It's opened my eyes to how accessible these places are, if you're prepared to work hard."
The new Bar, one of a suite of refurbished social spaces at St John's, is "that most informal place in College where students can relax and be themselves, and not be under the spotlight," Jason observes. "I'm very keen it's as diverse as it can be".  The original Bar was widely felt to be less than inclusive – dark, old fashioned and dominated by sporting memorabilia. In the new, light space, photographs on the wall feature an eclectic range of activities: "There are bee keepers, rowing teams, cellists. I think that's a really smart message – that everyone is welcome."
Before meeting his wife, a chef, and moving into pub management, Jason trained as an engineer. His technical eye approves the efforts at St John's to blend modern social facilities for students with their historic setting. "The look is very sympathetic to the old design. Some modernisations look like a carbuncle, but here the colours, the fabrics, the aesthetics all bring it up to scratch while still keeping the feel of the place."
Now the new Bar is up and running, replacing the temporary facility in First Court, what drinks are tempting students most? Perhaps surprisingly, cheap drinks are not the greatest lure, Jason has found. "People are migrating towards the premium offer: wheat beer, premium lager, gin and tonic and port." Real ale from nearby Milton Brewery is back on tap, while the cheapest pint is Tetley Bitter at £2.65.
An expanded range of cocktails and bar food is planned, but for now drinkers can order a jug of Party on the Backs, Jason's polite St John's twist on the classic Sex on the Beach cocktail, featuring vodka, peach schnapps, orange and cranberry juice.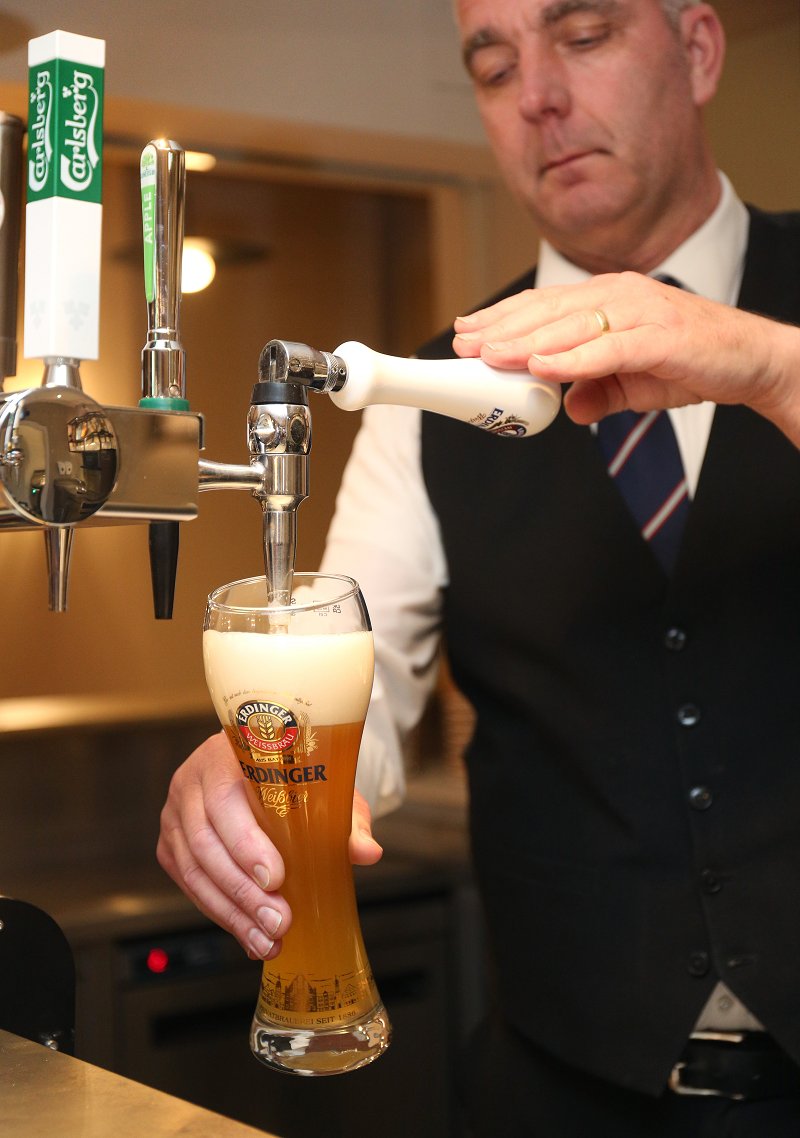 Published 10/03/2023