Trapped cygnet avoids swan song after firefighter rescue
'When cygnets are six months old, parents cut ties with them and chase them away, sometimes quite aggressively'
A swan got into a flap when it nestled in a narrow drainpipe on the side of The Old Library at St John's College and promptly got itself stuck. 
The juvenile swan was spotted by a student who was working in the computer room of the Library and he reported it to the College porters. 
Steve Poppitt, Head Porter, said: "The trapped cygnet was given time to see if it would be able to free itself but when it became clear that it was not able to get out, we contacted the RSPCA and an Animal Rescue Officer arrived on scene on Friday afternoon with the fire service."
Three firefighters crawled through loft space at the top of G staircase, Second Court, to reach the roof of the Old Library to begin the swan rescue and one firefighter supported the rescue from the grounds of the Master's Lodge.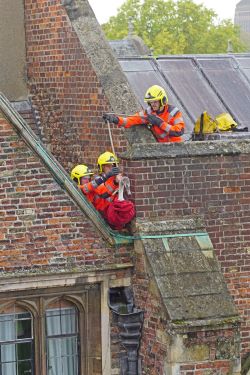 The swan was tucked into a 'swan bag' provided by the RSPCA and lowered to the ground on a rope pulley system where Naomi Sadoff, Animal Rescue Officer from Cambridgeshire and Norfolk RSPCA, examined him to make sure that he wasn't injured.
She said: "He looked in excellent health considering his adventure and his wings looked fine. Cygnets tend to stay with their parents for around six months and then they are supposed to literally fly the nest. In this case, the juvenile swan doesn't seem to have flown very far! A mute swan's wingspan can reach up to 2.4 metres once fully grown so once he was in that cosy spot, he wasn't able to manoeuvre himself out."
The swan, named John after St John's College by the rescuers, was swiftly freed into the River Cam and immediately swam off upstream without so much of a backward glance or thank you to his team of rescuers. 
Sam Cornwell, firefighter for Cambridgeshire Fire and Rescue, said: "Animals are unpredictable which means that rescuing them can be challenging but this one went very smoothly. It is easier to get a swan back in the river where it belongs than getting a cow out of the river where it doesn't belong!"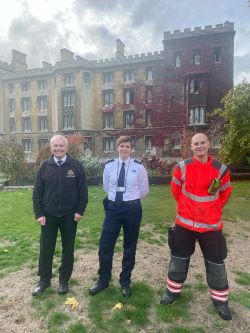 Mute swans are the most common breed in the UK and normally mate anytime between spring and summer and cygnets are born anytime between May and July. They spend two to three weeks building an intricate nest and sit on their eggs for around six weeks. 
Swans hatch up to 10 eggs at a time but it isn't uncommon for some to be lost to predators. Once the cygnets are six months old, the parents cut ties with them and chase them away, sometimes quite aggressively. The cygnets then often join the first flock of swans they encounter and stay with them until they are four years old when they will find a mate and head off to find their own mating territory. 
Naomi added: "It seems to be the season for swan rescues as I've been to help with several recently, but none of them have got themselves into such a tight spot as this one."
Published: 21/10/22