MS B.18 f.1r, upper panel
Appears in manuscript:
Manuscript description
This scene is organised around the central figure of David harping. In the top left corner a 'musicus' plays chime bells and a monochord. Below him two small figures are working the bellows of an organ. The two musicians, playing panpipes and a cornet, and the singer to the right of David are all associated by the manner in which they produce sound i.e. by their breath ('spiritus', symbolic of the Holy Spirit). The book held open by the singer is a Psalter, containing the text of the opening of Psalm 1. The music is thus spiritual, liturgical, rational and harmonious. From the initial leaf of MS B.18, a triple psalter. Reims, early 12th century.
Manuscript image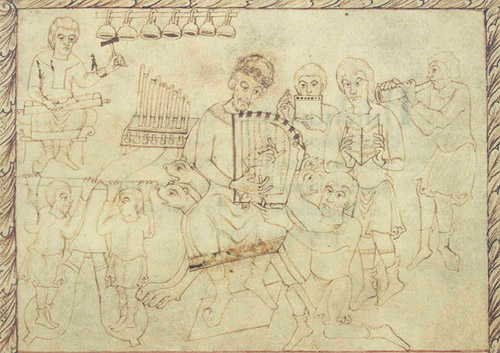 Related manuscript images