Literary event showcases work of creative writing award-winner
"It will be wonderful to bring this aspect of the College's cultural activity back to life"
Poet and author Madeleine Pulman-Jones, current holder of the Harper-Wood Creative Writing and Travel Award at St John's College, will be reading some of her new work at a special literary event in March.
Held for one year, the Harper-Wood Award is intended primarily for creative writers who are in the initial stages of their careers. It is to encourage a project of creative writing by making it possible for the holder to engage in relevant, project-related travel and study. Previous holders include Thom Gunn, Michael Hofmann, Giles Foden, Sarah Howe, Erin Soros and Vahni Capildeo.
Madeleine, a Cambridge graduate of Russian and Spanish, took tenureship of the award in October and her travels have taken her to Paris and New York and enabled her to work on a book-length project. On Thursday 3 March she will be reading from some of her recent work during the Harper-Wood Literary Reading in the College's historic Wordsworth Room, where the great Romantic poet William Wordsworth lived when he was an undergraduate at St John's in the 1780s.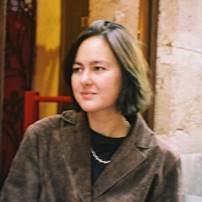 Poet, playwright and translator Sasha Dugdale, who is St John's College Writer in Residence and a 2021 International Booker Prize finalist, will introduce the reading and chair a discussion afterwards.
Madeleine's poems have already appeared in publications including PN Review, Poetry Birmingham and Adroit Journal, where she was a finalist for the 2020 Adroit Prize for Poetry judged by Jericho Brown. She has also been a featured poet in The Bad Betty Press's Book of Bad Betties and in The Mays Anthology, and her prose pieces have appeared in The Guardian and other publications.
Dr Alex Wong, College Associate Lecturer and Director of Studies (Part IA) for English, said: "After two years in which there has been little opportunity for in-person literary events at St John's, it will be wonderful to bring this aspect of the College's cultural activity back to life with a reading from our current Harper-Wood awardee. She has published a number of excellent poems, scattered in various places, and it will be a treat not only to have them brought together in her own recitation, but also to have a 'sneak peek' at some of the other, newer things she's been working on."
Madeleine said: "The Harper-Wood Award has been a milestone in my writing career. Not only has it allowed me to immerse myself in new languages, cultures, and literatures, but it has afforded me the time to work on large-scale projects which I would otherwise have not had the resources to do. Setting aside time to treat writing as a full-time job has been invaluable and, as I am keenly aware, a privilege when grants for emerging writers are few and far between. 
"My travels funded by the award, which so far have included time in Paris and New York, have been invaluable to the research process for two projects in development – a collection of poems and a nonfiction manuscript – both of which deal with questions of language immersion and the history of cancer writing."
The Harper-Wood Literary Reading takes place on Thursday 3 March, from 5.15-6.30pm, in the Wordsworth Room, St John's College. It is free to attend, and all are warmly welcome. Drinks will be offered.
Applications for the 2022-2023 Harper-Wood Award open on Wednesday 23 February.
Published 22/2/2022