Up and coming creative writers invited to apply for Harper-Wood Award 2022-2023
Funding up to £15,500 available for successful candidate to study and research outside UK
St John's College, Cambridge is offering emerging authors and poets the chance to turn to the next page of their career with the launch of this year's Harper-Wood Creative Writing and Travel Award for English Poetry and Literature.
Applications open on Wednesday 23 February for the award, which was established by the College in 1949 to inspire an undertaking of creative writing by making it possible for the holder to engage in relevant, project-related travel and study. 
Held for one year, the award is intended primarily for creative writers who are in the initial stages of their careers. Applications are encouraged from those whose work has not yet achieved book-length publication, such as a novel, book of short stories, poetry collection or play. The candidate must be a graduate of any university in the UK, Ireland, the Commonwealth or the USA when they take up the post in October 2022.
The current Harper-Wood Award-holder is Madeleine Pulman-Jones, a Cambridge graduate of Russian and Spanish who is currently spending a year abroad, working on a book-length project. Her poems have appeared in publications including PN Review, Poetry Birmingham and Adroit Journal, where she was a finalist for the 2020 Adroit Prize for Poetry. She has also been a featured poet in The Bad Betty Press's Book of Bad Betties and in The Mays Anthology, and has had prose published in The Guardian and elsewhere. Madeleine is due to return to St John's to present some of her recent work at the Harper-Wood Literary Reading on Thursday 3 March.
She said: "The Harper-Wood Award has been a milestone in my writing career. Not only has it allowed me to immerse myself in new languages, cultures, and literatures, but it has afforded me the time to work on large-scale projects which I would otherwise have not had the resources to do. Setting aside time to treat writing as a full-time job has been invaluable and, as I am keenly aware, a privilege when grants for emerging writers are few and far between. 
"My travels funded by the award, which so far have included time in Paris and New York, have been invaluable to the research process for two projects in development - a collection of poems and a nonfiction manuscript - both of which deal with questions of language immersion and the history of cancer writing. Even though my travel has been complicated by restrictions, there is no doubt that the opportunity to experience life abroad has deeply enriched my writing practice."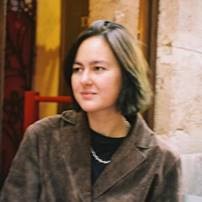 Past Harper-Wood Award-holders include Thom Gunn, Michael Hofmann, Giles Foden, Amit Chaudhuri, Gaby Wood, Sarah Howe, Isabella Hammad, Erin Soros and Vahni Capildeo.
All or part of the year of tenure should be spent in a country outside the United Kingdom. The award-holder is expected to engage in a course of study or research, not necessarily attached to a university or other institution, leading to the production of original fiction, poetry or drama. 
The successful candidate is due to take up the award on 1 October 2022. They will be admitted to membership of St John's and will be invited to visit the College at the end of their award year, to give one or more talks about their experience.
Funding will be determined by the College Council in light of the successful candidate's qualifications and financial circumstances, up to a maximum of £15,500, to cover accommodation and other living expenses. Additional financial assistance will be available for the successful candidate to meet travel costs.
The competition opens on Wednesday 23 February 2022 and the deadline for applications, which should be made online, is 9am (UK time) on Wednesday 4 May 2022. 
The Harper-Wood Creative Writing and Travel Award
Published 8/2/2022
Update 6/5/2022: Applications for the 2022-2023 Award are now closed.