Talented performers, sportspeople and 'brilliant historian' among winners in 2021 Larmor Awards
Recommendations based on 'intellectual qualifications, moral conduct and practical activities'
Seven 'outstanding' St John's students have been honoured in the prestigious Larmor Awards in recognition of their excellent academic results and contributions to College life.
The prize, which began in the 1940s, is named after Sir Joseph Larmor, the 20th century physicist and mathematician who was both a student and Fellow at St John's. He made breakthroughs in the understanding of electricity, dynamics and thermodynamics and the electron theory of matter.
Award nominees are recommended based on 'intellectual qualifications, moral conduct and practical activities'. Each winner receives a unique piece of engraved silverware designed by a contemporary British silversmith, as well as a financial prize.
The awards are usually presented in the Master's Lodge on the morning of graduation. The 2020 awards were held online and this year's ceremony was delayed until 25 November, when Heather Hancock, Master of St John's, was able to welcome alumni back to the College for the special occasion.
The winners of this year's awards are: Lennie Wells, Cecilia Catuogno-Cal, Radka Pallová, Tim d'Aboville, Lawrence Tray, Richard Decker and Matt Parry.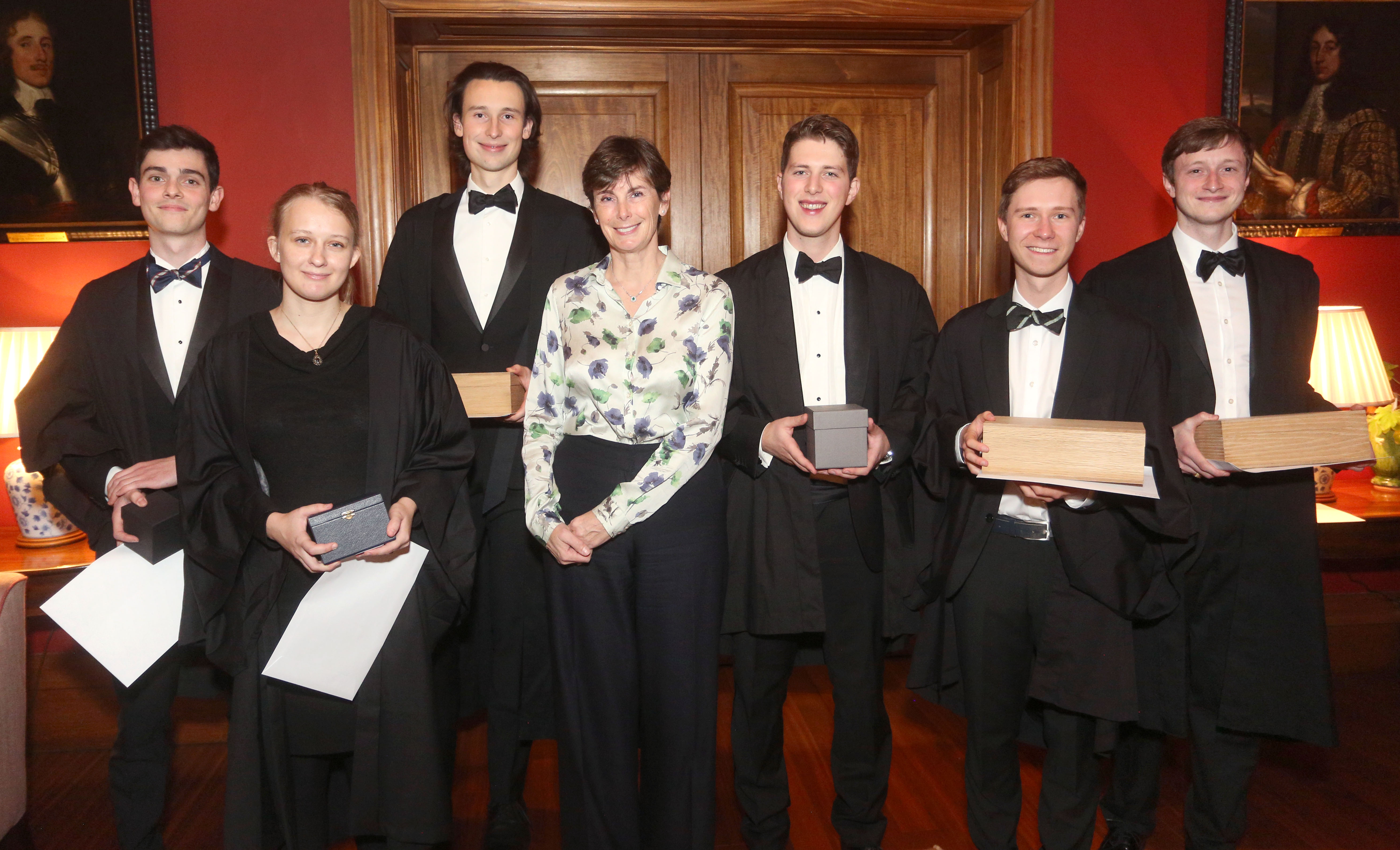 Mathematician Lennie Wells performed impressively throughout his time at St John's, consistently gaining Firsts and leaving this summer with a Pass with Distinction in his Masters. His Tutor The Rev'd Canon Mark Oakley, who nominated him, said Lennie was 'an excellent' ambassador for St John's during open days and in sixth form workshops as a co-leader, organising entertainment and pastoral support as well as teaching. Described as 'friendly, approachable and loyal', Lennie captained the College Ultimate Frisbee team from 2019-2020 and organised weekly matches and training, tournaments, recruitment and baking.
Lennie was on the committees of the College Jazz Band and Maths Society and played saxophone in a small funk group, and clarinet in an occasional College orchestra. He was Student Ambassador Coordinator for the Cambridge chapter of One for the World – an international charity aiming to combat extreme poverty through effective giving – and was a University Gilbert and Sullivan Society member.
Cecilia Catuogno-Cal was also an active participant in the life of the College and University. She came top of the University cohort in her Chemical Engineering degree in June, crowning an impressive and progressively strong performance.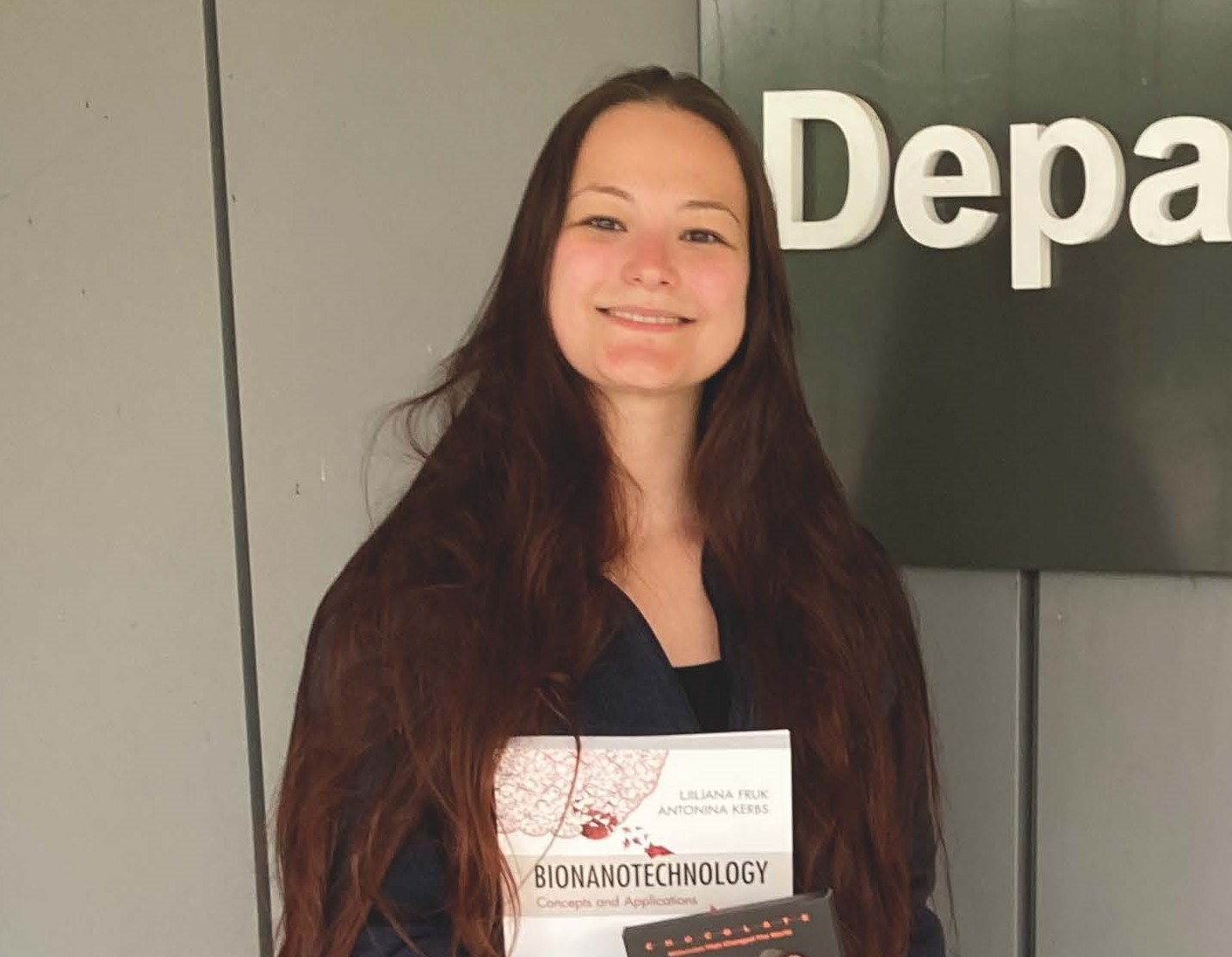 Described as 'enthusiastic, lively, hardworking' by her supervisors, and 'a model as a Chemical Engineer and a sportswoman' by her Tutor Dr Sylvana Tomaselli, Cecilia was President of the Cambridge University Jiu-Jitsu Club, Ladies' Captain of the Cambridge University Smallbore Club, and Secretary of the Cambridge University Rifle Association. She was in the top U25 in the 2020 Match Rifle Imperial.
Radka Pallová was described as 'an outstanding student' by her Tutor Professor Mete Atatüre. "Her supervisors consider her to be among the most exceptional students they have taught in recent years, one of the hardest working students in recent memory, and a genuinely brilliant historian," he said.
Radka achieved a First with Distinction in her History degree last year, ranked first out of 181 contemporaries across the University, and received seven academic prizes for this achievement between the College and the Faculty.
She learned ancient Greek and Latin from scratch to prepare for her current MPhil in Classics, served as President of the College's History Society 2019-2020, and was mentor for a scheme in the Czech Republic that supports high-achieving high school pupils in achieving their goals. Radka has also undertaken various prestigious internships and summer placements to improve both her language skills and academic style as a historian.
Professor Atatüre added: "She is a role model for her fellow historians and highly deserving of recognition."
Tim d'Aboville was described as 'a very good student and a natural leader' who has made outstanding contributions to the College and University. Tim, who achieved a First in his History and Politics degree, helped to lead the JCR – the undergraduate student committee  – through the first year of the pandemic as Co-President, working tirelessly to help keep students safe and morale high.
Tim was also a member of the College's football team, served as Vice-President of the Cambridge University Boxing Club for two years and was a member of the Blues team. Professor Atatüre, his Tutor, said: "Thoughtful, level-headed and generous with his time, Tim has been an excellent example of the collegiality we seek to inspire in our students."
Engineer Lawrence Tray graduated with a Distinction this summer and was awarded a First Class in his project. At St John's, he was highly involved in College sports and community activities, including as JCR Ents officer in 2019 and captain of the men's football second team in 2020, during the pandemic. His Tutor Dr Georgina Evans, who nominated him, said: "I saw from my first years how much that activity, and the support and encouragement of the leaders, was valued when so much else was off limits."
Lawrence also played rugby, lacrosse and netball, and was in the first St John's cheerleading team. He was noted for 'the spirit in which he did things'. "He would always go the extra mile to support those experiencing personal pressures and thought deeply about questions of community and reputation," said Dr Evans.
Dr Helen Watson, Lawrence's previous Tutor, agreed, adding that 'he has been outstanding when it comes to his good influences, collegiate spirit and leadership'.
Richard Decker, who studied Modern and Medieval Languages (MML), got a First with Distinction in his degree this summer, after coming tenth in the year in 2020, with Special Excellence in Italian Oral.
The talented singer and oboe player has been a valued member of the College Choir since 2017, receiving a special commendation in last year's Clare College Song Competition – the University's most prestigious vocal competition. He has held various organisational positions within St John's College Music Society and played a central role in concerts and outreach workshops. He was Music Director for the Gilbert and Sullivan Yeomen of the Guard in 2018, played and performed in Rossini's Il Signor Bruschino in Cambridge and at the Edinburgh Fringe, appeared as the Sorceress in Purcell's Dido and Aeneas in 2019, played oboe in Carmen in 2019, and translated Mozart's The Marriage of Figaro for a production in Trinity College Chapel.
During his year abroad he conducted a church choir in Florence, Italy, which included doing virtual services during lockdown.
Fellow MML student Matt Parry achieved a First this summer, with Special Excellence in German Oral.
He was awarded the Marsh Prize for the best Optional Dissertation in German, and was invited to present a paper in the Undergraduate German Conference.
He was also a competitive rower at University level – he was the cox for Cambridge at the 2018 Fours Head races against Oxford as well as being the M1 cox for St John's in the 2018 and 2019 May Bumps, when the College retained the Head of the River title both years.
Six recipients were presented with their prizes by Heather Hancock while Cecilia, who is currently overseas, was awarded her Larmor Award in her absence.
Published 30/11/2021