University Challenge winner, diversity campaigner, and composer amongst winners of 2020 Larmor Awards
The Larmor Awards recognise 'intellectual qualifications, moral conduct, or practical activities'
Eight exceptional St John's students have been honoured with Larmor Awards – an annual prize begun in the 1940s to recognise 'intellectual qualifications, moral conduct, or practical activities'.
Named after Sir Joseph Larmor, the 20th-century physicist and mathematician who was both a student and Fellow at St John's, the awards are usually presented in the Master's Lodge on the morning of graduation. Each recipient of a Larmor Award will receive a unique piece of silver designed by a contemporary British silversmith and a financial prize. This year the awards ceremony was hosted online by Professor Tim Whitmarsh, Vice-Master of St John's.
The winners of this year's awards were: Anusha Ashok, Juliana Bouchaud, Freya Casson, Liam Grant, Ignacio Mañá Mesas, Rosie McKeown, Plum Schrager and Dmitri Whitmore.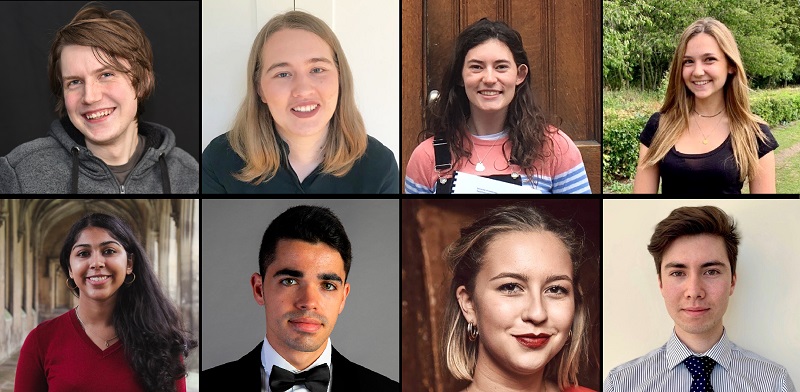 Former JCR Co-President Anusha Ashok was nominated for her commitment to 'improving the life of students at the College'. She was commended for being an ambassador for students' views on the Black Lives Matter campaign and for being 'instrumental in helping the College address questions of diversity'.
Anusha studied Mathematics at St John's and was awarded a 2:1.
The Rev'd Canon Mark Oakley, Anusha's Tutor, said: "She has been a source of inspiration to those around her. She has made a huge contribution to College life."
Juliana Bouchard, who studied Asian and Middle Eastern Studies at St John's, is leaving Cambridge with a First so high it is 'unprecedented' in recent memory in Chinese Studies.
Dr Adam Chau, College Lecturer in Asian and Middle Eastern Studies, nominated Juliana. He said: "The Chinese Studies tripos is one of the most challenging undergraduate courses - students learn Chinese from scratch. Juliana has been a hardworking student from the beginning and she ranked first in the graduating Chinese Studies cohort. She is intelligent, pleasant, diligent, conscientious and intellectually curious."
Freya Casson studied Natural Sciences and graduated with a First. She was nominated for her commitment to her studies and for being a prominent member of Lady Margaret Boat Club (LMBC). Sylvana Tomaselli, her Tutor, said: "Freya has not only been an impressive student throughout her time at St John's, she has been an exemplar of a student who through commitment to their studies has improved her exam performance significantly with each passing year."
Freya was Women's Captain of LMBC and Lower Boats Captain and won a Blue in the 2019 Varsity Boat Race in the lightweight reserve pair. She was elected a scholar in 2019, and won a College Wright Prize, the Hughes Year Prize, and the Frances Willmoth Prize for the best third year dissertation in the Department of History and Philosophy of Science.
Liam Grant is leaving St John's with a First and was awarded the Adam Smith Prize for the best overall performance in Economics – he got a mark of 78 in his dissertation. He was President of the Marshall Society, the College Economics society, in his second year and personally raised £25,000 when he worked on the College fundraising telethon last year.
Dr Neil Arnold, Liam's Tutor, said: "Outside of the College, he has also been the Vice-President of the Association of British and Chinese University Students, and he has also worked with Project Access to aid under-represented students applying to Cambridge. He has also played Blues Table Tennis, helping win the Oxford vs Cambridge Varsity match twice."
Ignacio Mañá Mesas, known as Nacho, was described by the academics who nominated him as 'truly outstanding'. The Music student got a First during every year of his studies. Nacho was awarded the Earle Prize and the Wright Prize in 2019 by St John's, in addition to the Donald Wort Prize by the Cambridge Faculty of Music for the best academic results across the whole year group. Described as a 'performer of the highest artistic standard', Nacho was Vice-President of the St John's College Music Society and performed on the saxophone at countless concerts at the College. His composition 'Elegy', written in commemoration of the late Master, Professor Sir Christopher Dobson, premiered earlier this year.
Professor Jason Robinson and Professor John Rink nominated Nacho. They said: "Nacho pursues his 'life plan' with single-minded determination and dedication, and there is every reason to believe that he will achieve all of the goals that he has set for himself. At the same time, he is exceptionally personable and generous in his dealings with others."
Modern and Medieval Languages (MML) student Rosie McKeown began watching University Challenge with her dad when she was 11-years-old. In 2018, when she was a first year at St John's, she made history as a member of the first St John's team to win University Challenge, the televised quiz show. She secured a First at St John's during every year of her studies.
She was nominated by Professor Mete Atatüre, her Tutor, who said: "Following this historical success, Rosie was invited to contribute pieces to both The Guardian and the New Statesman. She has also had a short story printed in Notes, a student publication. Rosie received the Kurt Hahn Prize for her performance in German, and she has also been a regular participant in writing and critique groups, one of which is still going strong via Zoom during the pandemic."
Plum Schrager secured a First in Modern and Medieval Languages with 'special excellence'.
Plum played polo for Young England before she arrived at John's, and she became the first female captain of the Varsity Polo Team. She was even thrown under a horse during training the night before her second year exams began. Now recovered, she will lead the team against Oxford when Covid restrictions permit.
She was an Access Mentor and worked as a member of the Cambridge University Shadowing Scheme to increase the number of students from low-income and disadvantaged backgrounds at Cambridge. She was a founding member of the St John's College Labour Society and contributed to the efforts to decolonialise the MML syllabus and improve disability support.
Professor Mete Atatüre, Plum's Tutor, nominated her and said: "Plum was also involved in extensive volunteering work. During summers, she worked for the Royal Mencap Society at Mencap Outdoors, UK's leading learning disability charity. Plum specialises in caring for children with Autism and she worked at their holiday camp at Oundle School throughout her time at John's, caring for disabled young adults."
Graduating student Dmitri Whitmore secured extremely high Firsts in mathematics in every year of his studies. He was described as the 'strongest maths student at St John's in the last five years'.
He won multiple prizes during his time at Cambridge including the 2019 Horne Scholarship, Adams Memorial (Wright) Prize and Ian Hall Year Prize, 2018 Horne Scholarship, Lapwood-Towle (Wright) Prize and Quass (shared) Year Prize, 2017 Horne Scholarship, Leathen (Wright) Prize and Johnstone (shared) Year Prize and in 2016 he won the Pythagoras Prize.
The Rev'd Canon Mark Oakley, Dmitri's Tutor, nominated him and said: "He is universally recognised by supervisors as a star student.  On top of this, he has served as Secretary of the Adams Society for two years, has helped to organise and teach on the STEP school each year, and has represented the College in the Chess team. I commend him wholeheartedly."
Published: 15/7/2020