Undergraduate wins Sports Personality of the Year after making a splash
"Rebecca's positivity and bubbly personality is infectious and everyone smiles a little wider and laughs a little more whenever she is around"
An 'inspirational' second-year at St John's has been named University of Cambridge Sports Club Personality of the Year after helping to keep the women's water polo team afloat through the pandemic.
Undergraduate Rebecca 'Becca' Howitt has been described as 'one of a kind' by her team mates after she stepped up to the role of women's water polo Captain and Social Secretary from being the youngest in the Cambridge University Swimming and Water Polo Club (CUSWPC), organising bi-weekly Zoom workouts and events to keep everyone feeling united and happy during the lockdowns.
The 20-year-old, who is studying Modern and Medieval Languages (German and Spanish), only began playing water polo in her first year, and discovered a talent as a goal keeper in a hard-fought Varsity match that came down to the last 20 seconds.
A former competitive swimmer and swim coach, Becca made a big impression and has now been named Sports Personality of the Year in the University of Cambridge Sports Awards 2021. Nominations are invited for individuals who are 'the life and soul' of a University sports club, 'who lift the mood and keep heads high', and are loved by all.
Becca's nomination reads: "Rebecca Howitt is one of a kind! Her positivity and bubbly personality is infectious and everyone smiles a little wider and laughs a little more whenever she is around…
"Through bi-weekly Zoom workouts and regular Zoom socials, Becca has ensured that the entire team has been able to keep fit and have fun together during a year in which most people have seen each other more times over a computer screen than in person! Our team still feels united and as one and that is purely as a result of Becca."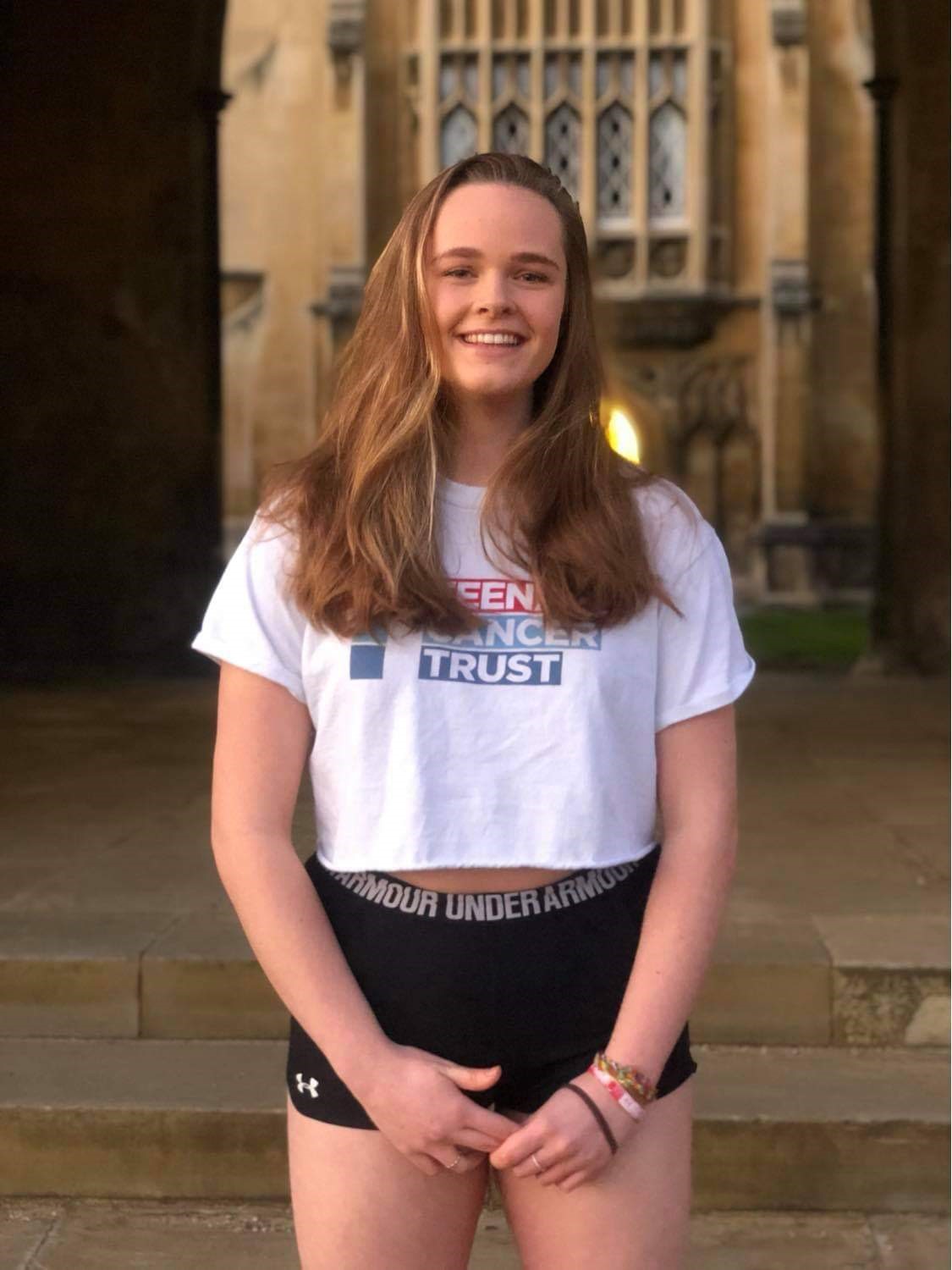 Becca has also managed to drive participation in the women's water polo team, recruiting 25 new members and facilitating training opportunities for players, many of whom are new to the sport. She said: "This means that we have the same size team as the men's side, which is brill for such a male-dominated sport."
During Michaelmas Term, pool training was staggered on a rota and in groups of six to keep to guidelines, 'but we were all grateful to get our regular doses of chlorine,' said Becca. During the Lent Term lockdown, she moved all training to online land sessions three to four times a week, ran fun virtual socials and quizzes and regular 'Rebeccamendations: Howitt's Done' on the team's WhatsApp group.
"It was definitely a challenge keeping people engaged during the pandemic," said Becca. "I was so lucky that the water polo freshers have been so committed to the team, despite hardly playing any actual water polo. Now we're allowed to meet up outdoors, you'll usually see me trailing bags of water polo balls through John's to go train on Jesus Green. I've also been able to do a CUSWPC barbecue with the help of Chantelle Doran, another Johnian who is the icon of CUSWPC and a pure Taddies legend, which was lovely."
She said that winning the award 'has been such a wonderful experience'. "I didn't even know I'd been nominated when I got shortlisted a couple weeks back and to actually win was such a surprise, and really made my day in the middle of writing a Spanish essay exam!"
Getting involved in water polo was a 'steep learning curve' for Becca, who was also a Lady Margaret Boat Club rower at the time, but said she owes her success to her team, who were 'brilliant teachers'. "It was a big step up this year, but I've loved all of it - apart from the admin - although I had to give up rowing… Still, yeah Maggie!"
What she loves about water polo at Cambridge is the atmosphere and sense of family. "Even on Zoom socials we always have a laugh and a good time. My friendship circle has been largely defined by the club, and it's great to get to know people from all different colleges and years with different amounts of experience but the same level of enthusiasm."
At the end of this term, Becca will spend a year abroad. She has a scholarship for a course at Martin Luther University in Germany this summer, followed by an internship in the Embassy of Chile in Berlin and a teaching placement in Austria. She then hopes to find an eco-tourism placement in South America for the final part of her year overseas.
She will leave the women's water polo team in a very good place. "Becca's desire and determination to support and encourage women's water polo is outstanding," her nomination continued. "With Becca on her year abroad next year and the rest of the 2019/2020 team graduating except one player, without her what can only be described as miraculous recruitment drive, the future of women's water polo was looking bleak. This did not faze Becca and instead she reached out across every platform she could think of and managed to recruit 25 new players.
"This means that we will easily be able to have a Women's Firsts and Seconds Varsity Match next year and continue the tradition of a Women's Seconds team and Varsity Match that was only established three years ago, which would have been such a shame to lose.
"She has inspired every single female on our team and will be truly missed next year."
All the winners in the 2020-2021 Sports Awards
Published: 11/6/2021