'Treasured' College members honoured by students at awards ceremony
"The Student-Led Teaching Awards were created by Cambridge SU to celebrate outstanding teaching and staff support from across Cambridge University"
A Fellow and a Library Assistant from St John's College have both won awards from Cambridge University students for 'going the extra mile' to provide exceptional support that helps them 'realise their dreams'. 
Dr Jodi Gardner and Rebecca Le Marchand were among nearly 400 academics and members of staff across the University and its Colleges nominated in the 2022 Student-Led Teaching Awards (STLAs). Run by Cambridge University Students' Union (CUSU), the annual awards reward outstanding teaching and student support.
At an awards ceremony held at St Barnabas Church, Mill Road, on Wednesday 11 May, Dr Gardner, who is a Director of Studies in Law at St John's and a University Lecturer in Private Law, came first in the 'Working in Partnership with Students' category. Rebecca, who runs dissertation and study support groups for students, won in the 'Student Support by a Member of Academic Staff' category.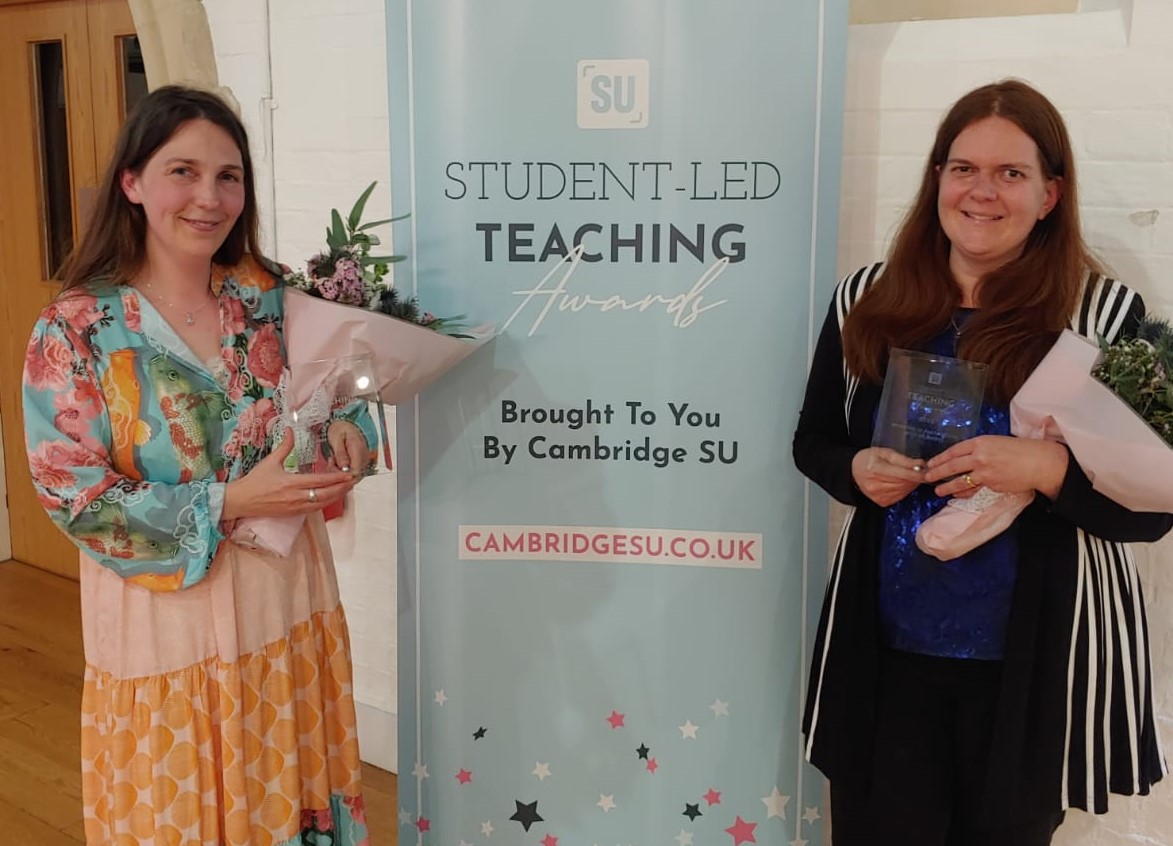 Dr Gardner was nominated for her support, help and encouragement for the One Young World Cambridge Society, for which she is Senior Treasurer and Faculty of Law Representative. The society is a new think-tank for young change-makers that held its first student-led caucus at St John's in March.
The student who made Dr Gardner's nomination said: "She always goes the extra mile to provide concrete support and suggestions to ensure that we can realise our dreams/goals. Her involvement in our projects really empowered us to move forward, and I think she's the perfect example of how a lecturer/member of the University can really bring about so much change in the life of students when we partnered up together."
She went on to say that other student groups supported by Dr Gardner, such as the Cambridge University Law Society's Pro Bono team, are also grateful for her support, adding: "I am sure she will continue to partner, inspire, and empower more students in the University or Colleges to campaign for progressive change in the future."
Dr Gardner said: "I was absolutely honoured to be nominated for this award, and it was such a surprise to win among many inspiring individuals.
"Working in partnership with students is the best part of being a Cambridge academic – I feel incredibly privileged to have won an award for doing something that I love. Thank you to the students who nominated me, and to the Faculty of Law and St John's College for their ongoing support and assistance."
Rebecca was nominated for the dissertation and study support groups that she runs. The student who nominated her said: "Thursday afternoon at 2pm has become one of the appointments in my timetable that I treasure, because I know it will be a chance to relax, a place where I can be myself and seek any personal and academic support I might need.
"The fact that so many other people attend these sessions regularly is a sign of Rebecca's endless patience, as well as her ability to build meaningful connections with students she might have only met once or twice before. Rebecca once told me that she wished she had had the opportunity to create a space for people to talk openly and freely about the things that were troubling them. I hope this award demonstrates to her that she is already this person for so many people, and we treasure her for it."
Rebecca said: "I was truly honoured and moved to have received this award. I knew that the study and dissertation groups I have been running were useful and that the students must like them, or they wouldn't keep coming back. What I hadn't realised was what just how much they meant to the students who have used them.
"The knowledge that by setting up and running these groups, I have created a special place where students feel safe and able to be themselves (and get some work done!) is a very humbling thing. I would like to thank the students who nominated me and all the Library staff for being so supportive."
The shortlist and winners were decided by panels of students, who gave up their time to read through all the nominations and select the standout individuals from nine categories, each containing five nominees.
Amelia Jabry, Access, Education, and Participation officer for Cambridge SU, who was one of the hosts of the SLTAs, said: "The Student-Led Teaching Awards were created by Cambridge SU to celebrate outstanding teaching and staff support from across Cambridge University. It was fantastic to present awards to Jodi and Rebecca at the SLTA ceremony and hear the heartfelt statements from the students who nominated them.
"It was certainly a difficult task to read through almost 400 nominations about staff from all over the University and pick the winners. It truly is a great achievement, and we congratulate everyone who was nominated."
Full list of winners from this year's STLAs
Published 13/5/2022