Trainee primary school teacher turned Professor wins $3.9million Yidan education prize
"Usha's research is truly globally significant both to children's development and to education"
The world's largest education prize awarded to someone who is 'creating a better world through education' has been won by Professor Usha Goswami.
Professor Usha Goswami, a Professor of Developmental Cognitive Neuroscience, a Director of the Centre for Neuroscience in Education and a Fellow of St John's College, is an international leader in literacy research and she has today been named as Cambridge's first Yidan Prize Laureate.
Professor Goswami's research has made great strides in understanding brain function which has enabled educators to design different teaching techniques and tools to help children with dyslexia and special needs to learn languages more effectively.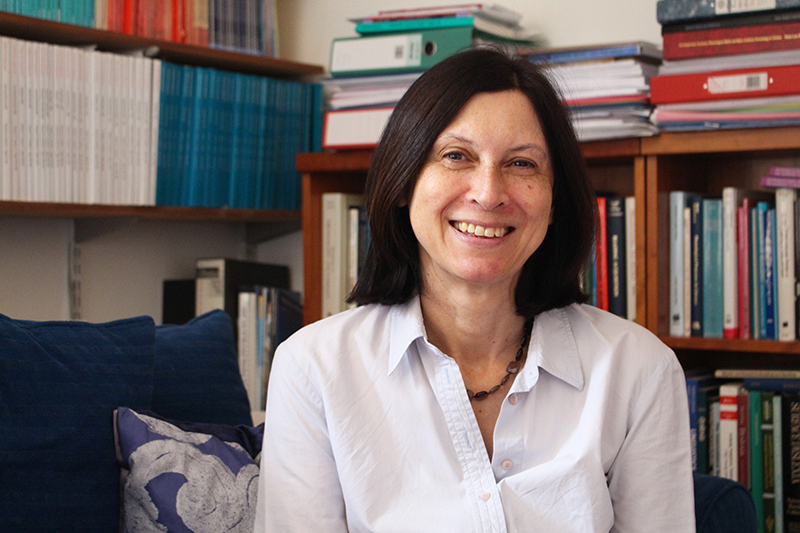 The Yidan Prize was founded in 2016 by Charles Chen Yidan, one of the founders of the internet-based technology and cultural enterprise Tencent, and is the world's most generous prize in education research and education development. Yidan Prize Laureates each receive a gold medal and an award of US $3.9 million, half of which is a cash prize while the other half forms a research project fund.
The mission of the Yidan prize is to create a better world through education.The prize honours researchers who have made outstanding achievements in education research and whose work will have a long-lasting global impact.
After studying Experimental Psychology and graduating from Oxford with the top First in her year, Professor Goswami trained as a teacher in London and worked in Cricklewood and Kentish Town. During the training she realised that there was a significant research gap to inform teaching practice, and decided not to pursue a career as a teacher but to do a PhD instead. She joined St John's College as a Fellow in 1990 and later founded the world's first Centre for Neuroscience in Education based at the University of Cambridge.
Her research focuses on children's cognitive development, particularly the development of language and literacy. Her world-leading work on dyslexia led to the discovery that children with the disorder hear language differently, showing it to be a language disorder and not a visual disorder as previously thought. This significant finding is enabling the development of transformative new educational interventions, which will benefit millions of children with dyslexia worldwide.
Professor Goswami said: "I am deeply honoured to receive the Yidan Prize, and to join the other highly distinguished Yidan Laureates. I have been interested in children's reading development since training as a primary school teacher, and since then I have aimed to produce research to support children's early reading acquisition across languages and to ameliorate developmental dyslexia across languages.
"It is an honour for me to have my work and that of my colleagues at the Centre for Neuroscience in Education at the University of Cambridge recognised by the Yidan Foundation. The award of the Yidan Prize enables me to begin a programme of research into oral language difficulties, a long-term ambition of mine."
The incidence of oral language difficulties is high and estimated prevalence is seven per cent  - the equivalent of at least two children in every primary classroom.
Despite having no obvious hearing or neurological impairments, affected children fail to acquire language skills at an age-appropriate rate, for example failing to use inflectional endings appropriately, "She comb her hair", and failing to mark tense, "Yesterday I fall down". Professor Goswami now plans to use the prize money to fund brain imaging research to look at how atypical neural processing of the speech signal underpins oral language difficulties.
Professor Anna Vignoles, who nominated Professor Goswami for the prize, said: "Usha defined what has become the dominant international theory explaining language acquisition in all cultures. Her contributions to understanding of the neural mechanisms that underpin a child's acquisition of language has the potential to prevent reading difficulties occurring in the first place for millions of children across the world.
"Early reading ability and the surrounding neuroscience has a huge impact on children's development in all cultures, and as such, Usha's is truly globally significant both to children's development and to education."
Sir Fazle Hasan ABED KCMG, Founder and Chair Emeritus of Bangladesh's BRAC, the world's largest non-‐governmental organisation, has been named as the winner of the Yidan Prize for Education Development. The prize was awarded in recognition of the innovative 'Play Labs' he spearheaded to introduce more than 1,400 play-based early childhood development centres across Bangladesh, Tanzania and Uganda.
Dr Charles Chen Yidan, Founder of the Yidan Prize, said: ""I congratulate Professor Usha Goswami and Sir Fazle Hasan ABED KCMG on their outstanding achievements and commitment to improving education.
"Knowledge attainment is an area that transcends racial, religious, economic and national boundaries, affecting everything from human health and the environment to well-being and personal fulfilment. I hope every country and region can benefit from the results of the best research and education development work, helping to create a better world through education."
The two laureates will receive their awards at the Yidan Prize Awards Presentation Ceremony in December.
Published 19/09/2019

Back to College News