"I like books, I like the smell, the touch, the feel of them"
When the nation first went into lockdown, Janet Chow, Academic Services Librarian, was determined the Library team at St John's College would give students the best support available, even if it was virtual. By the time students arrived in Michaelmas term, the Library had fully adapted to meet the challenges of Covid-19 to keep its services accessible – and safe. Next in our series of pandemic stories, Janet bookmarks the Library.
You need to love books to be a librarian, it's essential criterion. We moved here in 2001 and I still have unopened boxes of books in the attic. I usually go back home to Hong Kong once a year and I tend to pick up more books, written in Chinese, to add to my collection! I like physical books, I like the smell, the touch, the feel of them. Every time I walk through into the Lower Library the smell of old books is just lovely, I breathe it in. Somehow using a screen and scrolling through pages of a book feels wrong, but I have to say, in the pandemic, e-books have been very useful.
Before I came to St John's, I worked for the Cambridgeshire and Peterborough NHS Foundation Trust for six years. I developed the small postgraduate library into a multi-disciplinary library and took it through accreditation. After that, I thought I needed a new professional challenge. This job came up, and here I am, 12 years later. I love the College, it is scholarly, but friendly and informal. It is great to work in historic settings among the old buildings and lovely grounds, it has a community feel and people are always ready to help.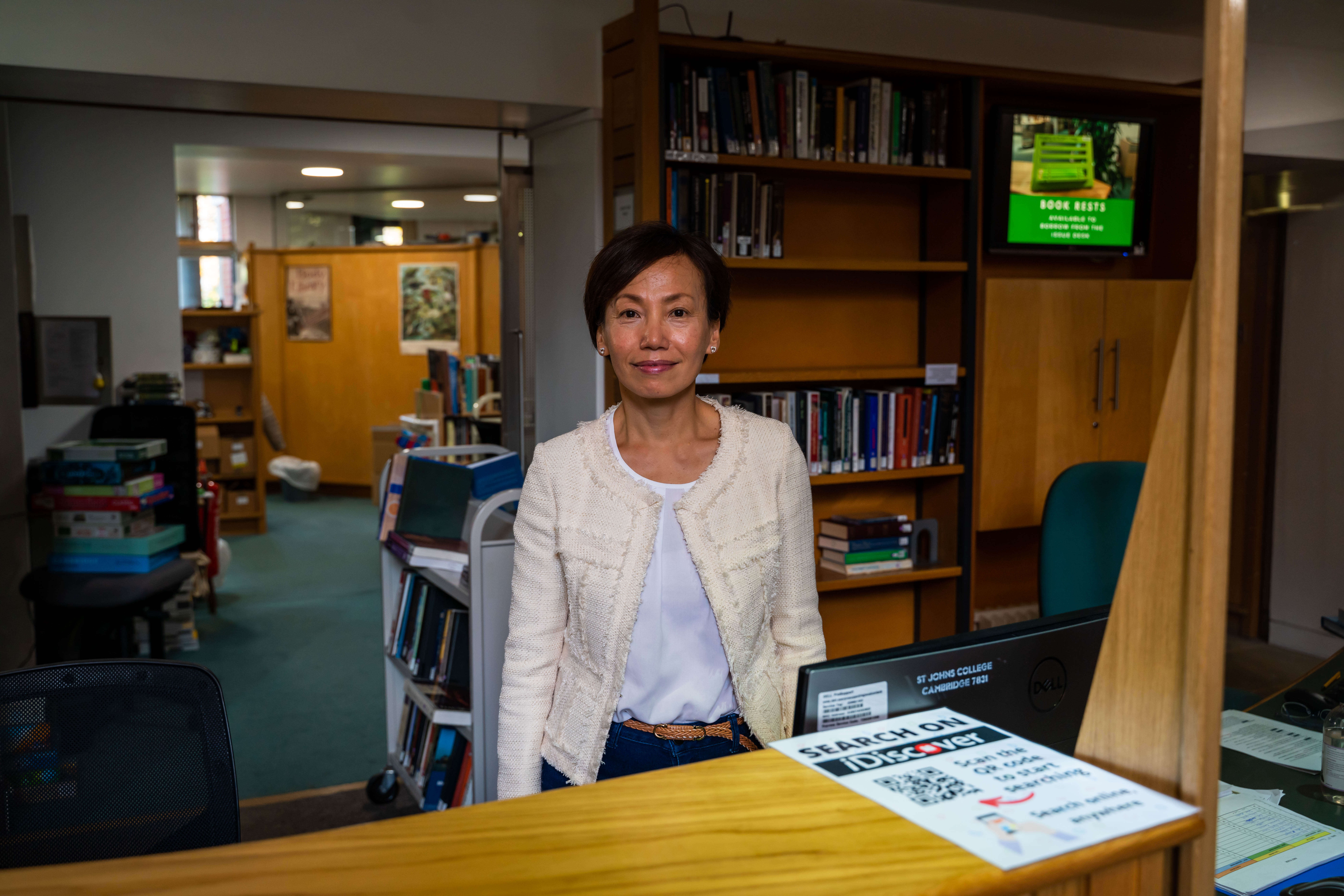 It's funny that two of my favourite books have an academic setting: Lucky Jim and Porterhouse Blue, which I read years before I moved to Cambridge. I can relate to them now!
I love being a librarian because of the variety of work, there's a whole load of practical, thinking and problem-solving skills involved. I wouldn't say I'm very outgoing or an extrovert and being a librarian, you work behind the scenes, but there is a customer-facing role as well, so it is a nice mix.
When Boris announced the lockdown in March, it was the first time in my life that I was told not to go to work. I had no idea when we would go back and I had a sense of uncertainty of the unknown, a sense of real loss. I worked from home for about eight weeks. It was Easter term, which is the busiest of the academic year, so I had to rethink how we could support students. They couldn't physically borrow books, so I realised I had to increase the availability of e-books. I liaised with Directors of Studies for their recommendations of key textbooks, and students emailed me with requests. It was a very time-consuming task but well worthwhile as I arranged for nearly 200 titles to be bought.
Our Library Assistant Rebecca Le Marchand came up with a brilliant idea: study sessions via Zoom, where students do their own work on screen for a couple of hours, and then stop for a tea break and a chat. Rebecca began doing them from home in lockdown and is still running them, especially for self-isolating students. It's been a huge success and the students have really appreciated it. We don't want isolating students to feel cut off, so it's a good way to bring them together.
A lot of students were worried they would get fined because they couldn't return books, but we manually extended all the loans to reduce that little bit of stress for them. We had an amnesty in the summer and we only have about 20 books still missing from graduates who have returned overseas - we hope to get them back eventually!
"I have tried to see the positive side of this pandemic, to see how I can think outside the box to solve problems"
In May I drew up a risk assessment for the Library to prepare for reopening. I tried to predict all the possible Covid-related problems that could arise. It forced me to rethink the whole layout of the Library with health and safety at its centre. It was very challenging but, in retrospect, it gave me a real sense of achievement.
With the risk assessment approved, I, and the previous graduate trainee, Ellie, came back to College on 1 June to put the plans into action. I remember, walking around the building and feeling a sadness and emptiness. Nothing had been touched or used for months, it felt so strange; it should – and normally would be – full of life. We made major changes, such as setting up a one-way system and putting up notices to ask users not to put books back on shelves once they've been touched. Instead, we ask them to place the items on trolleys to be quarantined. A couple of weeks later, the Library cleaners joined us, they had been furloughed and it was so lovely to see them. I can't praise them enough, they did – and are doing – a fabulous job keeping the Library clean and safe.
We worked behind closed doors until July when, gradually, some of our colleagues in the Working Library came back, and it was so nice to see their faces. On 6 August, we reopened the Library, which was a great team effort. It was quite emotional seeing our first student come through the door. We needed to induct students into the Covid-secure way of using the Library – they now have to book a desk space on Moodle. We have also had screens put up, made mask-wearing compulsory and ensured that all the surfaces and toilets are cleaned and sanitised three times a day.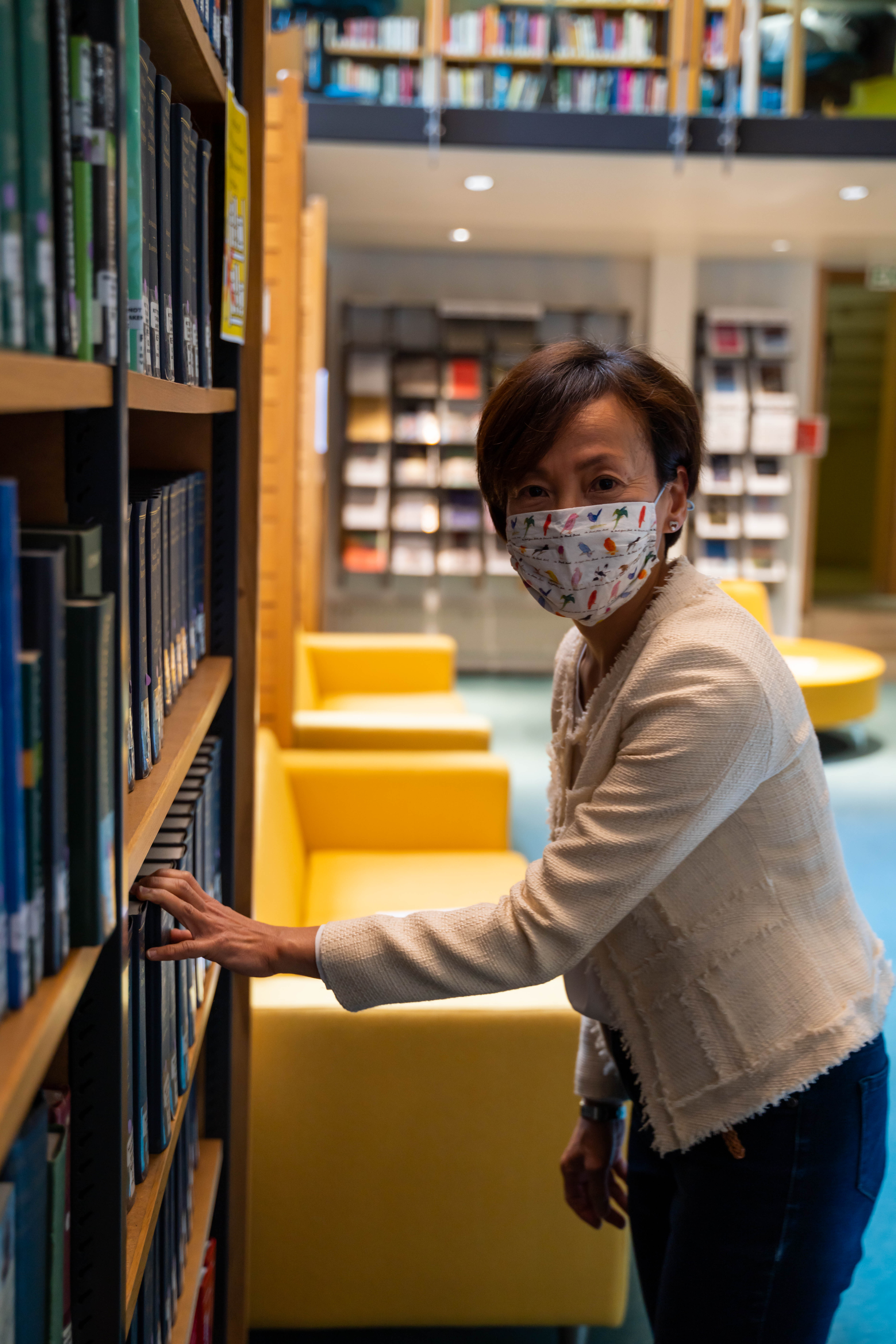 The Library seating capacity is normally 150 but in order to create two-metre distances between desks, we have reduced the numbers to less than half – 63 across all floors. Ironically, I think the students appreciate having the extra space! We offer click-and-collect now, too. We've introduced the delivery of books to isolating students and increased the number of book loans for them. We've extended the Library hours so from Monday to Friday in term-time it is now open 9am-5pm and again from 6.30pm-midnight, and at the weekends from 9.30am-12.30pm, 1.30pm-5pm and 6.30pm-midnight. We have recruited postgraduate students to staff the Library out of hours, which has really helped.
The whole experience of coping with Covid has intensified the sense of collegiality. The best thing about this job is helping students. When you receive positive feedback, a thank you card or email, it's really great. The students stop at the desk to say thanks, sometimes they give us boxes of chocolates, it's so nice to know we are appreciated.
The Library is a place of learning and research, it's at the very heart of the function of College and it lies at the centre of students' lives. This term I think they have been very pleased to have somewhere else to go. Having fellow students working nearby is good for their health and wellbeing. It is a very pleasant environment.
I usually go to Hong Kong once a year, in March or April, to see my mother and my sister but, with the pandemic, it didn't happen this year. I have a brother who lives in China and another sister in Australia, but we have technology to keep in touch – we use Zoom and WhatsApp – although it is difficult because of the time differences. Hopefully next year we can meet again.
I have tried to see the positive side of this pandemic, to see how I can think outside the box to solve problems. Nothing is static, everything keeps changing, but we know there are always ways and means to do things differently.
Published: 20/11/20