Talented student wins speaker prize at UK-wide law conference
"Being encouraged and aided in critically and thoughtfully engaging with ideas, rather than just learning them, has been incredibly rewarding"
An 'exceptional' Law undergraduate at St John's has won the title of Best Student Speaker at a new academic conference.
Christopher Hose, a fourth-year BA Law student, won the award for what judges called 'his ambitious presentation on good faith' at the inaugural University College London (UCL) Private Law Conference. He was one of just five students from universities across the UK chosen to participate in the virtual event. Their academic papers were circulated to delegates in advance, and each gave a live 15-minute presentation before taking questions during a Q&A session.
Chris was commended by Professor Charles Mitchell, a leading academic in trust and equity Law, and won £100 for best overall performance in his 3,000-word paper and presentation. He said: "It was great to be able to get such detailed feedback on the paper itself, as well as having a more open forum to discuss the ideas.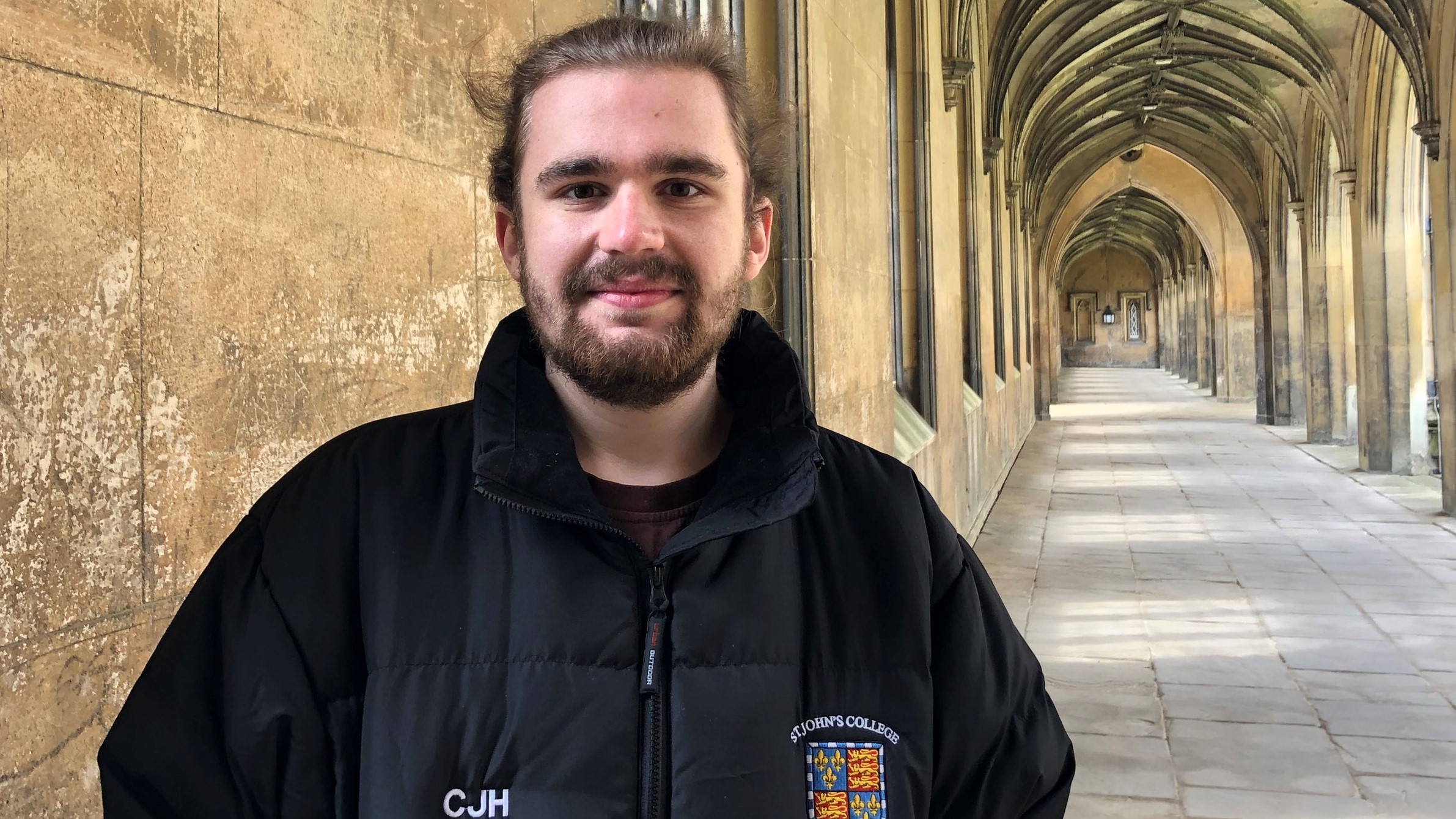 "I'm absolutely delighted and flattered to have had my work acknowledged, especially among other papers of such a high standard, and to have received such kind messages from the attendees. I am also very grateful for all the detailed and constructive feedback on my ideas, especially from the judges, which I hope to incorporate into future work."
Chris's paper, 'Duress and the Negotiation Relationship', focused on reconceptualising the doctrine of duress in contract - where one party is forced by an illegitimate threat to agree to something. He said: "While the traditional explanations focus on the threat having to be an act that is illegal in itself, I instead argued that the threat makes the resulting contract non-consensual, by forcing the parties to take part in a negotiation that is fundamentally different to the one they agreed to.
"I chose the topic because it was something that I found very interesting during my study of contract law in second year, and wanted to come back to. Duress is a really interesting topic that cuts to the very heart of contracts as based in consent and freedom - and I felt that there were more interesting things that could be said about that relationship, that weren't really grappled with in most of the literature.
"The conference was a great opportunity to have that discussion with other students and academics, and hear how my ideas could be developed more in the future."
The UCL Private Law Conference was held online on 21 April and featured presentations from leading academics and practitioners as well as the selected student presenters.
Chris, who is from Shropshire, is in the final year of his degree following a third-year exchange in Utrecht in The Netherlands, as part of the Erasmus exchange programme. He received several awards for academic achievement in his second year: the Abdullah Yusuf Ali Prize and McAulay Scholarship from St John's, and the Clifford Chance C.J. Hamson Prize for the Law of Contract from the Faculty of Law.
Professor Christine Gray, Emeritus Professor of International Law, is Chris's Director of Studies in Law. She said: "Chris is an exceptional student who has really made the most of his time at St John's. All his supervisors say that it has been a pleasure to teach him - because he is so intellectually engaged and enthusiastic about his work."
The 21-year-old currently holds a job offer for the Commercial Law Group of the Government Legal Service as well as PhD offers at both Cambridge and Oxford and is hugely grateful for the support he has received at St John's during his degree.
He said: "My favourite thing about studying here is the incredible support from the Law Fellows at St John's. Being encouraged and aided in critically and thoughtfully engaging with ideas, rather than just learning them, has been incredibly rewarding - and led to great academic experiences like this conference."
Published: 14/5/2020