Student tours set to return to St John's College during September Open Days
"We have worked hard during the past 18 months to move all our Admissions events and open days online, but there really is nothing like an in-person experience"
It has been nearly two years since St John's students have been able to show prospective applicants around the College's stunning grounds - but now in-person tours are coming back.
The College's last open days tours took place in September 2019 due to the pandemic. Across the Collegiate University, this year's September Open Days are for students in Years 12 and 13 and equivalent and mature applicants (aged 21 and over) who are considering applying to Cambridge for entrance in 2022.
The in-person tours at St John's are aimed at those in Year 13 and will take place on 16 and 17 September when prospective applicants and their parents or supporters will be guided around the College by current students. Tours will last approximately 30 minutes and take place in groups of six to allow for suitable social distancing.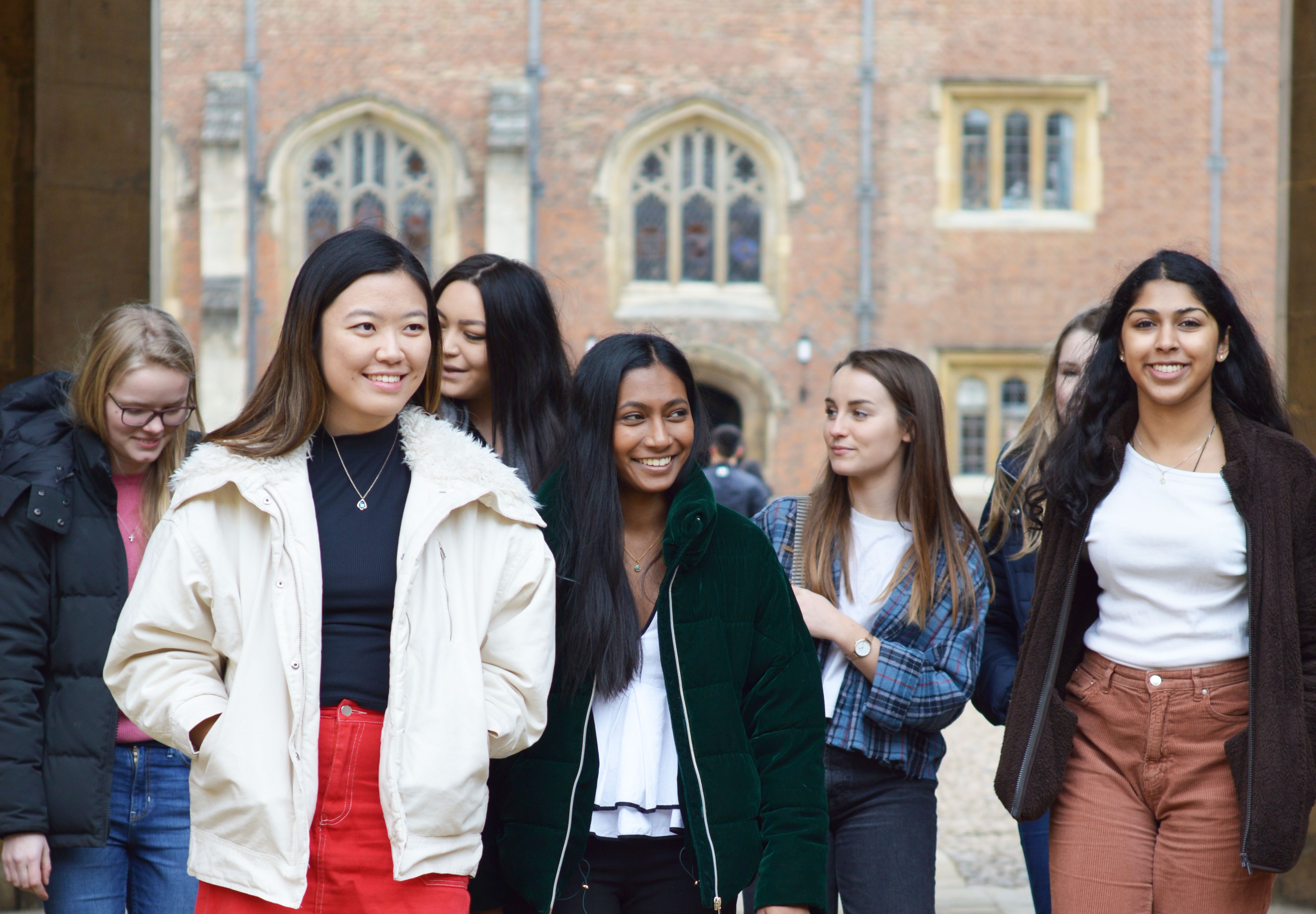 Gaia Lambert, Schools Liaison and Access Officer at St John's, said: "The pandemic put a halt to our usual in-person tours. We have worked hard during the past 18 months to move all our Admissions events and open days online, which has been incredible and enabled us to continue to reach prospective students who were unable to visit us.
"But there really is nothing like an in-person experience so we are excited to be able to offer this opportunity again for the first time in two years."
Tour visitors will be able to chat to current students face-to-face about what it is like to live and study at St John's; walk through the historic Courts and grounds; view student accommodation and visit the Library. "It is a wonderful chance to get a real taste of the student experience here," said Gaia.
There will also be an Admissions booth drop-in for candidates to ask the team questions.
Felix Haynes is due to start his third year reading Human, Social and Political Sciences (HSPS) at St John's next term and is one of the student ambassadors leading the tours. Felix, who is Access Officer for the JCR, the undergraduate student council, said: "It is so exciting that we are able to welcome people back to St John's in person. As a prospective student, visiting St John's, and having the chance to meet current students, was a decisive factor that led me to apply.
"Our open days are a unique opportunity to experience what life might be like at St John's, and our team of student ambassadors will be on hand to show participants and their families round and offer their insights."
Live Admissions web chats are being offered on the Slido platform on Friday 17th for those who are unable to visit St John's themselves - join the team here from 12-2pm and 5-7pm - and a Black Student Panel will be held on Zoom at 5pm on Thursday 16th when participants will be able to chat to current students: sign up here.
Pre-recorded presentations about courses and student life will also be available online, and video presentations for both prospective undergraduate and postgraduate students will be added to the College's new 360-degree virtual tour.
In addition, the University is offering a range of live online events, including 'Applying to Cambridge' and 'Choosing a College' during the two days.
Spaces for in-person tours of St John's are limited and must be booked in advance by emailing AccessOfficer@joh.cam.ac.uk
Gaia said: "We can't wait to welcome prospective students back to Cambridge and St John's."
Register for Cambridge University September Virtual Open Days
Published 12/8/21