Student discovers secret pandemic letter stashed under floorboard
"I excavate things and then try and guess about the people that lived or left objects there. I suppose I did a bit of excavation in my own room"
As a PhD researcher whose work straddles archaeology and anthropology, James Clark is used to digging up the past dating back two million years.
But he never expected a loose floorboard in his student room at St John's College to give up its own historical secrets – albeit from only two years earlier.
James, who is in the second year of his postgraduate studies into stone tools of the Palaeolithic – the earliest period of tool use in human evolutionary history – was working in his room in the College's Cripps accommodation building when he made the unusual find.
"I was just sitting at my desk on my computer, and I was rolling the chair around a bit and it went over a wobbly floor tile. I thought, 'that's strange'. So I stood on the end of it to tilt it up, picked it up, and a letter was underneath," said James.
"My work is at the boundary of archaeology and anthropology, I excavate things and then try and guess about the people that lived or left objects there. So I suppose I did a bit of excavation in my own room."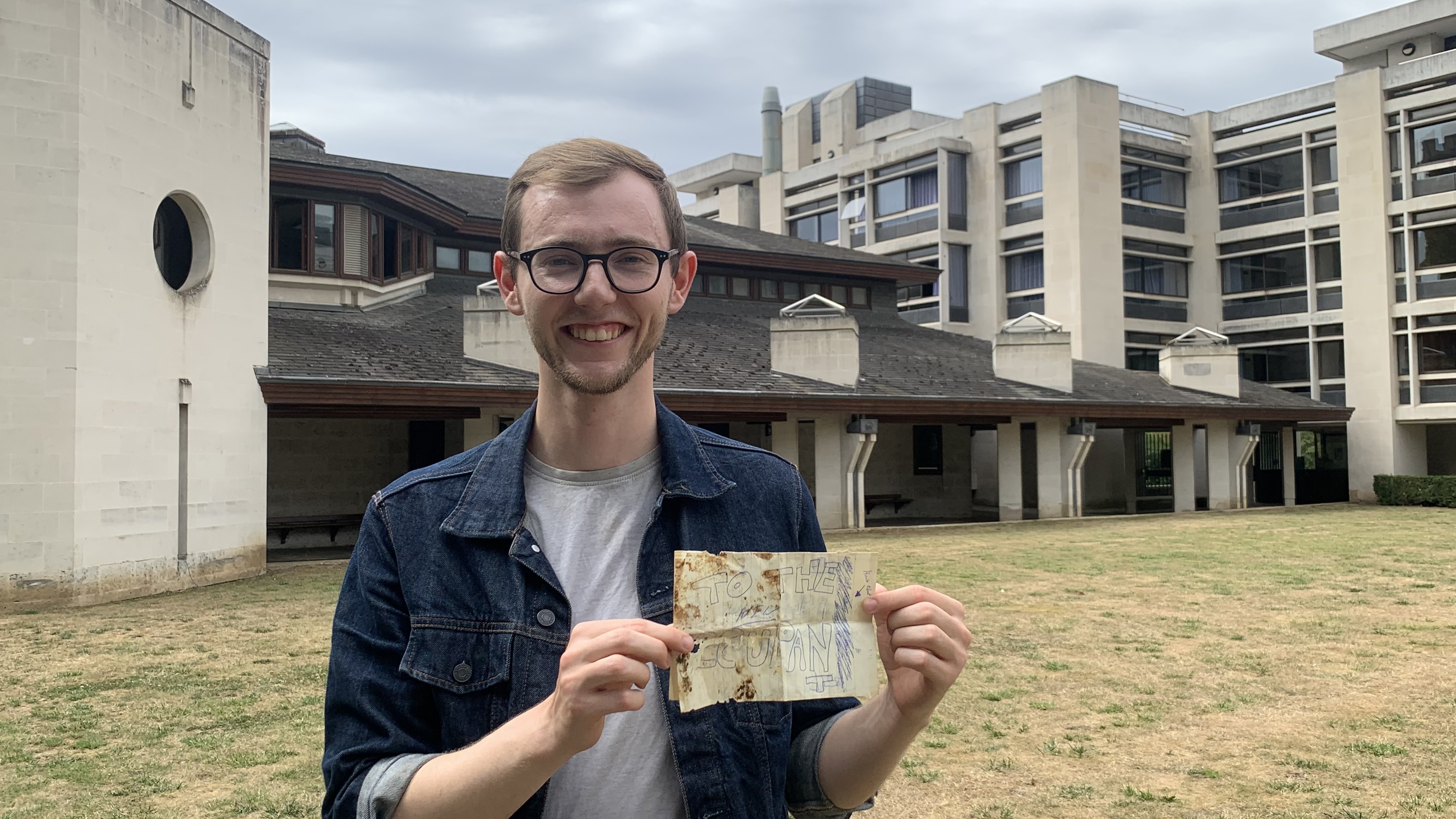 Folded up with the words 'To the new occupant' written on the front, the letter is undated but appears to have been written in March 2020, just as the pandemic hit and the nation went into its first lockdown. At the time many students went home to their families ahead of Easter Term, the final term of the academic year.
The letter is torn after being stuck to the floor, so some of the writing is difficult to decipher, but the legible words read:
"Hello! I hope you figure out the loose floorboard and find this, whomever you may be. I was hoping to write this after Easter Term in the sunshine but Covid-19 has forced my hand. Hopefully there is somebody to read this and human civilisation hasn't concluded between the writing and retrieval of this letter (that doesn't make sense, it's late at night…).
"Congratulations for getting into John's but more importantly for getting the best room in Cripps in my unbiased opinion… the water pressure in the shower is GREAT and it's got the loveliest view, especially in the sunshine.
"Treat the room well and I hope you have as much fun and make as many memories and friends here as I have."
The letter is signed by a 'Jack', 'Jake' or possibly 'Jacques'.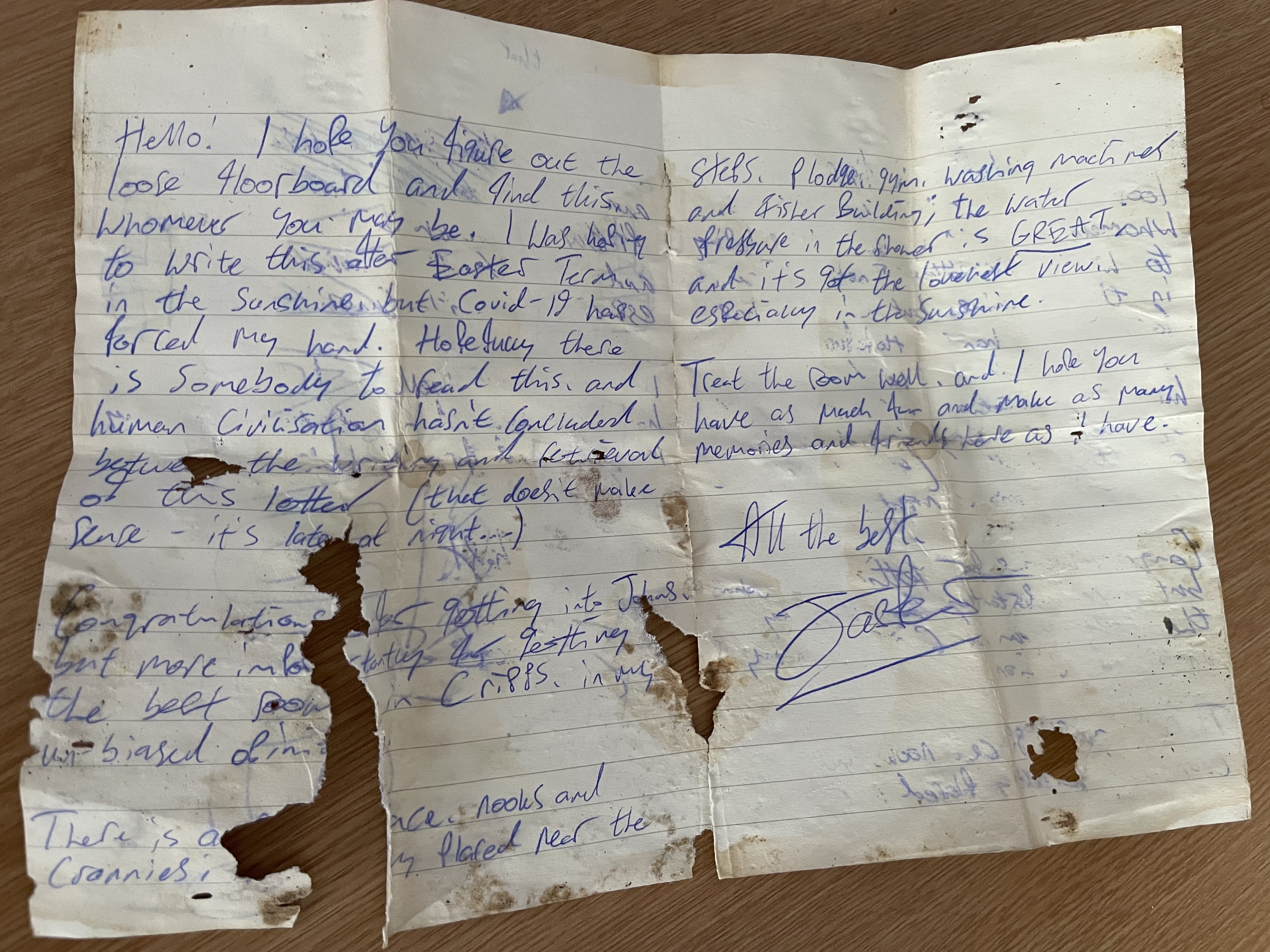 James, who only moved into the room in the Cripps Building temporarily a couple of weeks ago while his own College accommodation is being renovated over the summer, said: "I thought someone had left a secret note for themselves initially. It was quite stuck to the floor, which is why some of the parts are missing, but when I got it out it was exciting to read. It was a very nice surprise, it put big smile on my face."
The Cripps Building was built in the 1960s through the generosity of the Cripps Foundation and today houses mainly undergraduates. The architects were Philip Powell and Hidalgo Moya and their building has become a landmark in later 20th-century architectural style, attracting many awards. An extensive refurbishment to the building was completed in 2014.
As a biological anthropologist who studies past human behaviour, the discovery of the letter is particularly interesting for James, who first came to St John's himself as an undergraduate to study Psychology in 2016, when he lived in Cripps, and stayed to do a Master's degree before beginning his PhD.
"I think the person that left the letter was probably a first-year undergraduate when they wrote it, which means they may have just left St John's this past term. They made a little joke about civilisation not being concluded – hopefully! – and I think they're obviously a very friendly and bubbly person, perhaps intrigued by things like this, little scavenger hunts and tidbits. I almost feel like I know them."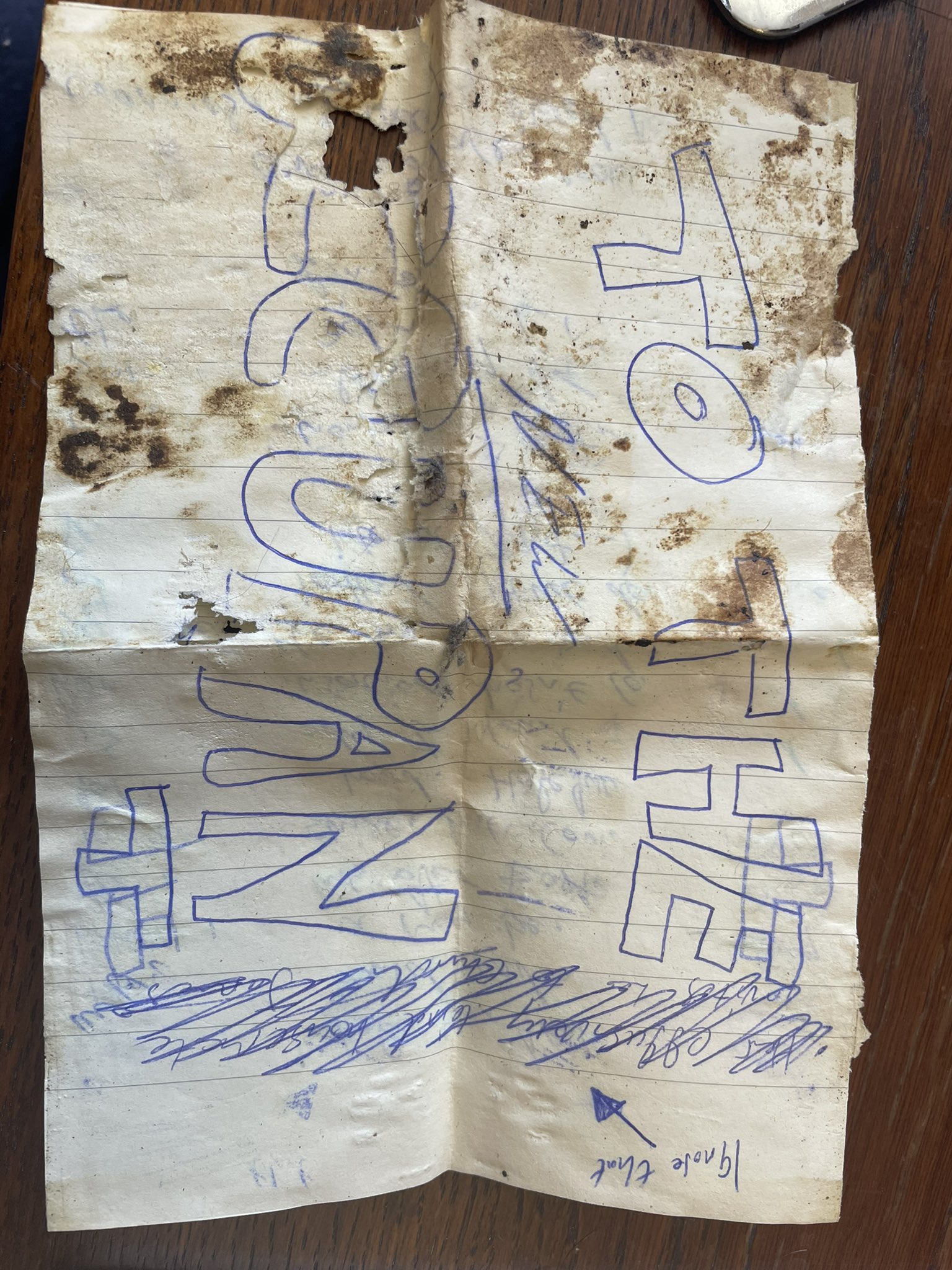 There is a suggestion in the letter that there may be other items hidden in the room or nearby in the Cripps Building, but the ripped paper makes it impossible to piece the message together fully.
"There is something about 'space', 'nooks and crannies', then another blank, then a mention of a place 'near the steps'. I consider the possibility that they're trying to lead me towards another spot, I don't know for sure because the words are missing," said James.
He will be returning to his own College accommodation in September and only sees himself as a temporary custodian of the letter.
"I think because it was probably aimed at another undergraduate, I will put it back under the floorboard. Perhaps with another letter to go with it," he said. "It finishes with such a lovely sentiment that I feel like it'd be better suited to someone who's new to the College and deserves the warm welcome that this person clearly intended."
Published 14/7/2022