St John's Chapel and community pulls together as Advent Carol Service put in jeopardy
"Andrew had taught the choristers and The Gents so incredibly well that it was inconceivable anything would fall apart"
'The show must go on' was the attitude of all involved in this year's St John's College Chapel Advent Carol Service, after Director of Music Andrew Nethsingha tested positive for Covid-19 and six out of 16 young choristers were hit by illness.
St John's Organ Scholars past and present, The Choir of St John's, and the Chapel and College community pulled out all the stops to produce two magnificent performances, one of which was broadcast live on BBC Radio 3.
George Herbert, who is St John's Herbert Howells Organ Scholar, stepped in to conduct the College's world-famous choir two days before the traditional services, when Andrew had to self-isolate. Joseph Wicks, a former St John's Organ Scholar, also stood in at short notice, to play the Chapel organ in George's place.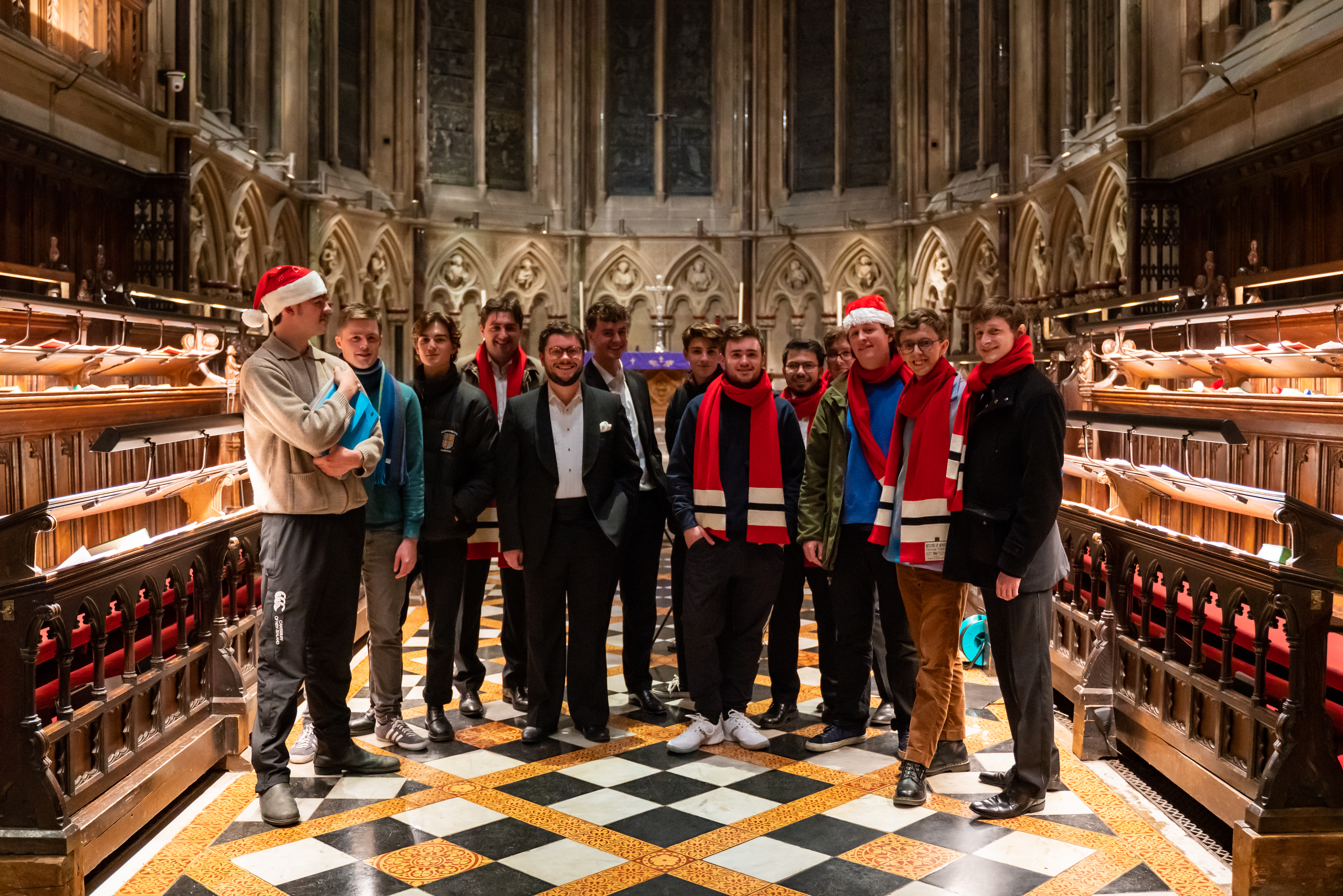 With six out of 16 choristers of The Choir of St John's missing due to illness, the remaining 10 boys from St John's College School adapted so well, many listeners never even knew their numbers were depleted. Joined by The Gentlemen of St John's – the choir's altos, tenors and basses – the live radio broadcast went ahead on Sunday 28 November to great acclaim around the globe.
For Andrew, the success was thanks to the dedication and skill of everyone involved. "I am immensely proud of the choir's singing in the Advent radio broadcast," he said. "George Herbert is one of the finest musicians I have ever known. He had two days' notice that he would be conducting the service in my absence. He did so with extraordinary skill, maturity, calm and profound musicality.
"It was an equally remarkable achievement for the young choristers to sing so wonderfully when illness diminished their numbers from 16 to 10. The Gents were also outstanding as usual."
At 20, George is one of the youngest people ever to conduct the choir in a live broadcast. He said: "I was pretty nervous when I found out I would be standing in, but I was in the nice position of Andrew having already taught both the choristers and The Gents the music and trained them so incredibly well, that it was inconceivable that anything would fall apart.
"The choir was inspirational; the whole thing was totally exhilarating."
"It was a remarkable achievement for the young choristers to sing so wonderfully when illness diminished their numbers from 16 to 10"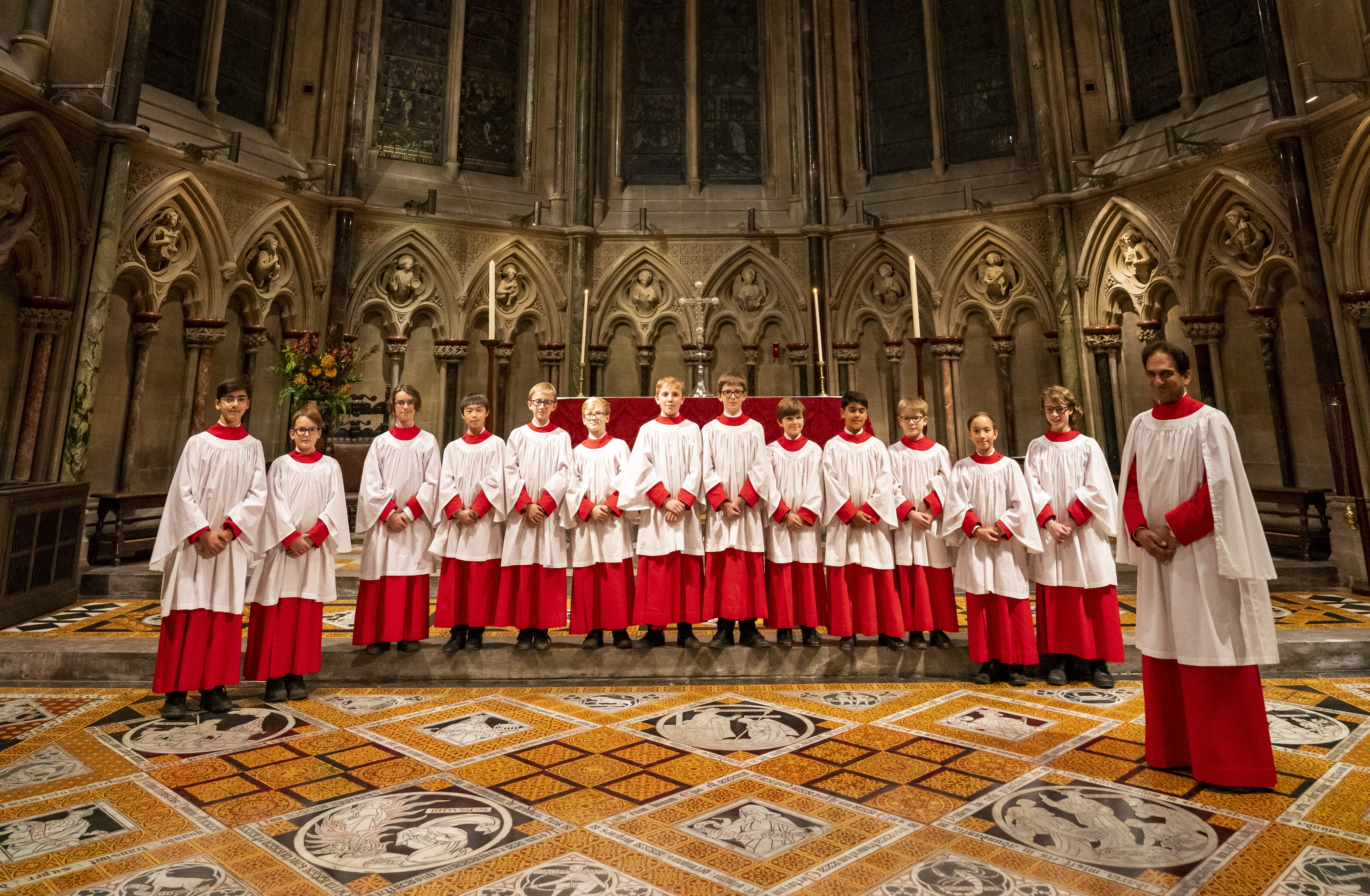 The Herbert Howells Organ Scholarship is in memory of Herbert Howells, the English composer and teacher who was acting organist at St John's from 1941-1945 when the then incumbent, Robin Orr, was on active service during the Second World War. Following two years as a music student, George is now in his final year at St John's, studying German. Alex Trigg is the second Organ Scholar at St John's and is in his first year as a music undergraduate. Together their duties include accompanying the College choir and assisting in the training of the choristers.
Before lessons every weekday morning, George and Alex head to St John's College School to help Andrew with choral practice. Part of the duo's role is to direct Evensong when Andrew is away. Knowing the music, the texts, and the children so well was another reason why the performance went so smoothly.
George said: "There is sometimes this perception that conductors stand there and beat time to bring everyone together, but the choir was always going to be together because they were singing so well before, thanks to Andrew's training. So what I was trying to do during Sunday's service was encourage everyone to make the best sound they possibly could; the warmest sound they could. I tried to get the most expression out of the text and the sound they were making."
It was lucky that Joseph Wicks, the former Organ Scholar who is now a professional singer, conductor and organist, was available to step into George's shoes to play the organ.
"In rehearsal it was great to have Joseph chipping in with ideas, along with the other Organ Scholar Alex, who only started this term. Alex did an amazing job of assisting me and listening to things like balance, and how clear the text was coming across, and just being an incredible support," said George. "On the Thursday evening, when it was evident that I was going to be taking at least the rehearsal, if not the whole weekend, Alex – bless him – appeared with this cardboard box full of like apples and bananas and granola bars. It was a welfare package for me, which was incredibly sweet."
"It will be something we will remember with huge pride for the rest of our lives"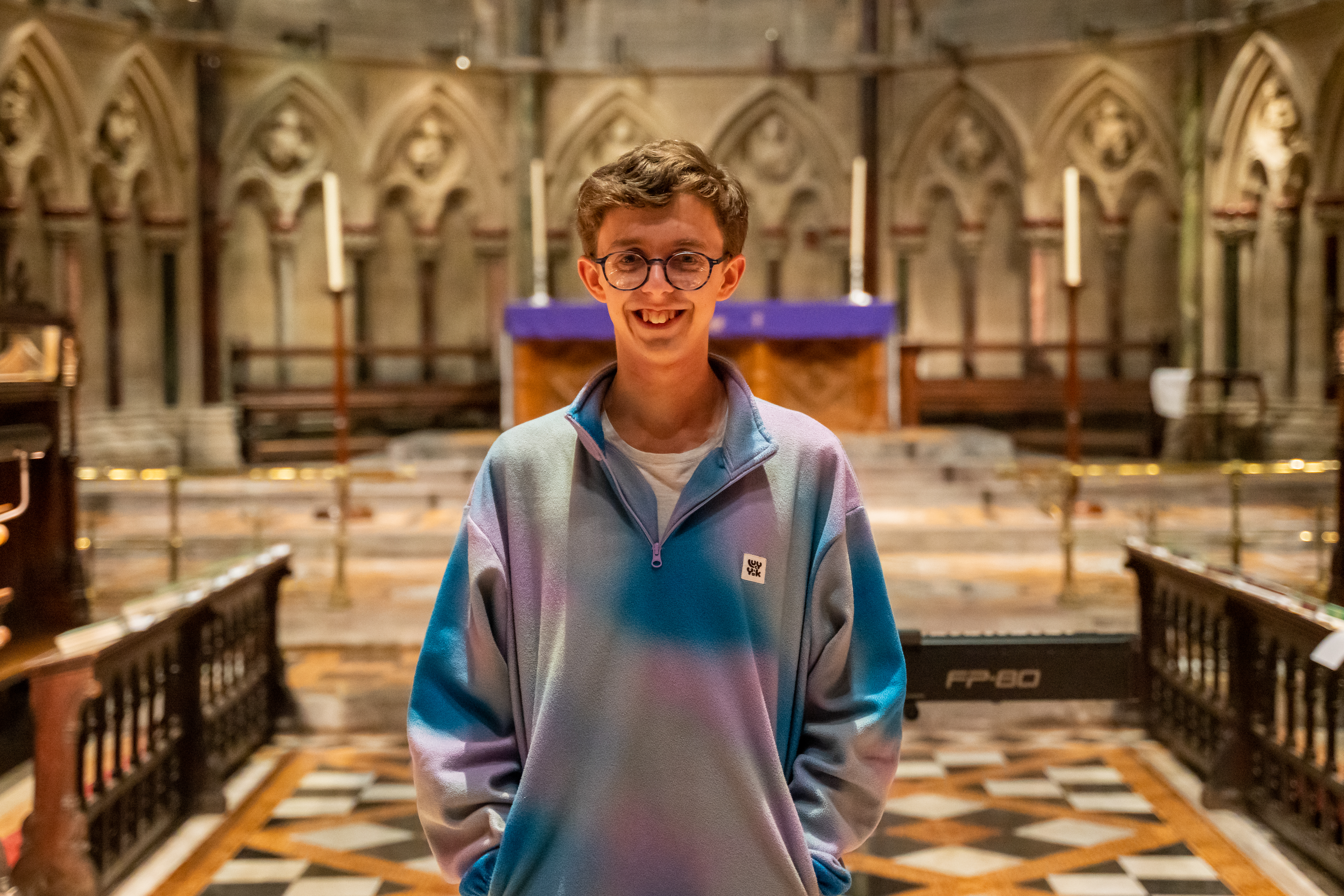 Once the service began, all the performers' experience and training took over. "It's like one big family," said George. "What was most amazing was that these 10 children made this absolutely beautiful sound. I was bowled over by how well they were singing, but also that they just rallied together as a cohort, they were really supporting each other. They were totally mature about the whole thing, and that lasted the whole weekend."
He added: "I think one of the really special things about the choir is that everyone is contributing to the same goal, from the nine-year-old who's the youngest person singing, to the guy in The Gents who's doing a PhD in cancer research and genetics. There's such a broad range of perspectives that the singers bring. In some situations that could lead to a lack of cohesion, but the philosophy that Andrew fosters so well, is of the choir being a socially well-functioning and self-supporting unit. That was essential to it all going so brilliantly."
For now, everyone is happy to have been involved in a footnote in the history of The Choir of St John's.
"We have had a huge number of compliments from around the world; although I wasn't present myself, it was one of the proudest moments of my career," said Andrew. "None of this would be possible without the extraordinary support of The Rev'd Canon Mark Oakley, Dean of Chapel, Choir Administrator Caroline Marks and so many other excellent colleagues both in College and in the College School."
"It has been an enormous team effort," agreed George. "It's a sign of how well a group like that functions and how it continues without its centre, without its anchor. It is a testament to the Chapel and choir team."
Joseph Hancock, a third-year music student and former manager of The Gents, said: "It was an absolutely unbelievable weekend. From the maturity and musicianship of the 10 choristers who were singing, to the professionalism and camaraderie of The Gents, to George's incredible direction of the choir at such short notice, there was something really special about this year's Advent broadcast. It will be something we will remember with huge pride for the rest of our lives."