St John's awarded Platinum accolade for green initiatives
"This award recognises the College's initiatives on the ground including improving biodiversity, managing waste appropriately, and sourcing food locally and responsibly"
St John's has achieved the highest environmental award in the University of Cambridge Green Challenge for the second year in a row.
The annual Green Impact awards encourage everyone at the University to take action collectively to reduce their environmental impact and to implement a range of sustainable policies that lead to positive change.
St John's has been praised for achieving the Platinum Colleges award for the second time - the highest accolade in Green Impact, a United Nations award-winning programme designed by the National Union of Students.
Colleges taking part in the accreditation scheme can obtain Bronze, Silver, Gold and Platinum awards for their work to engage staff and students and address environmental issues across their operations. St John's won Gold when it entered for the first time in 2020, despite the disruption caused by the first lockdown at the start of the pandemic, and Platinum in 2021.
The University's Sustainability Team carries out audits of environmental measures to come to its decisions, which are based on criteria such as energy use, sustainable food, waste management, recycling and biodiversity.
In the last 12 months, St John's has introduced a series of measures including the installation of bee hotels, tawny owl boxes and water butts, and has continued to work to a BREEAM Excellent rating for sustainability on a major building project in College - the community hub. BREEAM is the world's leading sustainability assessment method for masterplanning projects and buildings.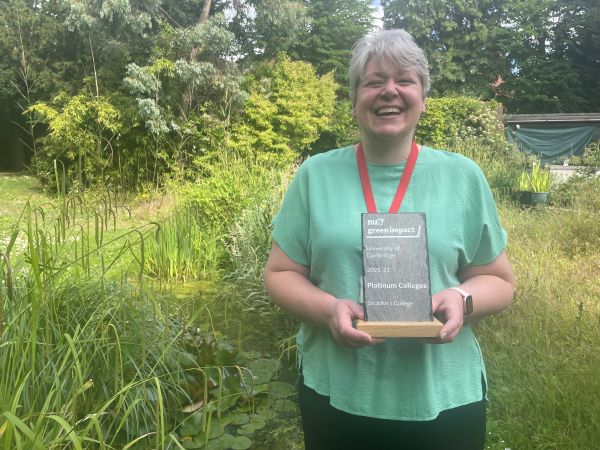 The College entry was organised by Vicky Jeffries, Maintenance Payments and Utilities Co-ordinator, and Jessica Tearney-Pearce, Project Co-ordinator in the Domestic Bursar's office, who are both members of the St John's Sustainability Forum.
Jessica said: "We are delighted to have been awarded Platinum in the University's Green Impact for the second year running. Thank you to all the Fellows, students and staff who sit on the College's Sustainability Forum for driving forward this agenda and seeking to embed sustainable practice in College departments.
"This award recognises the College's initiatives on the ground including improving biodiversity, managing waste appropriately, and sourcing food locally and responsibly. It also links into the College's work in other areas which aim for resilience in the face of the climate emergency including decarbonisation of heating."
Published 10/6/2022