St John's awarded Platinum accolade for green initiatives
"The award is a great credit to staff across all departments who have taken a lead on driving down our environmental impact"
St John's College has achieved the top environmental award in the University of Cambridge Green Challenge just a year after scooping Gold with its debut entry.
The annual Green Impact awards, which are linked to a nationwide scheme, encourage everyone working or studying at the University to take action collectively to reduce their environmental impact and to implement a range of sustainable policies that lead to positive change in their Colleges, departments and faculties.
St John's has been praised for achieving the Platinum Colleges award - the highest accolade in Green Impact, a United Nations award-winning programme designed by the National Union of Students. Delivering the news, Jessica Haskell, the University's Sustainability Team Sustainability Communications and Engagement Coordinator, said: "Well done to everyone involved. This has been an exceptionally challenging year to say the least and I would like to thank you on behalf of the University community for managing to prioritise sustainability progress."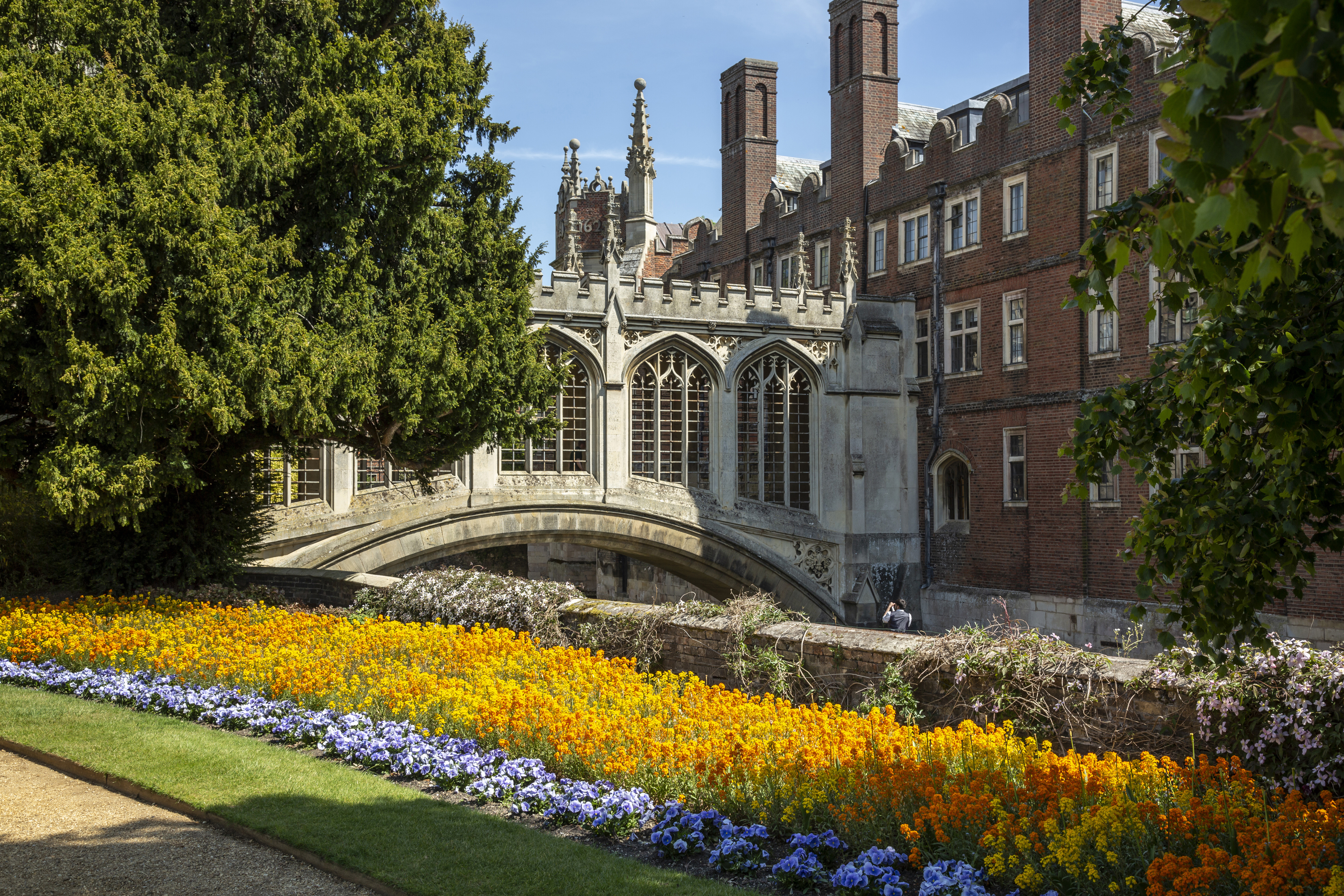 Colleges taking part in the accreditation scheme can obtain Bronze, Silver, Gold and Platinum awards for their work to engage staff and students and address environmental issues across their operations. St John's won Gold when it entered for the first time last year, despite the disruption caused by the first lockdown at the start of the pandemic.
The University's Sustainability Team carries out audits of environmental measures to come to its decisions, which are based on criteria such as energy use, sustainable food, waste management, recycling and biodiversity. The student auditors at St John's praised the College for the 'amazing' progress made over the last two years and were particularly impressed this time around with the wildlife camera traps, which have enabled the community to view footage of a badger sett in the grounds. They were also pleased by the College's charitable initiatives for the British Heart Foundation - students are encouraged to use a recycling bin placed in Cripps to donate unwanted belongings, particularly at the end of the academic year when they are leaving Cambridge.
For the second year running the College entry was organised by Vicky Jeffries, Maintenance Payments and Utilities Co-ordinator, and Jessica Tearney-Pearce, Project Co-ordinator in the Domestic Bursar's office, who are both members of the St John's Sustainability Forum. This year the pair focused on getting good practice into firm procedures, as well as reinforcing last year's evidence for green initiatives.
Vicky said: "Departments are much more environmental and sustainable in their approach to the tasks they carry out. For example, Housekeeping changed to a new laundry that is much more environmentally friendly."
She added: "I am thrilled that we have won the Platinum award this year. We still have more things to implement and improve upon so we hope to maintain this level. It's been a pleasure working with Jessica and many thanks to everybody who has helped with our submission."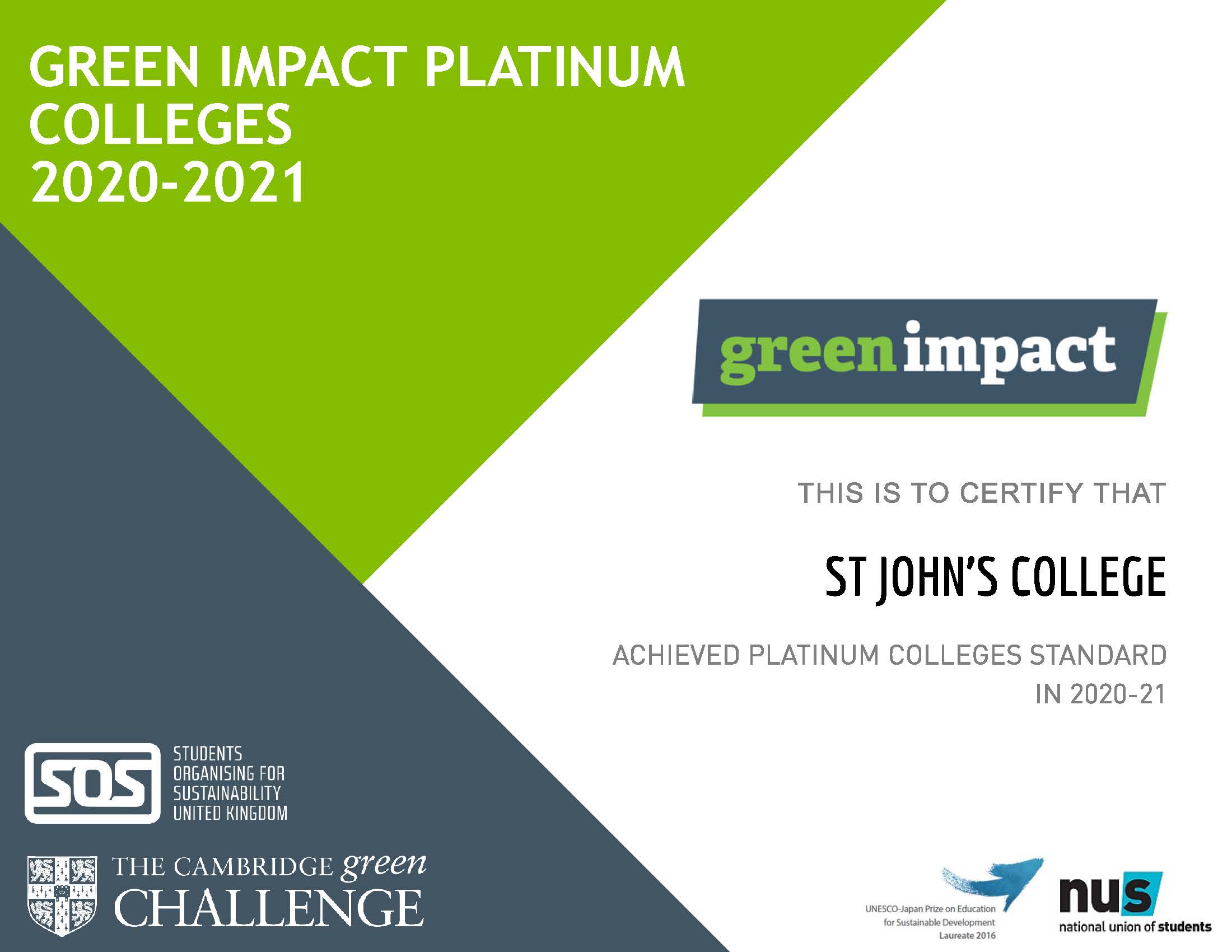 Jessica said: "I'm delighted that the College has achieved Platinum in the Green Impact awards, particularly in this of all years. It's especially pleasing that despite the additional trials we've endured in 2020 and 2021, the College community at St John's has continued to commit to and improve upon sustainable behaviours and practices.
"It's been a joy to collaborate with Vicky and other members of College in preparing the submission. Of course, there is always much more to do and the prospect of building upon this is very exciting."
Heather Hancock, Master of St John's College, added: "I'm delighted that the College's progress in making our operations more sustainable has attracted a Platinum award from the Green Impact scheme. Vicky and Jessica did a great job in making our submission this year, in itself a demanding task. The award is a credit to staff across all departments who have taken a lead on driving down our environmental impact, and to everyone in College for making the personal adjustments that help our policies succeed."
A virtual Green Impact awards ceremony is due to take place on 14 July, from 10am-11.30am, and all are welcome to attend. Book your place to join 46 other award-winning teams from across the University in celebrating at the event.
Find out more about the College's environmental initiatives
Published: 11/6/2021