St John's takes Cambridge to the North West
St John's College, University of Cambridge, has visited more than 1,200 pupils from state schools across the North West in its largest push to date to encourage bright students from the area to apply to top universities.
A team of current undergraduates, academics and staff from St John's College, Cambridge, has toured schools in a first-of-its-kind initiative in the North West of England, with the aim of inspiring talented pupils to apply to the best universities.
The Access Tour visited more than 1,200 pupils from 34 different schools in Bolton, Rochdale and Blackburn, giving students, along with many of their parents and teachers, the opportunity to meet current Cambridge undergraduates and academics.
Sessions in each school were tailored to the needs of students and normally comprised an interactive "myth busting" talk, during which undergraduates from the College discussed common misconceptions about Cambridge, giving pupils an insight into what it is like to study at a top university. Issues such as student finance were also discussed and pupils were made aware of the range of bursaries, grants and funds available from the University of Cambridge and its Colleges.
This was followed by a choice of academic sessions led by current researchers at the University of Cambridge that were designed to encourage pupils to engage with new ideas that go above and beyond the school curriculum.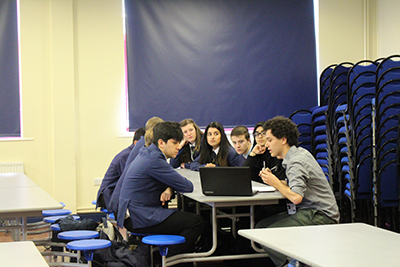 Like a university tutorial, the sessions were interactive and designed to get pupils to think independently and engage with new ideas.  They aimed to encourage pupils to go deeper into the subjects they enjoy and equip them to deal with the kind of ideas they would be asked to discuss at interview as well as giving them a sense of the independent learning style at university. 
Topics included fortune-telling in the Assyrian Empire, cancer research, Zeno's Paradox, building diagnostic machines and Ancient Persia.
Sessions for parents also took place and were attended by more than 250 parents from the area. Talks covered details such as the application process, financial support schemes, and what admissions tutors are looking for in prospective students when they come for interviews.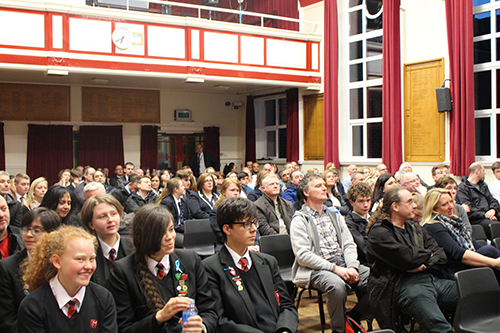 A member of the access team and third-year Maths student at St John's, Oliver Horan, said: "I grew up in Bolton and went to one of the schools on the Access Tour – Rivington and Blackrod – so it's been great to see some familiar faces."
"I really want to help show kids from this area what is achievable as well as offer guidance to their teachers and parents. When I was applying to Cambridge my teachers did their very best to help, but they didn't really know how to prepare me for interview. Schemes like this play an essential role in forming links with schools so we can offer them advice and increase pupils' chances of submitting competitive applications."
The Access Tour took place over three days from 14-16 March, with larger schools and academies hosting hub events with students from various local schools.
The schools that took part included Mathew Moss, Mount St Joseph, Sharples, Rochdale Sixth Form College, Rivington and Blackrod, Hollingworth Academy and St Wilfrids.
The tour also enabled the College to establish new links with schools it has never worked with before, including Ladybridge and St Cuthberts. See a full list of the schools that took part here.
Chloe Zornemann, a year 12 pupil from Rivington and Blackrod said: "Before today I'd been to an open day at St John's College and that really helped me to see that applying to Cambridge is a realistic option for me. Today a friend and I had the opportunity to have a mock interview with one of the academics, which was the first experience like that we've had. It has made me feel so much more at ease with the application process as now I know more about what to expect."
"It was also great to realise that Cambridge is not as concentrated with students from private schools as I first thought and that actually around 60% are from schools just like mine." Chloe added.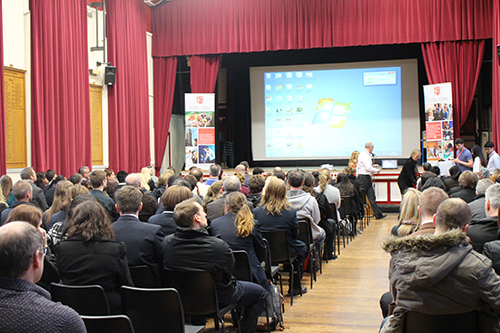 The College visited the North West because it has a particular connection with the region through the University of Cambridge's Area Links scheme.
Each of the 31 colleges that together make up the University of Cambridge have designated Area Links, which together enable them to build relationships with schools and sixth-form colleges around the UK.
This gives schools a personal contact point within the University, through which they can get advice and guidance about applications, and feed back local perspectives on how to make Cambridge as accessible as possible to students who have the potential to thrive there.
Because the North West is one of its Area Links, St John's had previously organised one-off visits to schools in the area, and also arranges for groups from local schools to visit the College itself.
The Access Tour, however, is a unique initiative on a much larger scale. The 2016 tour of the North West is the second Access Tour to have been carried out by the College after the idea was trialled on a smaller scale in Shropshire in 2015.
Any school in the North West that wants to find out more about arranging a visit from the admissions team at St John's College, or about visiting the College itself, can contact Megan Goldman-Roberts, via AccessOfficer@joh.cam.ac.uk, or call 01223 338703.
For more information about applying to St John's and Cambridge in general, please visit http://www.undergraduate.study.cam.ac.uk/applyinghref>