St John's graduate turned folk musician releases album
The first album from St John's alumna and 'folk pixie' Rosie Eade and her band is due to be released this autumn, and features a song written in Cripps when Rosie was a student.
Notable graduates of St John's have included Nobel Prize-Winners, Prime Ministers, scientists, writers, and equality campaigners – but St John's Mathematics graduate Rosie Eade is becoming well-known for her work in an entirely different field: folk music.
Dubbed the 'folk pixie', Rosie Eade is a Met Office climate scientist by day, publishing journal articles and presenting her research in conferences around the UK, Europe and the USA. But whenever she has free time she can be found performing live, meeting new musicians or writing music, and she has just finished recording the Rosie Eade Band's first album, Battlestorm.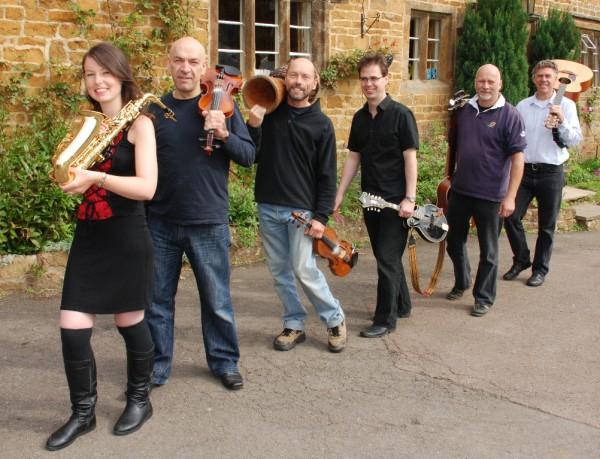 Rosie is already a well-known face in the folk music world. She came to study Mathematics at St John's in 2000, attracted by its beautiful surroundings and its jazz and folk music scene. She saw an advert at the Cambridge Folk Club from folk rock band Hedgepig who were looking for a singer, and she joined them in 2001 as a singer and alto-sax and penny whistle player.
Rosie moved to Exeter in 2008, but she still performs with Hedgepig about six times a year in the Cambridge area and around the country. Hedgepig will be performing at St John's College for the first time on Sunday July 12 at an Alice in Wonderland-themed Family Party for alumni. "We are very much looking forward to it – we might even dress up!" Rosie said.
Performing with Hedgepig has given Rosie invaluable experience in performing live, writing her own music, and recording – she has recorded two albums with the band, including five of her own songs. "Hedgepig taught me to progress from a shy teenager to being able to front my own band - so they have a lot to answer for!" she said.
Like Rosie, two other members of the four-piece Rosie Eade Band, established in 2014, are also climate scientists at the Met Office; Niall Robinson plays drums, cajon and tabla, and Simon Stanley plays bass guitar. The band is also made up of Hedgepig's mandolin player Steve Mathews on mandolin and tenor guitar, and Rosie on vocals and guitar. Since forming, the band has performed many times around the south west and at UK-wide festivals. Rosie also plays solo gigs further afield, or as a duo with Steve.
Battlestorm, the Rosie Eade Band's first album – previous albums were either solo or featured guest musicians - was recorded during May and June and is due to be released this autumn, and features 11 songs written by Rosie over the last decade as well as two covers, with all the songs sharing a common theme of conflict and battles in life. The title track Battlestorm mentions the A14 and was inspired by a friend's concern over her daughter's safety when travelling home after an accident, and most of the track The Fire was written in Rosie's third floor room in Cripps, St John's College, while she was a student.
To celebrate the release of Battlestorm in the autumn, the Rosie Eade Band will be performing some shows in important places to them, Cambridge, Wantage and Exeter. Further details will be available nearer the time at www.rosieeade.co.uk.
Battlestorm will be available to purchase in the autumn from www.rosieeade.co.uk as well as from Amazon and iTunes.