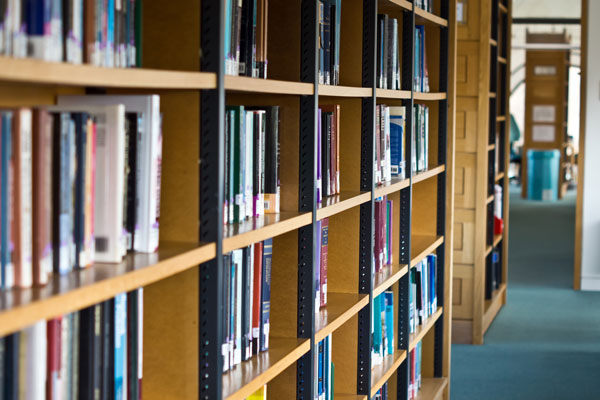 St John's is committed to maintaining the best-provisioned College library in Cambridge.
To achieve this we make every effort to maintain and expand the Working Library collections, bringing in the latest published research and writing across all disciplines studied by undergraduates in the University.
In parallel we strive to ensure the currency of the existing collections by acquiring the most up-to-date editions of core texts and course books, many of which are reissued annually. In some subjects, notably the sciences, medicine, engineering and law, multiple copies are often purchased to meet the academic needs of our students.
The Library contributes annually to the centrally managed eresources@Cambridge online collection, giving access to a wide range of electronic resources. Yet printed books are still the most commonly used learning resource and, according to the 2017 Library Survey, the majority of our students expect this to be the case for the foreseeable future.
Since 2012/13, an average of more than 19,000 hardcopy items (books, journals and audio-visual materials) have been borrowed from the College Library each year. In order to meet this sustained high demand we must boost our level of investment in our collections correspondingly.
How you can help
As it has done for centuries, the College relies heavily on the generosity of its alumni to guarantee its high standards of academic provision. There are many calls on the Library's budget which, over and above the provision of printed books, covers the needs of the Old Library and the Archives, conservation requirements, support for electronic resources and paper journal subscriptions.
You can assist the Library in achieving its aims through our Sponsor a Shelf scheme, details of which are set out below. Though donations of all sizes are most gratefully received, in order to ensure our collections remain up to date we hope you will consider contributing on a regular basis. If you are eligible to reclaim Gift Aid, the value of your donation will be increased by 25 per cent at no cost to you.
| | | | |
| --- | --- | --- | --- |
| Sponsorship | Donation | This will allow us to… | We will thank you by… |
| Sponsor a shelf | £25 a month, £75 a quarter or £300 a year. | Maintain an entire shelf of books in a subject area of your choice. | Commissioning a personalised shelf label to be displayed in your chosen subject area. |
| Adopt a book | £5 a month, £15 a quarter or £60 a year. | Purchase a new book in a subject area of your choice each year. | Commissioning a personalised bookplate to be inserted into a new volume as it is added to the borrowable collections. |
Each donor will have their support acknowledged in the College's list of donors, published annually in The Eagle, The Marguerite and on the College website. Regular donors will also receive a complimentary copy of the Library's detailed and highly informative Annual Report.
How to give
We are extremely grateful to everyone who participates in this exciting initiative. Whether you wish to make a regular gift by Direct Debit or a single gift by credit card or cheque, simply complete the online form here (selecting 'Other' from the drop-down menu and typing 'Sponsor a shelf' in the comments box).
To discuss other levels of giving, or for further advice on how to make your gift, please contact the St John's College Development Office, on 01223 760988 or by email to development@joh.cam.ac.uk.