Seeking lockdown solace in art
"This adventure taught me that some things may seem impossible, but it may still be worth trying to do them anyway"
Feeling Zoom-weary? Dr Vivienne Westbrook, Lady Margaret Beaufort Visiting Fellow at St John's, may have the answer. She has produced a video telling the inspirational story of how she has learned to paint during the Covid-19 crisis. Now she hopes her film will help others find creative solutions to their own lockdown blues.
Dr Westbrook, who is a cultural historian, was teaching in Kazakhstan – where she is Professor of English and Cultural Studies at KIMEP University – when she was caught up in the pandemic and found her world 'switching to online'. However, she soon discovered a soothing solution to 'the growing tedium of my virtual routines' – art lessons with the artist of two paintings she bought at a market in February last year.
Despite not speaking Russian and her teacher, Yuriy Kharchenko, not being able to speak English, she learned to paint and found solace in her new-found hobby as the world locked down around her. Once home in England, she continued with virtual art lessons.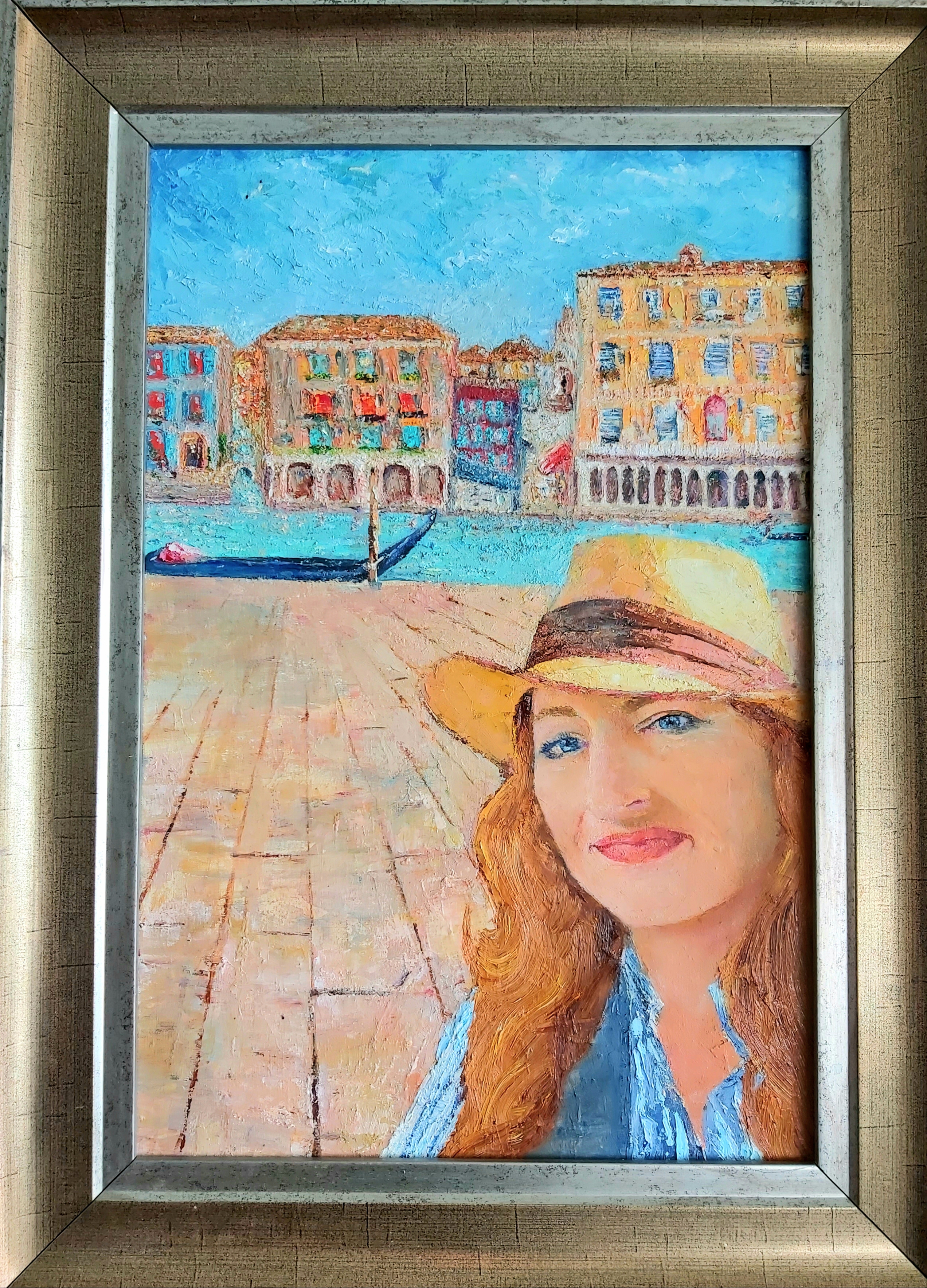 Dr Westbrook said: "I think most of us communicate with people across the world, so we know that lockdown is hard for everyone who has to endure it. Finding Yuriy's paintings at an Almaty street market, persuading him to teach me only in the language of paint, and then at a distance of 5,600km when I returned to England, took my experience of lockdown in a more hopeful and enjoyable direction."
Lockdown-fatigued friends around the world were invited to send ideas for a self-portrait, which Dr Westbrook set in a fictionalised Venice.  
"I sent progress updates of all of my paintings to friends on a regular basis, which is what they enjoyed most - some sense of progress! Getting friends to contribute ideas to the portrait was immense fun and the cause of some hilarity as I grappled with sticks, knives and chopped-up brushes," said Dr Westbrook.
"I still have a lot to learn, but this adventure taught me that some things may seem impossible, but it may still be worth trying to do them anyway."
Now back in Cambridge, Dr Westbrook tells the full story of her creative journey to inspire others in this 10.38-minute video featuring some of her own and Yuriy's artwork.
Published: 26/2/21