Second year student follows in the footsteps of legendary comedians
'Look Alive!' places its five performers as humans in an earth exhibit in an inter galactic museum
Angela Channell, a second year English student at St John's, is setting off on a global tour with the internationally acclaimed Cambridge University Footlights Dramatic Club (the Footlights).
She is one of five cast members in the comedy sketch show Look Alive! and will travel with the show around the UK, including a run at the Edinburgh Fringe Festival, and the US with performances in San Francisco, Los Angeles and New York.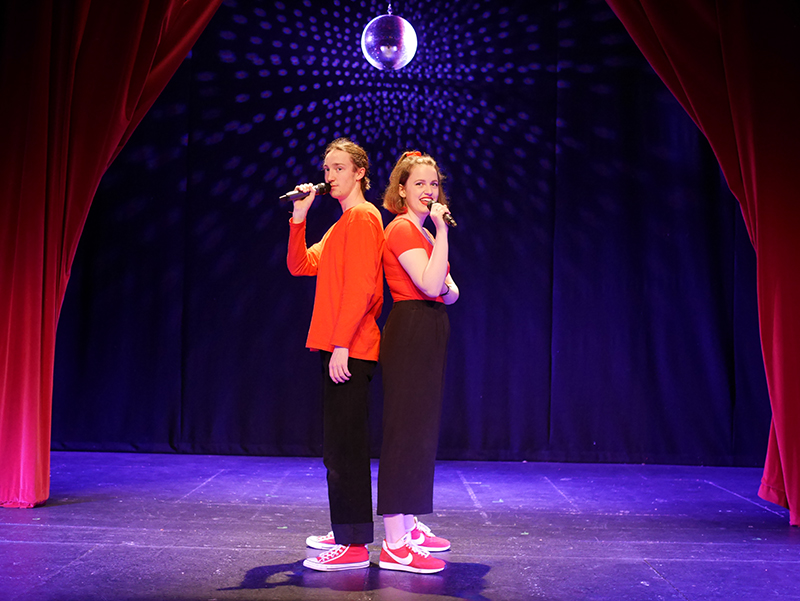 Jamie Bisping and Angela Channell perform a sketch in Look Alive! 
One of the UK's oldest sketch comedy troups, the Footlights have a long history of producing comedy shows – their inaugural performance took place in 1883. The group rose to prominence in the 1960s as its graduates became nationally known and well-loved comedians including Peter Cook and three members of Monty Python – John Cleese, Graham Chapman and Eric Idle.
Many of Britain's most famous comedy writers and actors have been members of the Footlights and have performed in their tours and revue shows including Stephen Fry, Emma Thompson, Sandi Toksvig, Olivia Colman, and St John's alumnus Douglas Adams.
Look Alive! places its five performers as humans in an 'earth exhibit' in an intergalactic museum where they are tasked with explaining the quirks of planet earth to alien spectators. The show garnered rave reviews during its initial run in Cambridge – Varsity described it as "a stellar showcase of cosmic, comic Cambridge talent."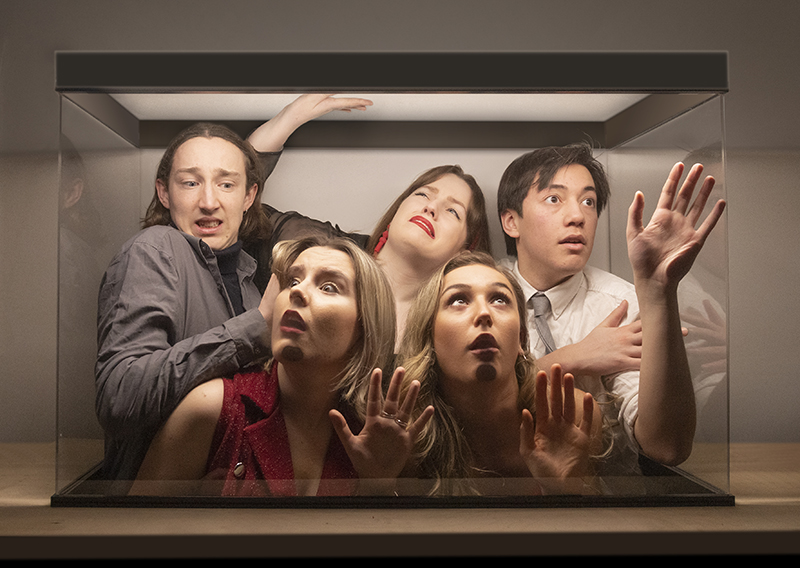 The cast of Look Alive!
Angela Channell has been writing, directing and performing with the Footlights since their 2018 Christmas pantomime at the ADC theatre. Since then she has been involved with the Footlights Spring Revue and a sketch show at the Cambridge Arts Theatre.
This is her first tour with the Cambridge group, although she has already performed at the Edinburgh Fringe Festival having written and acted in the comedy show The Man Presents: Women last year in which poorly written female characters took revenge on their writer. Channell is also currently part of the committee that runs Stockings, a comedy collective for female and non-binary comedians.
After travelling across the UK and the US, Look Alive! will finish its tour back in Cambridge in October at the ADC theatre. Tickets for this and some other UK performances are still available.
Published: 01/07/19