Research Fellow receives Royal Society funding to harness the power of quantum technology
"The URF scheme honours high calibre early career scientists throughout the UK and Ireland"
A physicist from St John's College has been awarded a University Research Fellowship by The Royal Society to push the frontiers of quantum science.
Dr Dorian Gangloff is a postdoctoral research fellow in the Cavendish Laboratory at the University of Cambridge, working in the group of Professor Mete Atatüre, physicist and Fellow of St John's. In October, Dr Gangloff will take up his Royal Society University Research Fellowship (URF) at the famous Cambridge laboratory to start his own research team.
Dr Gangloff, who has been a Research Fellow at St John's for four years, will be a College Research Associate from October while he holds the five-year URF post.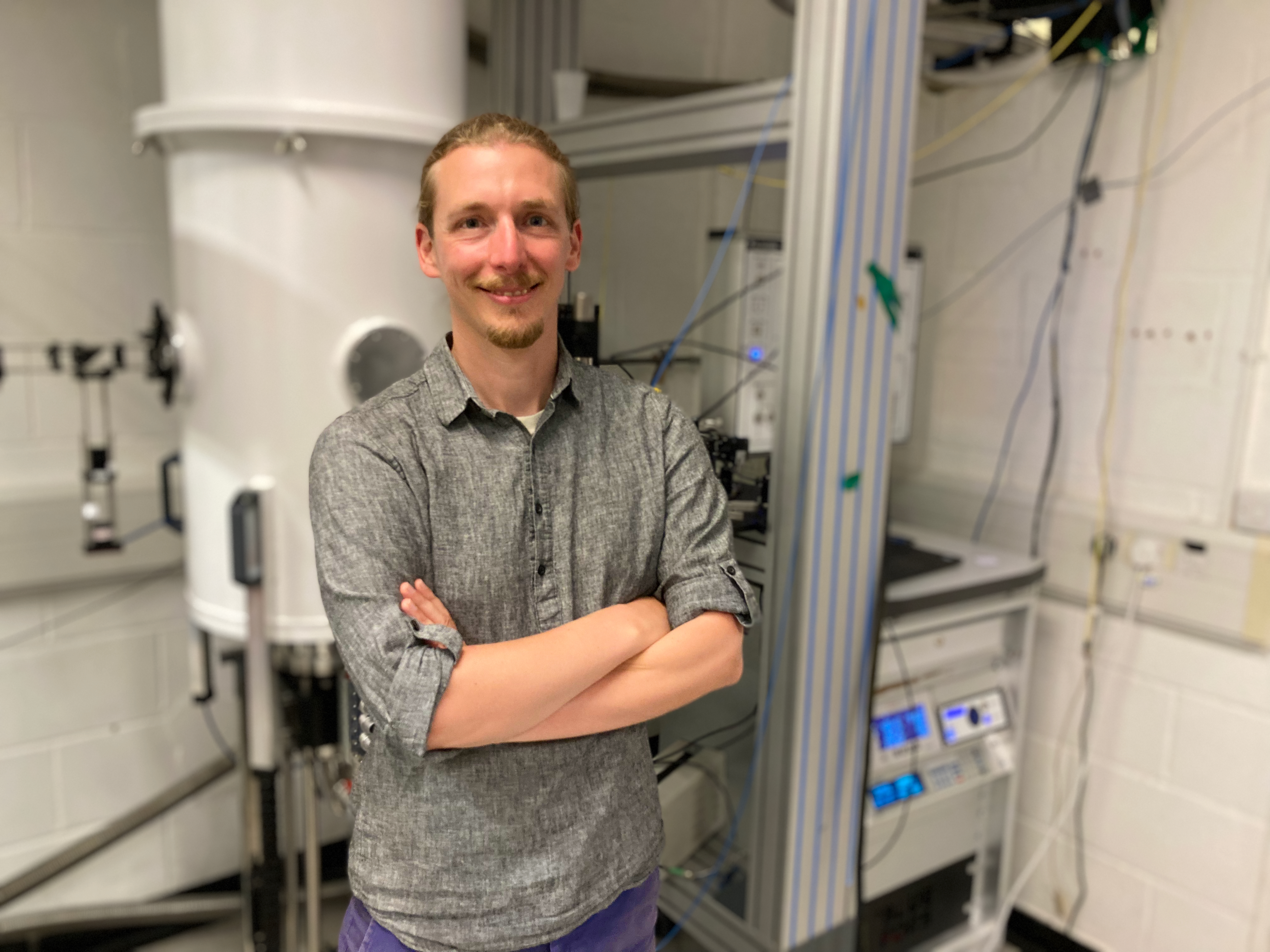 He is one of only 37 successful URF candidates appointed by the Royal Society in 2021. The scientists will take up their posts at institutions across the UK and Ireland at the start of the new term, working on research projects spanning physics, mathematics, chemistry and biology.
Dame Linda Partridge, Biological Secretary and Vice President of the Royal Society said: "The URF scheme honours high calibre early career scientists throughout the UK and Ireland. The Covid-19 pandemic has significantly impacted the research community, and so it is essential that long-term, flexible funding schemes like this are in place to continue to support the careers of researchers pursuing novel and ground-breaking research."
Dr Gangloff's research is in quantum interface engineering, which is enabling scientists to begin to harness the previously theoretical capabilities of microscopic properties of matter down to a single electron or photon - heralding a revolution in physics and technology.
Their work is shining a light on areas of fundamental physics and enabling an information technology revolution with, said Dr Gangloff, 'epoch-changing significance for sensing and measurement, computing and communication'.
His research focuses on proof-of-concept experiments with interacting spin quantum bits and photons in semiconductor materials.
The URF will enable Dr Gangloff to work towards the creation of a quantum internet, where information will travel between networked quantum nodes with security provided by the fundamental laws of physics.
He explained: "Solid-state devices, such as quantum dot nanostructure that I propose to work with, provide all essential elements required to experiment with fundamental aspects of the quantum world.
"My goal is to develop a quantum link between high-energy optical photons, a single electron spin, and low-energy nuclear spin excitations. This combines the advantages of fast processing available in the optical domain with the coherence of the nuclear domain, and promises to equip the leading quantum optical technology - epitaxial quantum dots - with a long-lived nuclear memory, a crucial step en route to a quantum internet."
Two more new University Research Fellows, Dr Alice Thorneywork and Dr Bart de Nijs, have also been appointed by the Royal Society to undertake innovative research at the Cavendish Laboratory.
Professor Andy Parker, head of the Department of Physics at the University, said: "We are honoured that Dr Alice Thorneywork, Dr Dorian Gangloff and Dr Bart de Nijs will continue their early career research at the Cavendish Laboratory.
"The Royal Society URF scheme is an exceptionally prestigious award that will support those talented scientists while they continue exploring exciting and innovative research spanning the physical sciences, from exciting soft matter systems and self-assembled plasmonic nanoarchitectures to quantum science and technology."
Dr Gangloff said The Royal Society funding comes at a 'critical juncture' in his career when 'the time is right to combine recent advances in quantum networking technologies to deliver a qualitative step forward'.
He added that the Fellowship is also timely for 'growing independence': "A URF is an opportunity to develop fully the autonomy and leadership required to build an independent research group and to transition to a permanent research post, while benefiting from the excellent environment provided by the Cavendish Laboratory to attempt an ambitious research project."
Published 13/9/2021

Back to College News