"The catering staff have made a huge contribution to people's wellbeing; we are always here, come rain or shine, that's what we do"
Jason Barker, the Bar Manager at St John's, could often be found pulling pints before the pandemic, but the Covid-19 crisis saw him step out from behind the pumps to turn courier, shopkeeper and even counsellor. In our latest pandemic tale, he reveals how the Catering team is working hard to provide a safe port in the storm.
Before I joined the College in January 2017, I worked in the pub industry. I'm from Staffordshire originally and, after moving to Cambridge in 2003, I managed The Anchor in Silver Street, then The Granta on the other side of the Cam. So I tend to go wherever the river has taken me and now, in the Bar at St John's, I'm still only a stone's throw away. I love the ebbs and flows of College life, Cambridge is such a beautiful place to live and work.
At the start of the pandemic in March it became apparent things were changing rapidly. My wife Sarah works in the pub industry in Cambridge too and, because she's considered vulnerable to Covid, she was asked to shield early on. She's a sociable and resilient person, but it did affect her, and with our two teenaged daughters Olivia and India we had home-schooling to deal with as well, it wasn't always easy. We consider ourselves very lucky, especially with all the green space in Cambridge that meant we could enjoy time outdoors, but this experience has really made me understand what others less fortunate are going through.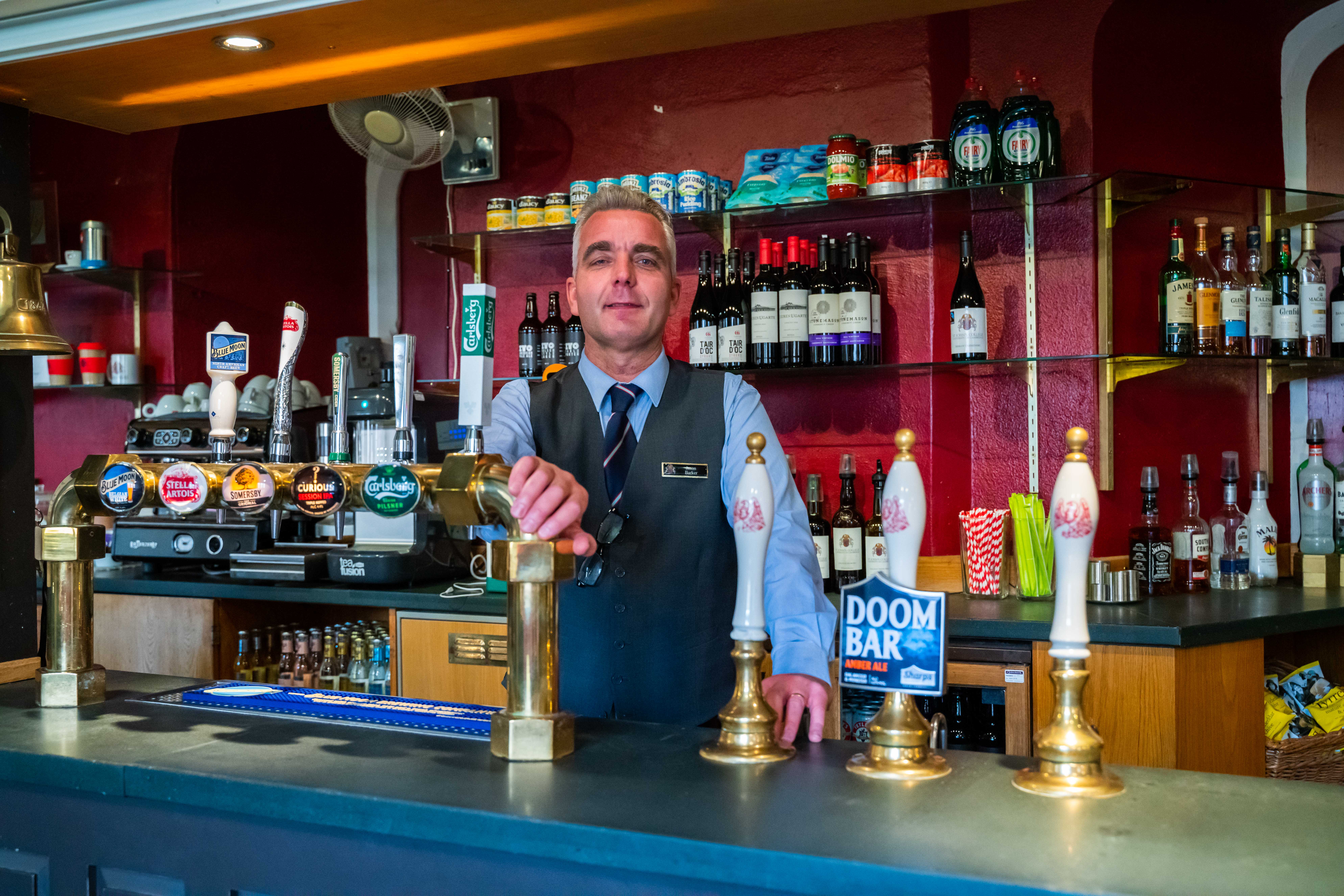 In College, we had to take decisive action in terms of how we were going to continue operating while safeguarding the community. We closed the bar on 18 March when it became clear there was going to be a major shift in the Government's response to the pandemic. We were all apprehensive, we didn't know if the College was going into complete lockdown, but everybody pulled together. We were faced with something we've never dealt with before but there's a wealth of experience to draw on within the department and the important thing to us was how we could deliver as a team. The decision was made to reduce the numbers of people on site, which was the right thing to do. Some staff were furloughed, leaving a skeleton team, which included myself. Our job was to keep catering ticking over so we could continue to provide for those still working and living in College. It's wonderful how all the departments worked together and the strength within the ranks has shone through. It's nice to know you're a part of something, and to give reassurance to those who need us. I believe the catering staff have made a huge contribution to people's wellbeing; we are always here, come rain or shine, that's what we do.
I think I've lost weight this term from the running around hand-delivering food and supplies to students quarantining or in isolation - and I've discovered College accommodation that I never knew existed! The Porters have been incredibly helpful in directing me to the right places. If you are isolating, that knock on the door is very welcome. We represent a little piece of normality. Anyone can get a hot meal using our Order Ahead service and we have adapted the Bar to sell everything from tinned rice pudding to toilet roll. That provides peace of mind, we want to reduce the stress and anxiety and let everyone know we are a big family.
The Buttery staff have been there 100 per cent, people look out for each other and it's very rewarding to be part of that. This experience has made me really appreciate my colleagues across all departments and respect what they do on a day-to-day basis. Students have stepped up too and we now have lots of isolation buddies to help. As a parent, if my daughter was away at university, I would be really comforted by this.
This term freshers aren't getting the opportunities to meet and socialise that they normally would and, if we can be instrumental in helping them to find their feet and settle in, that's a good thing. Human contact is so important and I think that's what a lot of people have learned during this pandemic.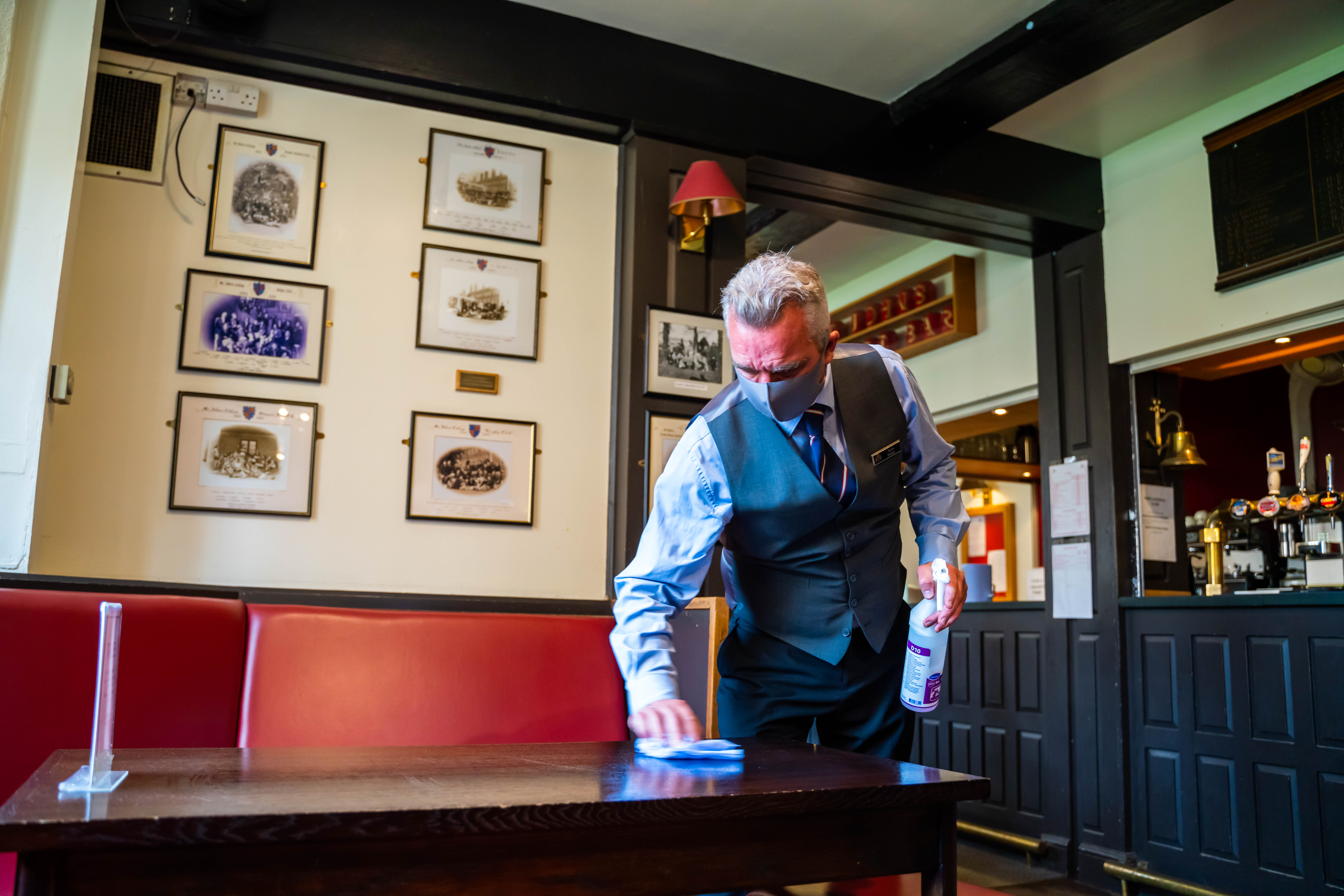 An incredible amount of work has gone on behind the scenes to make the Catering department Covid-secure. In the Bar we have hand gel available and stringent cleaning, as well as regulations in place regarding face coverings, social distancing and bubbles. We've been using the track and trace QR code system and ask people to register their attendance when they arrive. It is all table service, payment is contactless and we have screens at the tills, so that reassures both students and staff. The guidelines are there for everyone's benefit and it's absolutely critical that we respect them and the staff working under these circumstances. We want students to feel welcome, so they can relax and socialise in College within the guidelines. We can't control the pandemic outside the walls but we can influence what happens inside College, and we're always here with a warm and friendly word.
Under the new lockdown rules, the Bar can't sell alcoholic beverages but it is open as a space for study from 8.30am to 10pm, so if students want to sit down with their laptop and have a cup of tea, coffee or non-alcoholic drinks, they can. Booking is not required, it is on a first come, first served basis, but tables are only available for people in households, with your support bubble, or on your own. You can also buy pastries and homemade cake from the Bar and these can be taken away with your drinks to enjoy in Hall when it is not in use for lunch or dinner.
Everybody's working incredibly hard to make things as safe as possible and to look after our guests as best we can. Ultimately, that's our goal, that's what we open our doors for, we want you to walk away happy at the end of the day.
The last few months have made many of us stop and appreciate how lucky we are, because this is a beautiful place to work with some unique individuals who have worked extremely hard together to keep the College functioning as a strong unit. When the dust settles from all this I think we'll all begin to understand that, if you look after each other, the rest will take care of itself.
Published: 06/11/20