Phillis Wheatley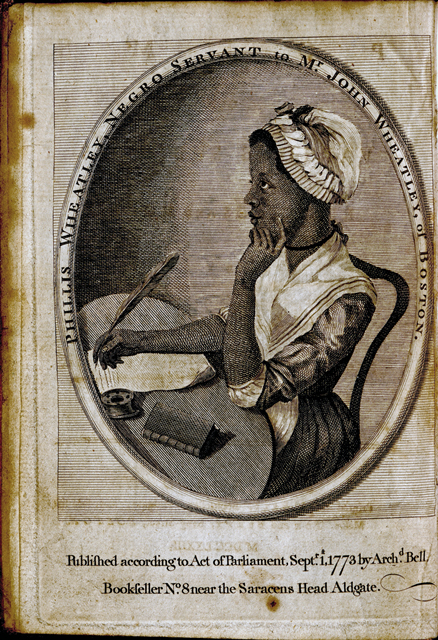 As October is Black History Month, this spotlight focuses on the life and work of an extraordinary eighteenth-century African-American woman, who published a book of poetry despite being a slave. Born in West Africa and sold into slavery at the age of just seven or eight, she was bought by John Wheatley, a wealthy evangelical merchant of Boston Massachusetts. He intended her to be a servant for his wife Susanna, and bought her cheaply as she was a sickly child. Her birth name is unknown, but the Wheatleys called her Phillis after the name of the ship in which she travelled to America. As was the custom for slaves, she took her owner's surname. Susanna quickly recognised Phillis's intelligence and the family provided their youthful slave with an education  that was utterly unprecedented for a slave, and indeed unusual for any girl. Phillis rapidly became proficient in English, and progressed  from  reading the Bible and works of English literature to the Greek and Latin classics, and the study of geography and astronomy. She was soon writing her own verse, publishing a poem when just 14 years old. The publication of "An elegaic poem, on the death of the celebrated divine George Whitefield" in 1770 brought her work to the attention of a wider audience. Those involved in the abolitionist cause had particular reason to take interest in a black woman who demonstrated such intellectual capacity.
While still in her teens she had written sufficient poems for a book, though she struggled to get her work published in America. The authenticity of her authorship was doubted by many, and Phillis was duly examined by prominent citizens of Boston, including John Hancock and the governor of Massachusetts, who concluded that the work was indeed hers.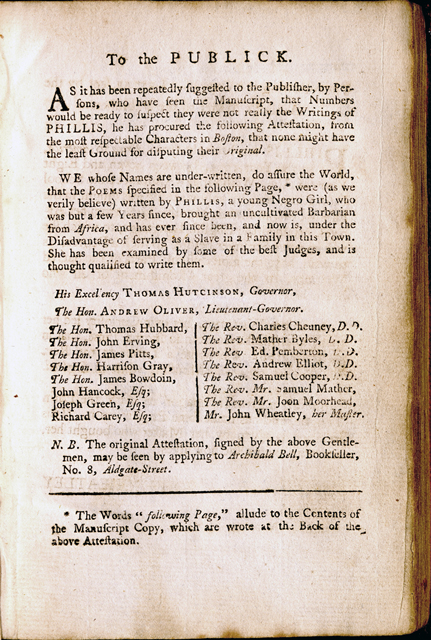 In 1773, Phillis travelled to London with the Wheatleys' son to publish her first collection of poems Poems on various subjects religious and moral, with financial support from a wealthy patroness, the Countess of Huntingdon. The book contained a forward, endorsed by her legal examiners, which affirmed Phillis's authorship, while a frontispiece portrait clearly depicted the young black woman herself. The book includes many elegies together with poems on Christian themes, reflecting her strong personal faith, and the influence of poets such as Alexander Pope, Thomas Gray, and John Milton. A rare reference to slavery and her own life may be found in her poem 'On being brought from Africa to America', which focuses on her conversion to Christianity.
The Wheatleys granted Phillis her emancipation from slavery shortly after her book was published, but her life as a free woman was not an easy one. The death of her former owners left her trying to support herself working as a seamstress. Although she continued to write poetry, without influential friends and in the uncertain economic climate of war, she was unable to attract subscribers to publish her second volume of verse. She married John Peters, a free black grocer, in 1778, but the family struggled financially, and two children died in infancy in poor living conditions. When her husband abandoned her, Phillis, who was never physically strong, had to work as a scrubwoman in a boardinghouse.  She died in poverty at the age of 31 from complications in childbirth along with her newborn child.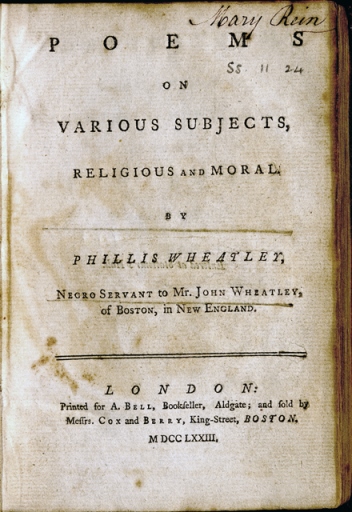 The Library's copy of her book is on display in the Library entrance hall throughout October.
This Special Collections Spotlight article was contributed on 12 October 2018 by the Special Collections Librarian.