PhD student to run London Marathon in memory of late Master
"Pancreatic cancer is tough to diagnose, tough to treat, tough to research, and tough to survive. I want to do my bit to make sure that everyone affected by it gets the help they need"
On Sunday morning, Ryan Geiser will pull on his trainers and head to Blackheath to take part in the London Marathon to raise money for Pancreatic Cancer UK.
It may be the postgraduate student's first ever marathon but it is now the 40th time the iconic race has taken place in the capital. The marathon will follow the usual 26.2 mile route from Blackheath to Pall Mall.
Ryan joined the Centre for Misfolding Diseases (CMD) at the University of Cambridge as an MPhil student in 2017 and met Professor Sir Christopher Dobson, one of the founders of the centre and then Master of St John's College, University of Cambridge. Sir Christopher, known as Chris, was a member of the St John's community for 18 years. He was elected as the 44th Master of St John's in 2007 and led the College for 12 years until he died of pancreatic cancer in September 2019.
Chris was an innovative and prolific chemist with more than 800 papers and review articles to his name – his prodigious scientific accomplishments significantly advanced global understanding of neurodegenerative conditions such as Alzheimer's and Parkinson's diseases.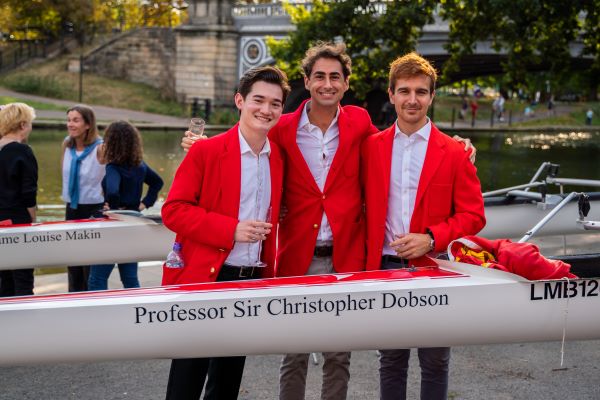 Chris encouraged Ryan, a keen rower with Lady Margaret Boat Club, to continue his academic career in Cambridge and the 26-year-old is now in his final year of a PhD in Chemistry.
Ryan explained: "Chris was the greatest supervisor, mentor, and friend as well as a brilliant scientist. I will always remember him for his exceptional generosity and caring attitude with everyone around him.
"When I was 12 years old, I lost my grandmother Lorraine Geiser to pancreatic cancer as well. I was extremely close to her and when she died, the entire family was shell-shocked by the speed that she was taken from us. My grandmother was the glue that held so much together, and her life was cut short by this horrible disease.
"I wanted to focus my energy into a goal of running the London Marathon in memory of my grandmother and Chris. As a scientist, I appreciate the way funding impacts the progression of research, and I want to do my bit, however small, to raise the funds to make an impact in the field of pancreatic cancer."
This year is the first time the event has taken place on its traditional course in October, rather than the spring. It is open to spectators with thousands expected to line the route to support the 40,000 runners taking part. Ryan, who is from Ohio, will be supported by a group of his friends from St John's and from the CMD who will all travel down to London to cheer him on.
Ryan is hoping to raise £2500 for Pancreatic Cancer UK and has already raised just over £1000 towards his target. Pancreatic cancer is the fifth biggest cancer killer in the UK with 9000 deaths every year. It has the lowest survival of all common cancers, with five-year survival standing at less than seven per cent. The charity funds research into the cancer and supports people affected by it.
Ryan added: "Pancreatic cancer is tough to diagnose, tough to treat, tough to research, and tough to survive. For too long this disease has been sidelined. I want to do my bit to make sure that everyone affected by it gets all the help they need."
Sponsor Ryan to run the London Marathon to raise money for Pancreatic Cancer UK
Published 01/10/2021