Paradise Lost
John Milton, author of the epic poem Paradise Lost, was a student at Christ's College. Nonetheless, the Old Library here at St John's contains both a first edition of the poem, and the first illustrated edition.With over ten thousand lines of verse detailing the story of Lucifer's rebellion against God and the temptation of Adam and Eve, Paradise Lost is considered to be Milton's major work, though in his lifetime he was also known as the author of controversial prose writings on topics such as the Church hierarchy, divorce, and censorship.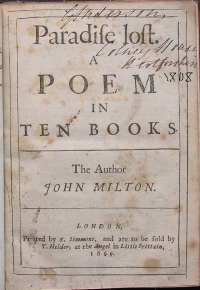 In the first edition (shown above), Paradise Lost  was arranged into ten books rather than the more popular twelve books found in later editions. It was not particularly successful when it was first published in 1668/9, until Jacob Tonson bought the copyright and popularised the poem by reproducing it in a vareity of formats for different audiences, including critical notes and exquisitely detailed illustrations engraved by Michael Burgher. This first illustrated edition dates from 1688, twenty years after the first edition and fourteen years after Milton's death. Shown below is the first full-page plate from that edition, showing Satan tormenting the damned in Hell.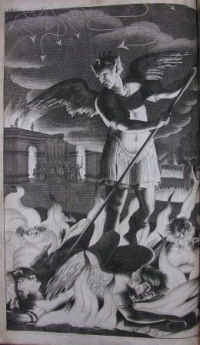 This Special Collections Spotlight article was contributed on 15 August 2013 by Ryan Cronin, Librarian's Assistant.