Oldest College boat club in Cambridge welcomes former members back for special naming ceremony
"The club is renowned for its strong and supportive community and its passion for excellence, sportsmanship and welfare"
Rowers gathered at the Lady Margaret Boat Club to celebrate the launch of two new boats.
A men's eight was named after Professor Sir Christopher Dobson, scientist and late Master of St John's College, and a women's four was named after Dame Louise Makin, businesswoman and Honorary Fellow of the College.
Around 50 former members of Lady Margaret Boat Club (LMBC) attended the ceremony, led by Heather Hancock, Master of St John's, at the boat club on 11 September.
Dame Louise named the women's four with a spray of champagne.  An undergraduate at Newnham College, she came to St John's to do her PhD in Material Sciences. In 1983 Dame Louise became the first ever Ladies' Captain of LMBC and the following year she won a silver medal in the lightweights at the National Championships. She has led a distinguished career in business as a chief executive and board director, working across multiple sectors. For 15 years she was Chief Executive Officer of BTG plc, the international specialist healthcare company. Louise was made a Dame Commander of the Order of the British Empire in 2014.
Sir Christopher, known to most people as Chris, was a member of the St John's community for 18 years. He was elected as the 44th Master of St John's in 2007 and led the College for 12 years. During his time as Master he directed the Quincentenary celebrations as St John's marked its 500th birthday, oversaw transformational refurbishment projects across the College estate, and introduced the ground-breaking St John's Studentships.
He died of cancer in 2019. He was an innovative and prolific chemist with more than 800 papers and review articles to his name – his scientific accomplishments significantly advanced global understanding of neurodegenerative conditions such as Alzheimer's and Parkinson's diseases. In 2018, he was knighted in recognition of his contributions to Science and Higher Education. The club was delighted that his wife Dr Mary Dobson and son William could attend the boat naming, with William doing the honours.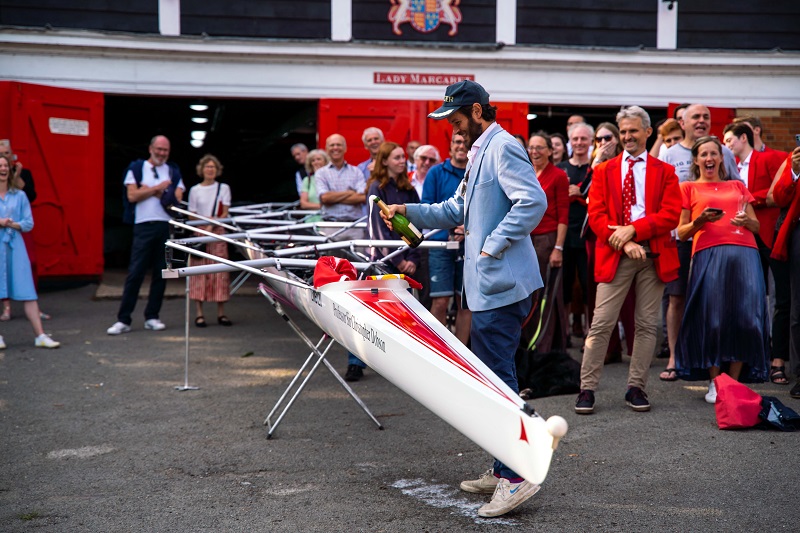 Founded in 1825 by 12 members of St John's College, LMBC was the first College boat club in Cambridge. Every year the club welcomes more than 100 new students from St John's and teaches them to row or cox on the River Cam. The club is renowned for its strong and supportive community and its passion for excellence, sportsmanship and welfare.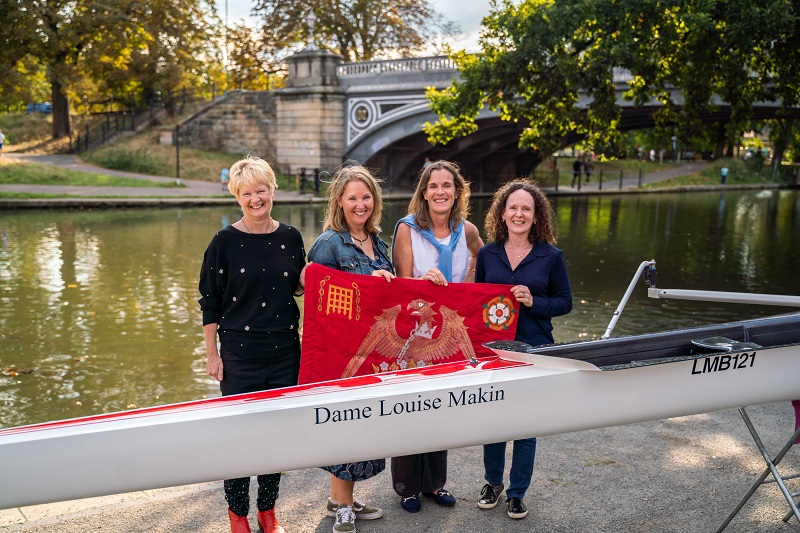 Both boats were funded thanks to donations from alumni and the Lady Margaret Boat Club Association. The boats were christened with champagne before drinks were served in New Court, followed by a celebratory dinner in Hall for alumni and other guests.
Published 23/9/2021