An exciting find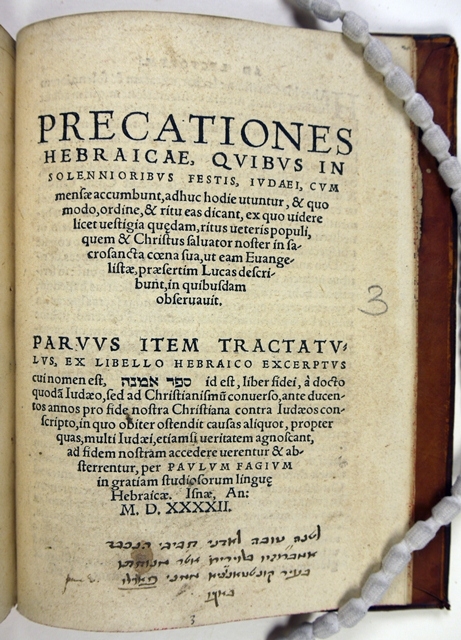 A happy discovery of a small treasure in the SJC Old Library one recent afternoon: an apparently unknown autograph manuscript dedication by the great 16th century Hebraist and sometime Cambridge Hebrew lecturer, Paulus Fagius, on the title page of the Precationes Hebraicae (Isny: 1542), his Hebrew edition and Latin translation of a selection of Jewish prayers (including the grace before and after meals) and their revision for Christians wishing to pray in Hebrew. It is the final item in a Sammelband with shelf-mark Tt.8.24, from the bequest of Peter Gunning (1614-1684), Master of St John's College, Regius Professor of Divinity and Bishop of Ely. 

Herewith a transcription of the Hebrew ms note:
לשנה טובה לאדני חביבי הנכבד
אמברוזיו בלוירירו אשר מנוחתו
בעיר קונשטאנציא ממני פאולו
פאגיו
And herewith a translation:
A happy new year [lit. "to a good year"] to my dear honoured lord Ambrosius Blaurer [lit. "Ambrozio Bloyrero"] who rests in the town of Constance [lit. "Kontsantsia"], from me Paulus Fagius [lit. "Paulo Fagio"].
Paul Fagius or Büchelin (c. 1504-1549) was a schoolmaster's son from a small town on the Rhine who would become one of the most important Christian scholars and printers of Hebrew of the first half of the 16th century. He studied at Heidelberg and at Strasbourg, where he befriended the theologian Martin Bucer (1491-1551), leader of the Alsatian Reformation. While serving as minister in the town of Isny, Fagius established a Hebrew press and persuaded the aged Jewish grammarian, lexicographer, biblical scholar and Yiddish poet Elijah Levita (a direct ancestor of Prime Minister David Cameron) to cross the Alps from Venice and to join him there to edit and print Hebrew books. Fagius and Levita were a dynamic duo, and in the years 1541-43 they produced some of the most lastingly important editions of Hebrew and Aramaic biblical, rabbinical, exegetical, lexicographical and grammatical works of the sixteenth century.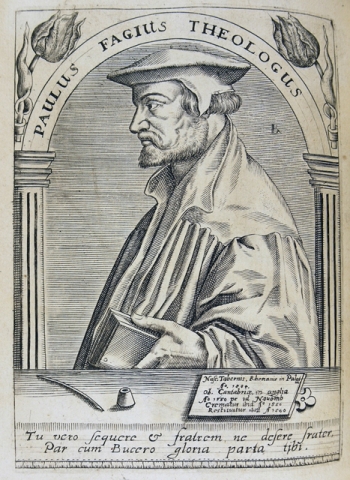 In 1544, Fagius returned to academic life, first at Strasbourg at the invitation of Bucer and then at Heidelberg. When in 1549, in the aftermath of the defeat of the Reformers in the Schmalkaldic War, Fagius's and Bucer's positions proved too precarious, they accepted an invitation from Archbishop Thomas Cranmer, who had consulted Bucer years before in the matter of Henry VIII's divorce and felt much affinity for his moderate theology, an important if indirect influence on the 1549 Book of Common Prayer. Cranmer brought Bucer and Fagius to safety in England in April 1549, and they lived with him in Lambeth Palace and Croydon Palace, awaiting an academic appointment. They soon met the young Edward VI, and were appointed to the Regius professorships of Divinity and Hebrew, respectively, in Cambridge. Unfortunately, a life of scholarship in the safe exile of Cambridge was not to be: a brutal illness cut Fagius's life short. He died that November, during his first term at university, and Cranmer's dream of having Bucer and Fagius produce a new Latin translation of Scripture evaporated. In Cambridge Fagius was succeeded by the Italian Jewish convert, Immanuel Tremellius (whom Cranmer had similarly brought to England), who would be forced to flee England again under Mary but went on to produce arguably the most important non-Catholic Latin translation of the Bible in the early modern period (the OT from the Hebrew, the NT from the Syriac, with the elder Franciscus Junius's translation of the Apocrypha from the Greek).
Had Fagius lived, however, Cambridge itself would soon have become less hospitable. During the reign of Mary, the remains of the exiled reformers Fagius and Bucer (who had died in 1551) were exhumed from St Michael's and Great St Mary's, respectively, put in new coffins, and on February 16, 1557, within a year of Cranmer's execution on the stake at Oxford, Fagius and Bucer's remains, bound up in chains, were burnt in the Cambridge Market Square. In the deeply disturbing portrayal in Foxe's Acts and Monuments, the stake is circled by a long academic procession, led by Vice-Chancellor Andrew Perne, singing salve festa dies ('Oh, happy day'), while a prominent figure throws book after book onto the flames. (Sadly St John's College Library's copy of Foxe is missing this particular plate, but it can be seen online at http://www.johnfoxe.org/woodcuts/f1592INS4.gif.). Perne, who by then had migrated from John's via Queens' to Peterhouse, defamed the reformers in public but wept bitterly about it in private, a torment that might well have been the reason why the page recording the event in Perne's own copy of Foxe's Acts and Monuments has a hole burnt into it. In 1560, under the reign of Elizabeth, they were rehabilitated and the degrees and honours of which they had been stripped restored under the supervision of the Vice-Chancellor of the University, who at that time was once again Andrew Perne. One long pamphlet (of which a copy was left to our College Library by Thomas Gisborne (1725-1806)), described the burning as 'O, unworthye abbominable act, for which thuniversitye shall never be able to make satisfaction.'
The full title of Fagius's book of Hebrew prayers (Hebrew Prayers, which the Jews, when they recline at the table on their more solemn holidays, use unto this very day, and the way, order and ceremony with which they say them, from which one may glean certain vestiges of the ritual of the ancient people, and which Christ our Savior, as the Gospels, especially Luke, describe them, observed at the Last Supper) evokes the way in which the study of Hebrew and Jewish texts by 16th and 17th century scholars was both informed by the observation of contemporary Jewish life and applied to the study of the New Testament and the observance of Jewish law and custom by Jesus and his disciples portrayed therein.
The dedicatee of St John's copy of this book, a former monk who married a former nun, is none other than one of the major German reformers of the first generation, the Constance theologian and hymn-writer Ambrosius Blarer von Giersberg (1492-1564), a close associate of Melanchton, Zwingli, Bucer and hence Fagius. The first item in this Sammelband, Fagius's Latin translation with commentary of the Mishnaic treatise Pirqei Avot ('Sayings of the Fathers'), was dedicated to Blarer's nephew Albert, and to the children of his cousin, the reformer Johann Zwick. The Blarer family had known Fagius for at least decade, and like other prominent families of Constance, they had sent children to be educated by Fagius in Isny, fifty miles to the east. Fagius then spent the years 1543-44 in Constance as the successor to Johannes Zwick, and printed an edition Rabbi David Kimhi's Commentary on Psalms 1-10 and of the first four chapters of Genesis in Hebrew and Yiddish there. It is quite surely in those years that we should date Fagius's gift to Zwick's cousin Ambrosius Blarer von Giersberg of this Hebrew and Latin book of prayers, that eventually came to St John's from the 1684 bequest of Peter Gunning, the Bishop of Ely, a successor of Bucer's as Regius Professor of Divinity and Master of St John's College, by which time what was left of Fagius's Cambridge legacy was relatively safe from the flames.
The Pirqei Avot ('Sayings of the Fathers') has remained one of the most important texts in the long and rich history of Hebrew studies at St John's. An early 16th century Hebrew manuscript of a 14th century commentary to the text  (St John's College Library, Ms Browne 1412, formerly K.7) was given to the college in the 17th century by Edmund Castell (c. 1606-1686), Professor of Arabic, one of the main editors of the London Polyglot Bible and fellow-commoner of St John's College from 1671. Charles Taylor (1840-1908, matriculated 1858, Fellow from 1864, Master 1881-1908) devoted many years to its study, the collation of its textual witness, edition, translation and commentary (cf. Charles Taylor, Sayings of the Jewish Fathers, Cambridge 1877 and 1897, additional appendix published in 1900), the second edition of which incorporated pioneering early work into the materials from the Cairo Geniza, which, thanks to Taylor's munificence, had only just arrived in Cambridge.
Sources:
P. Fagius, Sententiae vere elegantes, piae, mireque, cum ad linguam discendam, tum animum pietate excolendum utiles, veterum sapientum Hebraeorum, quas Pirke Avot id est capitula, aut si mauis Apophtegmata patrum nominant (Isny: 1541), St John's College Library, Tt.8.24 (1)
P. Fagius Precationes Hebraicae : quibus in solennioribus festis, Iudaei, cum mensae accumbunt, adhuc hodie utuntur, & quo modo, ordine, & ritu eas dicant, ex quo uidere licet uestigia qu[a]edam, ritus ueteris populi, quem & Christus saluator noster in sacrosancta coena sua, ut eam Euangelistae, praesertim Lucas describunt, in quibusdam obseruauit (Isny: 1542), St John's College Library, Tt.8.24 (3)
A. Goldling (transl.) A briefe treatise concerning the burnynge of Bucer and Phagius, at Cambrydge, in the tyme of Quene Mary: with theyr restitution in the time of our moste gracious soverayne lady that nowe is, wherein is expressed the fantasticall and tirannous dealynges ofthe [sic] Romishe Church, togither with the godly and modest regime[n]t of the true Christian Church, most slaunderouslye diffamed in those dayes of heresye translated into Englyshe by Arthur Goldyng. Anno. 1562. Read and iudge indifferently accordinge to the rule of Gods worde (London: Thomas Marshe, 1562). St John's College Library, shelf mark A.3.45, from the bequest of Thomas Gisborne (1725-1806).
O. Feger, Otto, 'Blarer von Giersberg, Ambrosius', in Neue Deutsche Biographie 2 (1955), 287-288.
B. Gordon, 'Fagius, Paul (c.1504–1549)', Oxford Dictionary of National Biography (2004)
A. Hamilton, 'Tremellius, (Joannes) Immanuel (1510–1580)', Oxford Dictionary of National Biography (2004)
D. Kaplan, Beyond Expulsion: Jews, Christians, and Reformation Strasbourg (2011)
D. MacCulloch, Thomas Cranmer: A Life (1996)
D. McKitterick (ed.), Andrew Perne: Quatercentenary Studies (1991)
R. Raubenheimer, Paul Fagius aus Rheinzabern (1957)
S. Reif (ed.), Charles Taylor and the Genizah Collection: A Centenary Seminar and Exhibition, St John's College Cambridge 2 November 2008 (Cambridge: St John's College, 2009)
T. Schieβ, Briefwechsel der Brüder Ambrosius und Thomas Blaurer 1509-1567 (1908-1911)
N. Scott Amos, 'Bucer, Martin (1491–1551)', Oxford Dictionary of National Biography (2004)
K. W. Stevenson, 'Gunning, Peter (1614–1684)', Oxford Dictionary of National Biography (2004)
G. J. Toomer, 'Castell, Edmund (bap. 1606, d. 1686)', Oxford Dictionary of National Biography (2004)
G. Weil, Élie Levita. Humaniste et Massorète (1469-1569) (1963)
The Unabridged Acts and Monuments Online or TAMO (HRI Online Publications, Sheffield, 2011). Available from: http//www.johnfoxe.org [Accessed: 14.01.14].
This Special Collections Spotlight article was contributed on 27 January 2014 by Theodor Dunkelgrün, College Research Associate, and dedicated to the Reverend Dr Andrew Macintosh upon the publication of a Festschrift in his honour: http://www.joh.cam.ac.uk/dr-macintosh-honoured-festschrift