Memorial Service for Dr Jim Charles, 1926 – 2017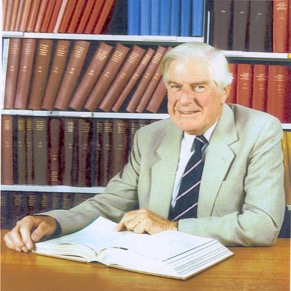 A Memorial Service for Dr James (Jim) Charles, BSc. Eng., MA, ScD, FREng, Fellow of St John's College, Cambridge and Emeritus University Reader in Process Metallurgy, who died on 13 November 2017, aged 91, will be held in St John's College Chapel on Saturday 26 May at 12 noon.
Dr Jim Charles, who became a Fellow at St John's in 1963 and was formerly College Lecturer in Materials Science and Metallurgy, died peacefully in Cambridge on 13 November 2017.
Dr Charles held numerous College positions over the course of his Fellowship at St John's, including Director of Studies in Natural Sciences (1972-87) and in Materials Science and Metallurgy (1972-90).
Born in Ayrshire in 1926, Dr Charles began his education at the Grammar School for Boys in Bromley, Kent, after a lengthy spell in hospital recovering from TB. His first experiences in Cambridge were as an evacuee between 1940 and 1942, during which time he attended the Cambridge High School for Boys.   
Dr Charles obtained a 1st class undergraduate degree in Metallurgy at the Imperial College of Science and Technology. He was called up upon graduation, but due to a shortage of metallurgists in industry at the time, he was directed into civilian rather than military service where he worked primarily on the development of tin-base bearing metals. In 1950, free of national service requirements, Dr Charles joined the British Oxygen Company where he worked principally on the use of industrial gases in metallurgy, particularly oxygen cutting and the use of oxygen in steelmaking. In 1956 he was the main author of Oxygen in Iron and Steelmaking, the first book on the subject.
In 1960, at the age of 34, Dr Charles was invited to join the Metallurgy Department at the University of Cambridge to teach extraction metallurgy and other areas of industrial application. Over the years he supervised a wide range of research topics and took up the challenge of teaching a new course on the Selection of Materials. He was particularly interested in the identification, formation and behaviour of non-metallic inclusions in steel. 
Dr Charles' work won him various distinctions. In 1965 he was awarded the Sir George Beilby Medal and Prize, he received the Sir Robert Hadfield Medal and Prize from the Institute of Metals in 1977, and the Kroll Medal and Prize in 1989. He was elected to Fellowship of the Royal Academy of Engineering in 1983, the Royal Society of Arts in 1985 and was made an Honorary Fellow of the Institute of Materials in 2002. He retained strong industrial contacts, acting as a consultant for a number of companies, throughout his distinguished academic career.
Dr Charles was made Reader in Process Metallurgy in 1978. He continued to work with his research group after his retirement in 1990 and was awarded, jointly with Dr Y.W. Cho, the Elegant Work Prize by the Institute of Materials in 1992 for his studies of synthesis in silicon and aluminium nitride systems, published as three papers.
Dr Charles also had a keen interest in Archaeometallurgy and he wrote a number of key papers about the prehistoric deployment of metals and alloys. His close work with the Fitzwilliam Museum led to his appointment as a Syndic of the Museum in 1985 and then as Honorary Keeper of Metals in 1996. His continuing activity in the field of Archaeometallurgy resulted in his appointment as a Special Professor at the University of Nottingham and Visiting Professor at the Institute of Archaeology (UCL) where he gave a course of lectures, and assisted in postgraduate supervision over many years.
Dr Charles is remembered by his colleagues and former students as enthusiastic and approachable and a 'man of ideas' able to stimulate and motivate the bright young minds he encountered during his teaching career. He is survived by his wife, Marcia, and his son, Stephen.