Madonnas and Miracles: Library treasures from St John's on display as part of major new exhibition
Two remarkable texts from the Special Collections at St John's College are featuring in a major new exhibition now open at the Fitzwilliam Museum.
The Beneficio di Cristo was perhaps the most influential devotional work in 16th-century Italy. Printed in Venice in 1543, 40,000 copies of this hugely popular work, which communicated an accessible version of Reformed ideas on salvation through faith and grace, were said to have been sold in Venice alone.
In 1549, however, it was proscribed by the Index librorum prohibitorum, the list of books prohibited by the Roman Catholic Church, and was ruthlessly exterminated by the Roman Inquisition.  No copies were thought to have survived, but in 1843 this first edition was discovered among the collections at St John's College.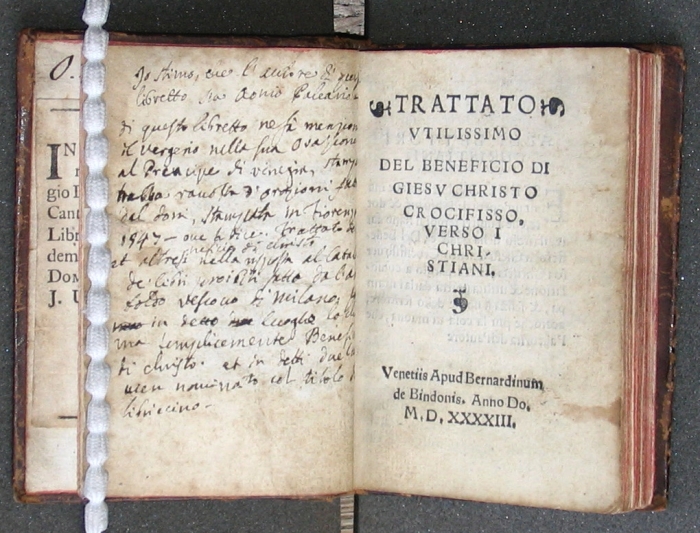 The remarkable text is now on display at the Fitzwilliam Museum as part of a major new exhibition revealing the central place of religion in the Italian Renaissance home. The exhibition titled Madonnas and Miracles will also feature Haggadah, a 1561 Hebrew devotional text from the College's collections, which reveals a complex story of intertwined relationships between Christians and Jews in Renaissance Italy.
Madonnas and Miracles will showcase four years of EU funded research at the University of Cambridge across the departments of History, Italian, Architecture and History of Art. The display, which is co-curated by Fellow of St John's, Professor Deborah Howard, challenges the idea of the renaissance as a time of increasing worldliness and secularisation by showing how the period's intense engagement with material things went hand in hand with its devotional life.
A glittering array of sculptures, paintings, jewellery, ceramics, printed images and illustrated books will bear witness to the role of domestic objects in sustaining and inspiring faith.
The multi-sensory nature of devotion will also be highlighted by the use of different media. A set of knives that bear the musical notation for a four-part grace will be brought to life with a newly-commissioned recording by the celebrated choir at St John's.
Madonnas and Miracles: The Holy Home in Renaissance Italy is on at The Fitzwilliam Museum from 7 March – 4 June 2017.
For more information visit: http://www.fitzmuseum.cam.ac.uk/madonnasandmiracles