Legal eagles walk together to help advice charities
"Our amazing first years who showed up had only known each other for a week at the time, they really symbolise St John's to me"
Law students and Fellows from St John's were part of a University team who put their best feet forward to support a justice charity helping people in need.
It was the first time that the University of Cambridge Faculty of Law has participated in the Cambridge Legal Walk, part of a series of sponsored 10k events around the country that raise funds for The Access to Justice Foundation, which provides legal assistance to the most vulnerable in society.
After a hiatus last year due to the pandemic, the Foundation's regional Legal Walks have returned at great pace, with legal professionals and justice advocates walking together to raise money for free legal advice services across the UK for people in desperate need of guidance in areas such as debt, welfare, family, immigration, housing, disabilities and employment law.
Organised by Cambridge University Law Society (CULS) Pro Bono, which does voluntary work for the common good, the University contingent was drawn from Law students and Faculty staff members and was the largest group to take part in the event on Monday 4 October. Seventy-five students donned their trainers and boots for the night-time walk, including 15 from St John's.
Dr Jodi Gardner, Director of Studies in Law, College Associate Lecturer in Law and Fellow of St John's, who helped to organise the Faculty's involvement, said: "St John's students came out in force and made up about a fifth of the team. Our amazing first years who showed up had only known each other for a week at the time, they really symbolise St John's to me. The Winfield Society (St John's Law society) did an excellent job encouraging the students to participate."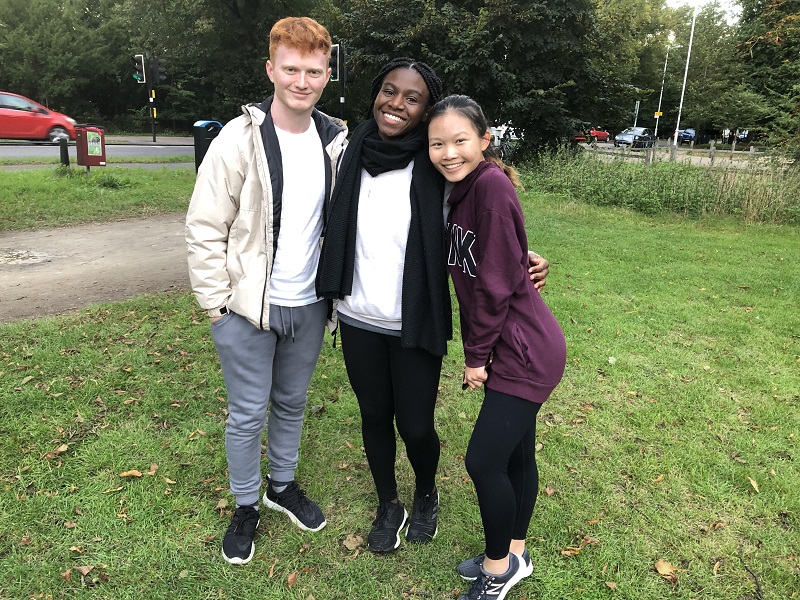 Dame Professor Sarah Worthington, Downing Professor of the Laws of England and Director of the Cambridge Private Law Centre, and Professor Albertina Albors-Llorens, St John's College Lecturer in Law and Professor of European Union Law, led the walkers around the route in aid of the Eastern Legal Support Trust, the local arm of The Access to Justice Foundation.
At time of writing, the group had raised £805 in sponsorship, including Gift Aid. Donations can still be made via the CULS Pro Bono Virgin Money Giving page. £20 gives one hour of legal advice, £120 funds a specialised advice case and £200 will ensure legal representation for the most vulnerable people in our society when facing court.
Published 15/10/2021