Learn about student life during virtual Cambridge Open Days and new College tour
"Explore College through our brand new 360 virtual tour, meet students and Directors of Studies on our live panels, and chat to the Admissions team"
Year 12 students considering applying to Cambridge can get a taste of life and study at St John's thanks to two virtual open days – and a new College tour.
St John's is taking part in this year's online Cambridge Open Days and is holding a variety of live online panels and chats with current students, tutors and the Admissions team. The events are aimed at prospective applicants from Year 12, or equivalent, and their supporters.
The full Cambridge Open Days programme runs from 5-18 July, with the majority of live virtual events taking place on 8 and 9 July – including those at St John's, which is one of the largest Colleges at Cambridge University.
As well as the open days, St John's will be showcasing its new virtual tour featuring 360-degree photographs of the College's stunning architecture, green spaces, student accommodation and facilities. Those taking the tour, which will be available as part of the open days programme and on the College website, will be able to click on different locations to view presentations by students talking about their personal experiences of life at St John's.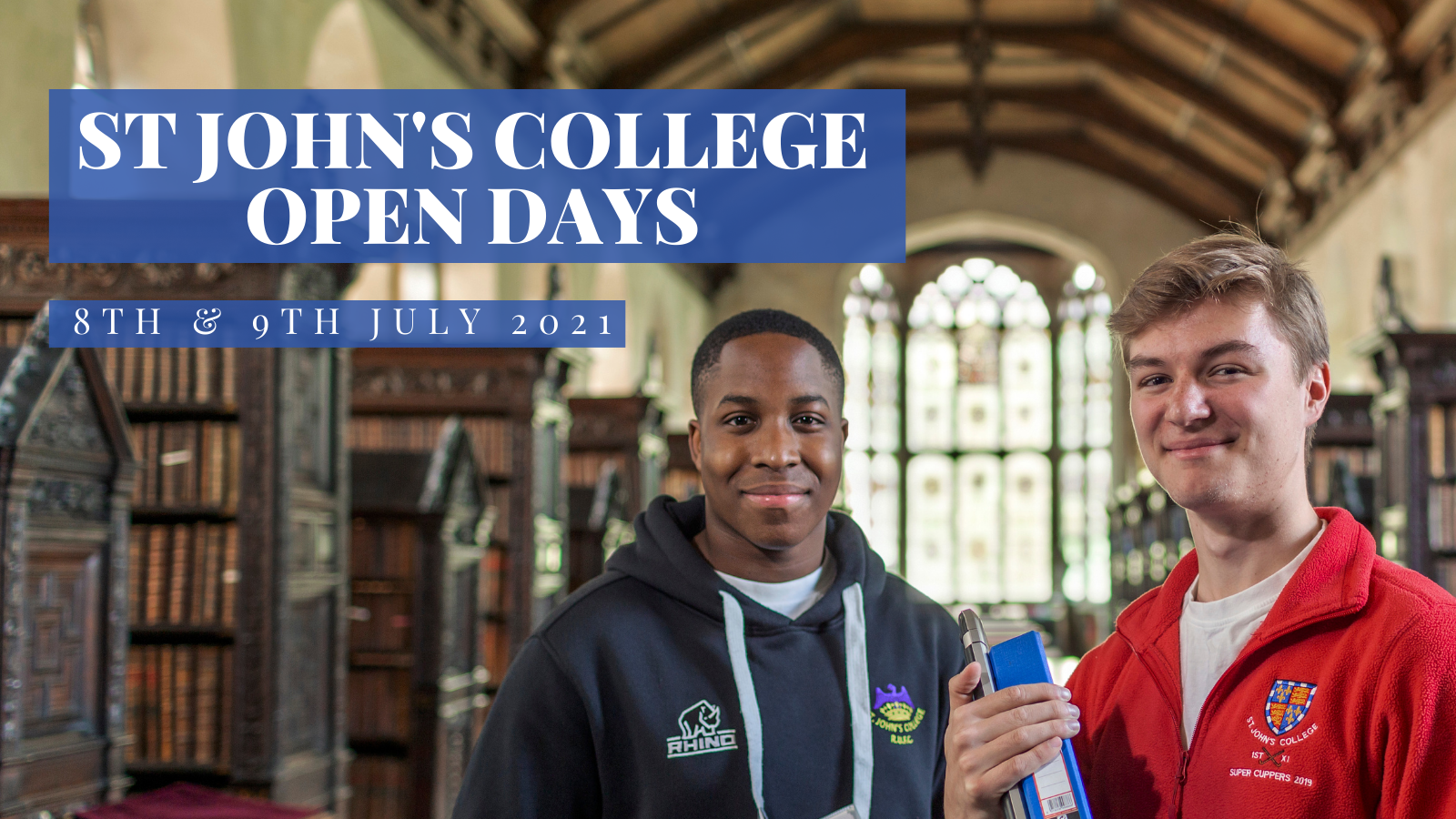 On Thursday 8 July, the St John's College live online events programme includes a Student Life Panel (4pm-4.45pm), and a Directors of Studies Panel (5pm-5.45pm) chaired by Dr Victoria Harvey, Tutor for Undergraduate Admissions. It will include Directors of Studies in Education, Law, Engineering, History of Art, Medicine, Natural Sciences and Medieval and Modern Languages. These will be followed by a Black Student Panel from 6pm-6.45pm and an International Student Panel (7pm-7.45pm).
Another International Student Panel is being held on Friday 9 July, from 9am-9.45am, so prospective applicants can attend whichever one best suits their timezone.
In addition, Dr Harvey will be taking part in a live Cambridge Admissions Office Q&A session about 'Applying to Cambridge' at 9.30am on Thursday 8 July, while Gaia Lambert, Schools Liaison and Access Officer at St John's, will be chatting about 'College Life' in a Q&A at 1.15pm on the same day.
The St John's Admissions team will also be available for live online chat on both open days from 12 noon to 6pm as part of the programme of College sessions.
During the two days, members of St John's College JCR – the undergraduate student committee – will be running an Instagram takeover on the College's main account @stjohnscam so prospective applicants can head to the Instagram page to submit their questions.
Gaia said: "We're really excited to be once again hosting a wide variety of virtual content for our July Open Days – you can explore College through our brand new 360 virtual tour, meet the students and Directors of Studies on our selection of live panels, and chat to the Admissions Team with any burning questions you have about St John's and the application process.
"We're thrilled to be engaging with so many prospective applicants and showing how fantastic it is to live and learn at St John's."
In coordination with the open days, the Admissions team is also launching this year's poster competition for students on its progressive programmes. Eligible students will be sent a link on 8 July with the details and theme of this year's competition.
Attendees should register for the Cambridge Open Days programme in advance and before signing up for individual sessions.
Sign up St John's College Open Days sessions

Take the 360-degree virtual tour of St John's
Published: 1/7/2021