Keeping house in a pandemic
"We look after the bedmakers, and they look after the students"
Belinda Peat is Forecourt Senior Supervisor in the Housekeeping Department at St John's and worked in College throughout the lockdown, supporting students and Fellows still in residence as Covid-19 fastened its grip on the outside world. In our latest pandemic story, she tells us why our housekeeping staff are at the heart of life at St John's.
I've been here 32 years and I love this job. I started as a bedmaker, so I've worked my way up through the Housekeeping Department. There are three senior supervisors in College and we each have our own area. I cover the Forecourt. We make sure the students have what they need in their rooms; it can be anything, from providing another pillow to more furniture.
We look after the bedmakers, and they look after the students. The bedders get to know them really well. They are like parents to many of our students, especially the freshers who may never have been away from home before. They tell us their problems, if they're struggling with work or anything else, and our staff help them feel settled, a home from home. It's especially important this term, when things are so different to normal.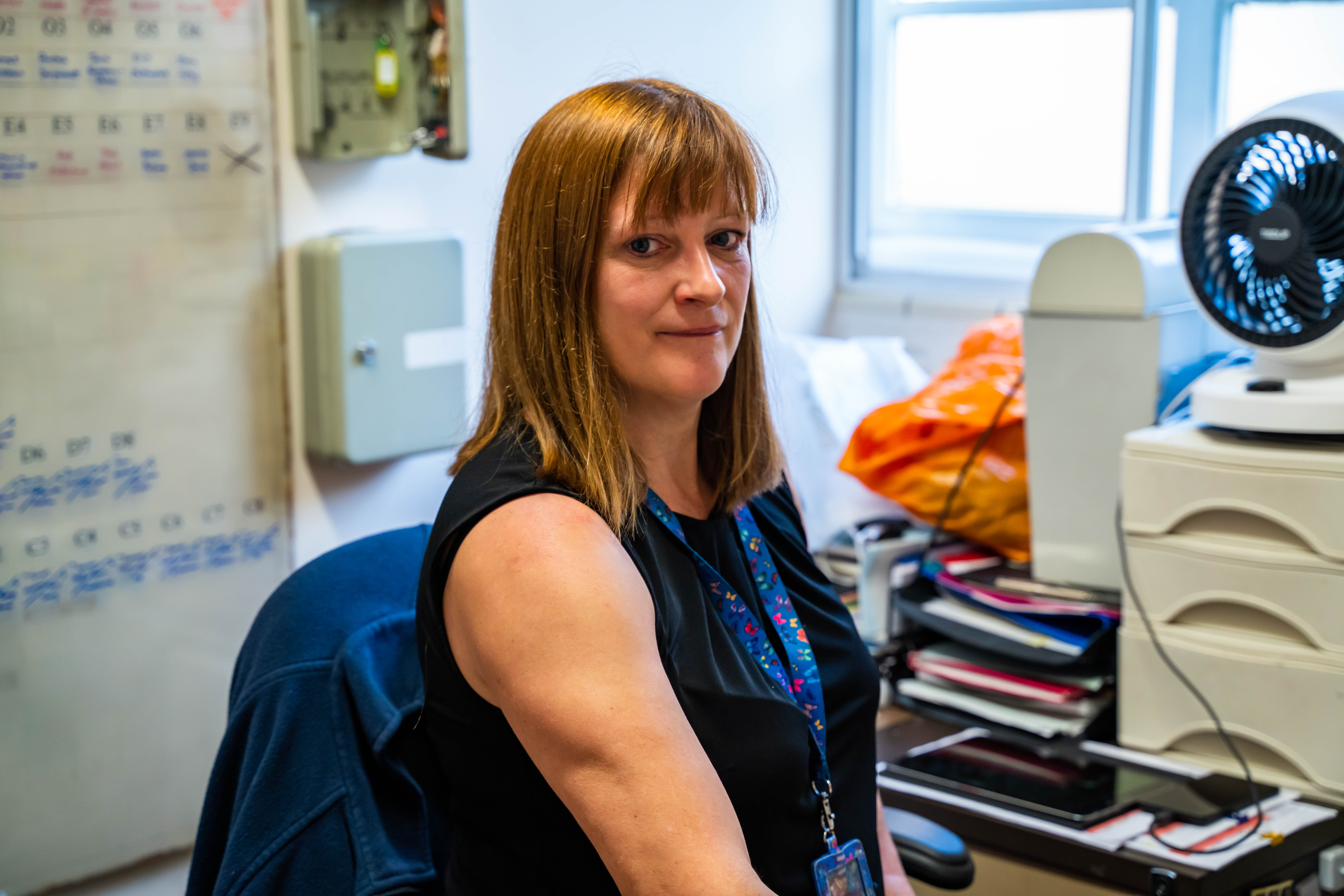 Back in March we decided to re-organise the shift patterns to accommodate safer ways of working while still supporting the people who were going into self-isolation. It seems as if the next minute we were in lockdown. I live on my own just five minutes' walk away from College, so I volunteered to keep coming in. My partner Andrew is a Custodian here and he continued working through as well, so I didn't even think twice about it at the time. I'm glad I did because I now know I would have been locked down on my own for those months.
It was very strange walking to work, the streets were like a ghost town, and the Courts were really, really quiet, but then it seemed the norm after a while. I enjoyed it in a funny kind of way, and it was nice to feel useful. The office staff working from home were in touch with us all the time, so we all still felt a part of the same community.
I normally manage a team of 14 in Forecourt and during lockdown there were eight of us spread out from each linen room, along with some of the gyps. We left provisions in the Porters' Lodge and those still in residence came to pick them up themselves. We left bags of clean linen outside the Fellows' doors and they changed their beds themselves, then we would collect the bags of dirty linen a few days later, so we never went into any rooms. Our main job during this period was cleaning and disinfecting the public areas and the Porters' Lodges.
It was a little scary at first, but I think it was the same for everybody. In the end, we all just got on with the job. The team looked after each other, we really bonded over it and we've kept that closeness, because we got through it together. We had letters to hand to the police if we needed to identify us as key workers but we weren't ever stopped.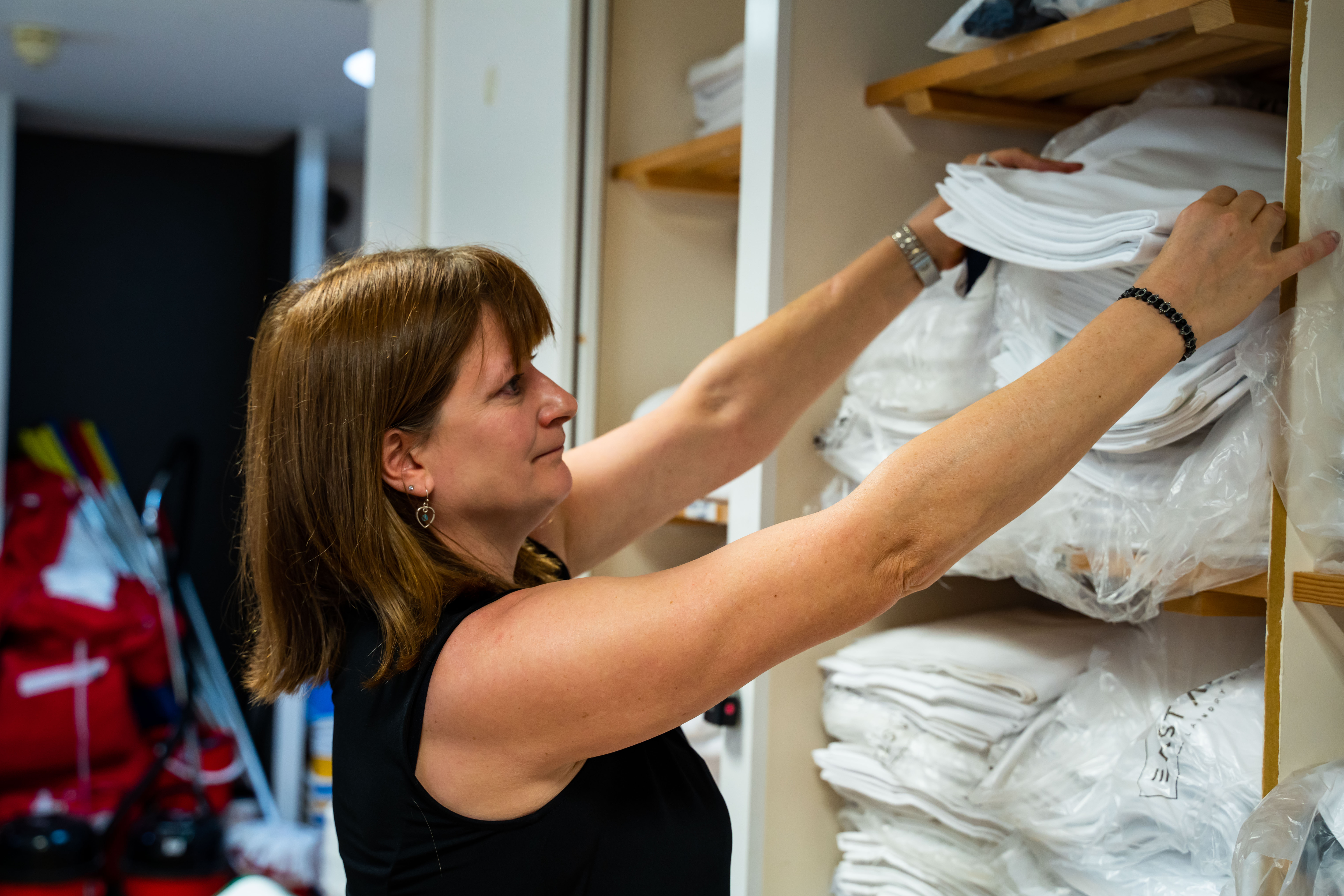 It was quite strange when the students began coming back this term. We could see how nervous they were but it was nice for our staff to go in, clean their rooms, and be able to chat to them and put their minds at rest. That's a really lovely part of our jobs. The staff wear face coverings and PPE is available if they need it. Students may leave the room during cleaning or, if they're busy working at their desk, they'll put a face covering on too, and everyone maintains social distance.
Now we have asymptomatic testing in place across the College and University, every day we have to check for regular updates so we know who is self-isolating and we tell the bedders not to go into those rooms. For students who are in isolation, we email them to check if they are ok and if they need anything, such as toilet roll. We have got into new routines and it helps to make sure everyone stays safe.
The best thing about my job is definitely working with my team. They're like a second family, we get on so well and we know each other's problems.
If we had another lockdown, I feel quite confident that we can get through it together, because we've done it once before. The pandemic has shown what an important job cleaners do and I think more people appreciate that now. I know I couldn't be prouder of my team.
Published: 30/10/20