'I've known for a long time how fragile life is – the rest of the world is just catching up'
"Having a disability does not mean that the doors of the world's top universities are closed to you – I have thrived at St John's"
When seven-year-old Jonathan Gilmour started bumping into things and falling over, his family initially thought he was going through a clumsy phase. But tests discovered that Jonathan has Duchenne Muscular Dystrophy. Jo Tynan spoke to the award-winning postgraduate student about his life and where he thinks the Covid-19 virus began.
"I remember being held down as the doctors did tests with electrodes to stimulate the muscles – it was horrible and I still have a needle phobia today because of it. Even back then it wasn't a very up-to-date way of doing things."
Jonathan has had to use a wheelchair since the age of 13, he lives with full-time carers, and he now has limited use of his arms, which means that he can no longer perform basic tasks like dressing and eating. He has Duchenne Muscular Dystrophy, a progressive muscle-weakening and wasting condition caused by a lack of a protein called dystrophin. It is a genetic condition that usually only affects boys – around 2,500 boys and young men are living with the life-limiting condition in the UK. Duchenne Muscular Dystrophy cannot currently be cured.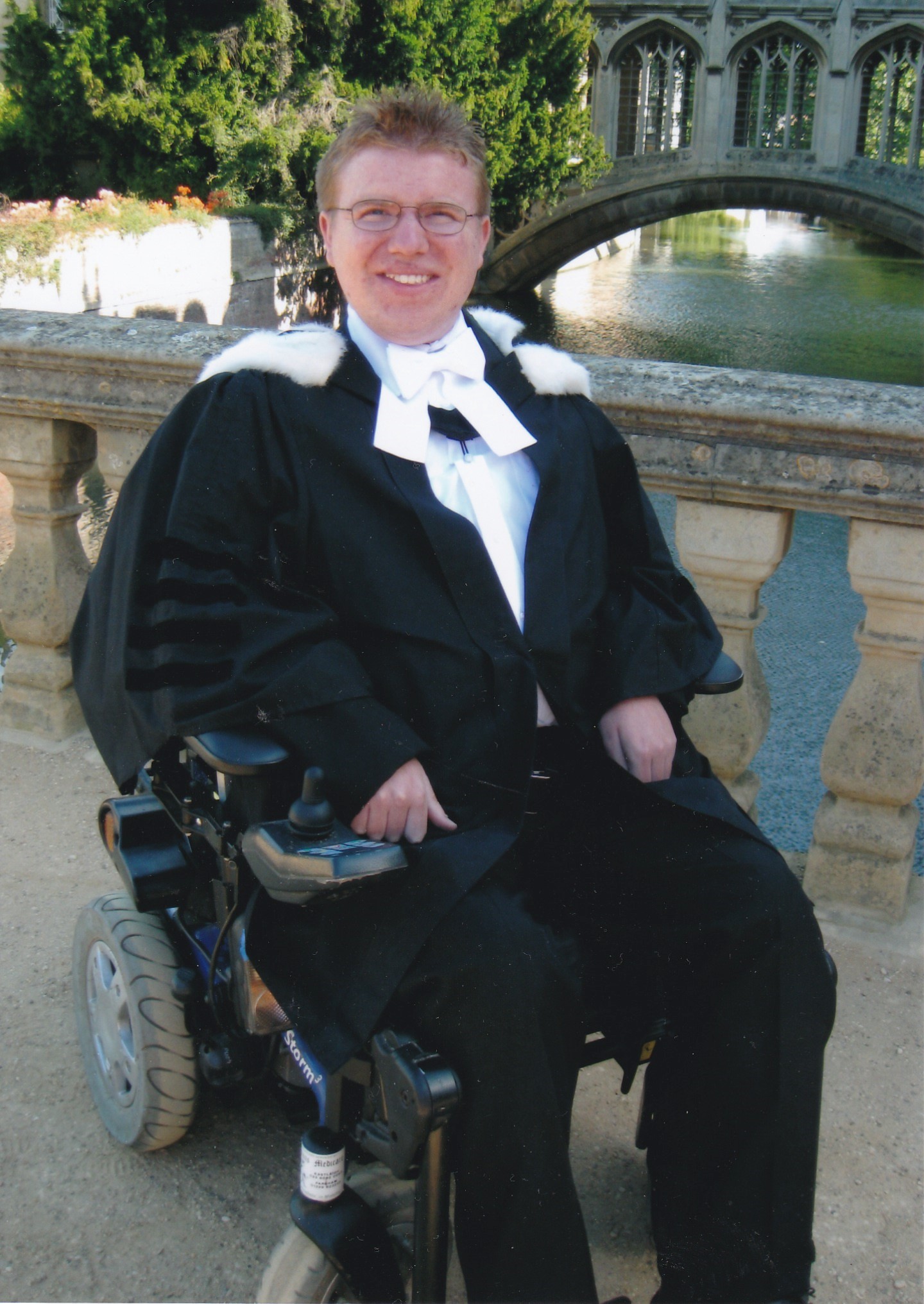 Jonathan said: "When I was diagnosed, there wasn't any medication available to slow the decline in muscle strength and mobility but steroids can now be prescribed that help a bit. It was traumatic when I was a teenager and I needed to start using a wheelchair but fortunately the majority of people at school didn't make an issue of it.
"My academic development was quite slow compared to the other children and I've never been any good at maths, which can be common. Some teachers thought my disability would hold me back more but living with this condition is about making the most of things. I was lucky that I could always lose myself in books and I would read encyclopedias for fun."
Despite undergoing a major operation on his spine during his A-levels, which left him in intensive care for 10 days, Jonathan still got straight As and secured his place at St John's to study Theology and Religious Studies.
"My mum encouraged me to apply and I was the first person in my family to go to Cambridge. Other disabled people need to know that having a disability does not mean that the doors of the world's top universities are closed to you – I have thrived at St John's."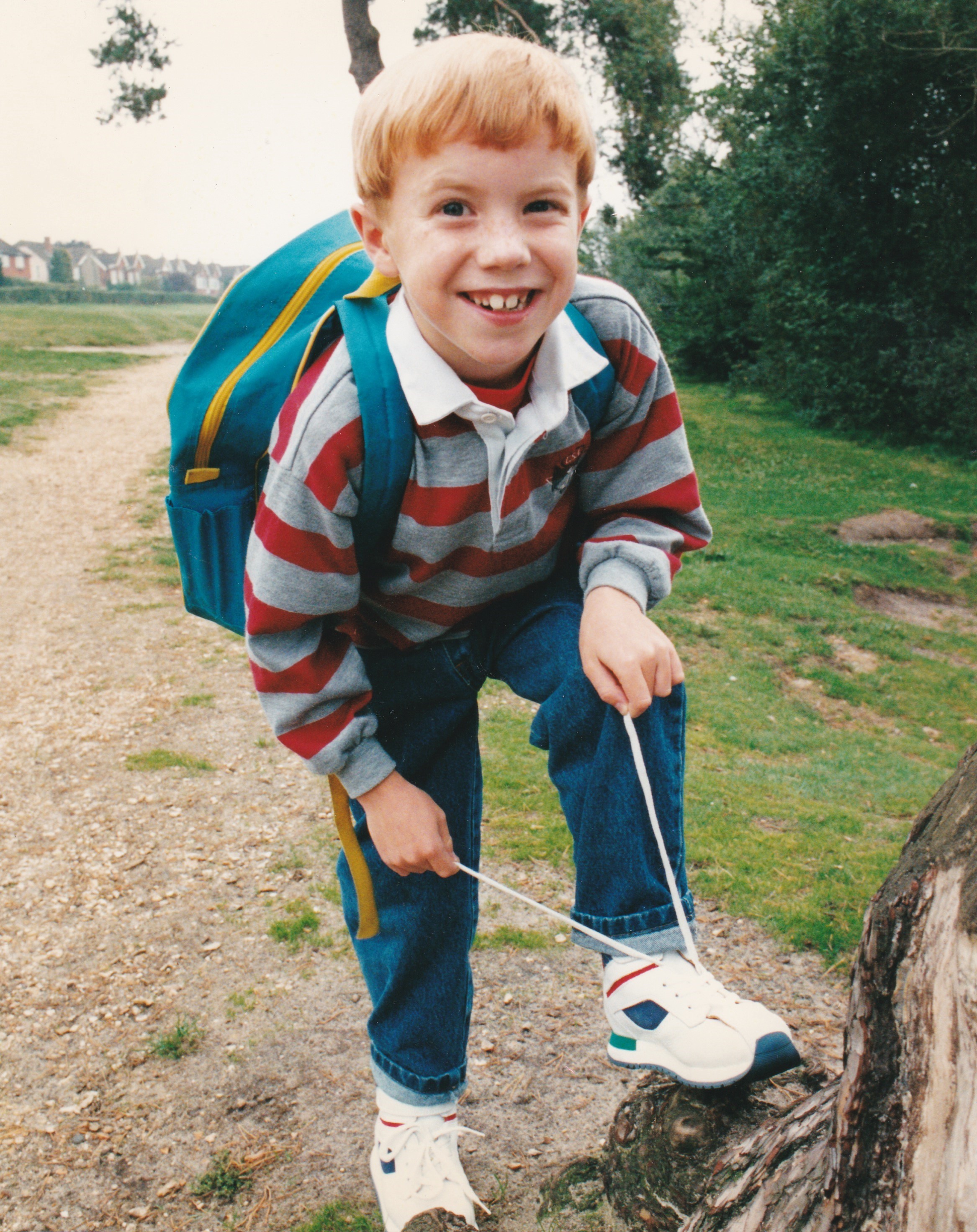 Now 33, Jonathan is speaking to me on Zoom from his family home in Hampshire, where he has been shielding with his parents, Brian and Angela, since March 2020. None of them have left the house, apart from for urgent hospital appointments, for a year because of the Covid-19 crisis. But the PhD student has a positive attitude towards the uncertainty of life in a pandemic and the resulting enforced isolation.
He explained: "I've known from a very young age how fragile life is and knew I couldn't let my condition hold me back. For the past year, the world has been catching up and realising that our time is limited and we have learn to be patient but also make the most of our lives when we can.
"I was in hospital recovering from pneumonia when the first news stories about Covid-19 began to be reported. I was immediately quite worried as any infection can kill me so I knew it wasn't something that I wanted to get. I only had a few weeks in Cambridge in 2020 after I got out of hospital before we decided that it would be a good idea to head home to my family. I can't take any chances and, although I live in a specially adapted College flat, there are communal areas that I share with other students so I can't be too careful."
"The pandemic is really horrible but I'm coping by not reading or watching the news too much"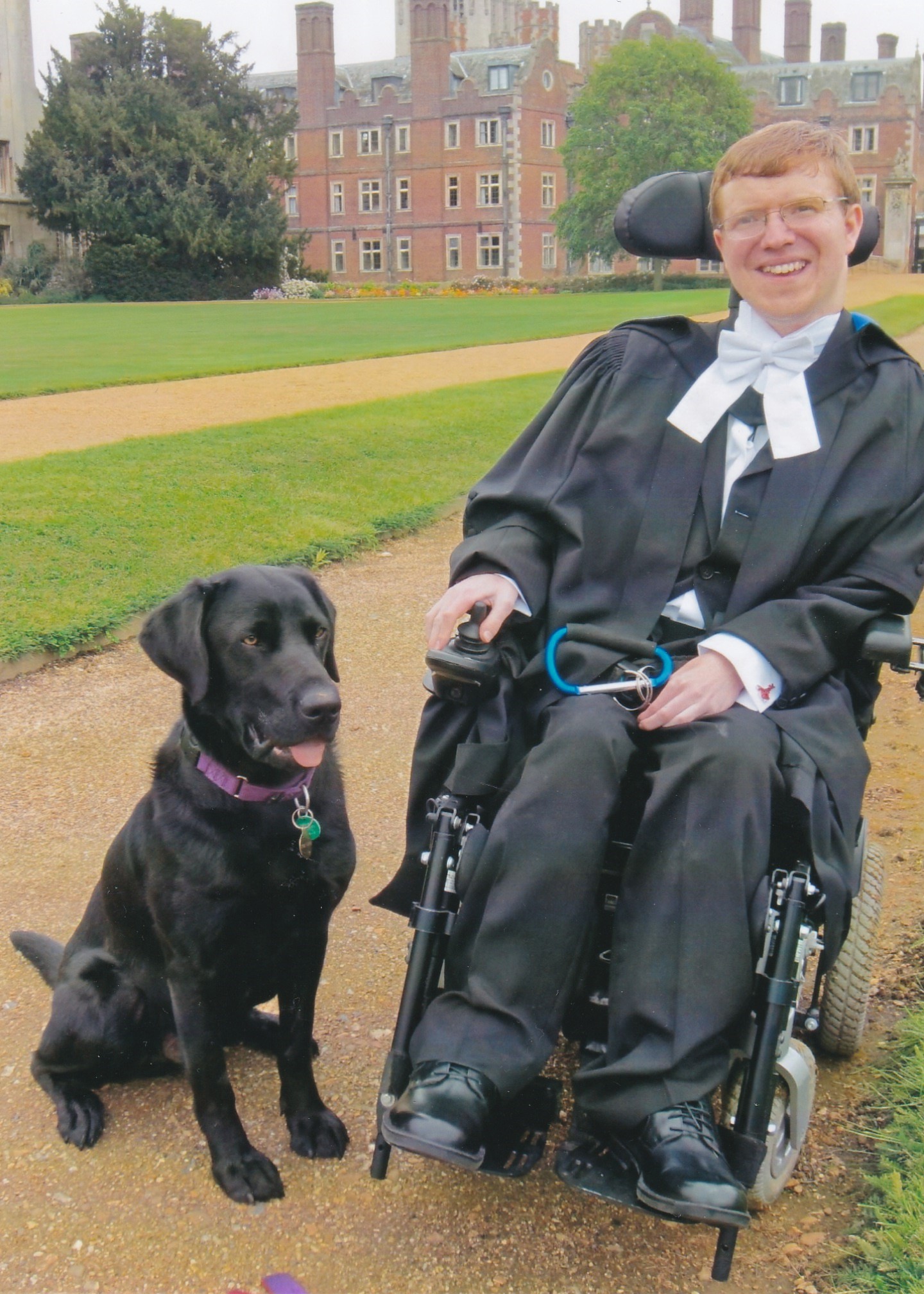 Jonathan, who now breathes with the help of a ventilator, has a team of carers who look after him around the clock. Their shift work has to be very carefully coordinated to make sure that they do not inadvertently bring the virus into Jonathan's home.
"Over the years I've been used to not going out to places that I want to go to when I haven't been feeling well, but it is weird that the entire world is now also stuck at home when they don't want to be. It is really horrible what is going on but I've been coping by not reading too much about it in the news so that I don't get overwhelmed – I very much recommend that! I've got a lot of things to be doing for my work which keeps me occupied and, like everyone, I am having a lot of Zoom chats."
Jonathan, who graduated with a First in his undergraduate degree and scooped University and College awards for his work, is now in the final stage of his PhD on inter-faith studies at St John's. His academic achievements and a fundraising campaign that he spearheaded, won him the Muscular Dystrophy Campaign's Young Person of the Year award for 2010/11.
"When I first came to Cambridge in 2005 I was a lot more independent than I am now and I could even go out at night with my friends to the College bar and into town to pubs and to nightclubs. In fact I'm sure Covid-19 probably started in one of them – they weren't very hygienic!"
Jonathan's grandfather died of Covid-19 in the first wave of the pandemic in the UK and he said it was a stark reminder of how quickly the virus spreads.
He said: "He was in a care home so we hadn't seen him and that has been the hardest thing for everyone, to be kept apart from our loved ones. I did see my two younger sisters and my young nephews in the garden during the summer when things seemed to improve but we had to have a quiet Christmas at home to protect me."
Jonathan, his parents and his team of carers, who wear full PPE, have now received the first vaccination – something the family pushed to happen as soon as possible. They continue to disinfect shopping and quarantine post to reduce the risk to Jonathan.
"Someone finally came to our house to vaccinate us at home and it was a huge relief for me and my family. Reports that vulnerable people should stay at home while everyone else gets on with their lives was very off-putting for someone in my position. It is also really rather silly – no one really knows who will be affected by Covid-19. We should all be in this together because no one from the outside can put a value on the lives of people like me."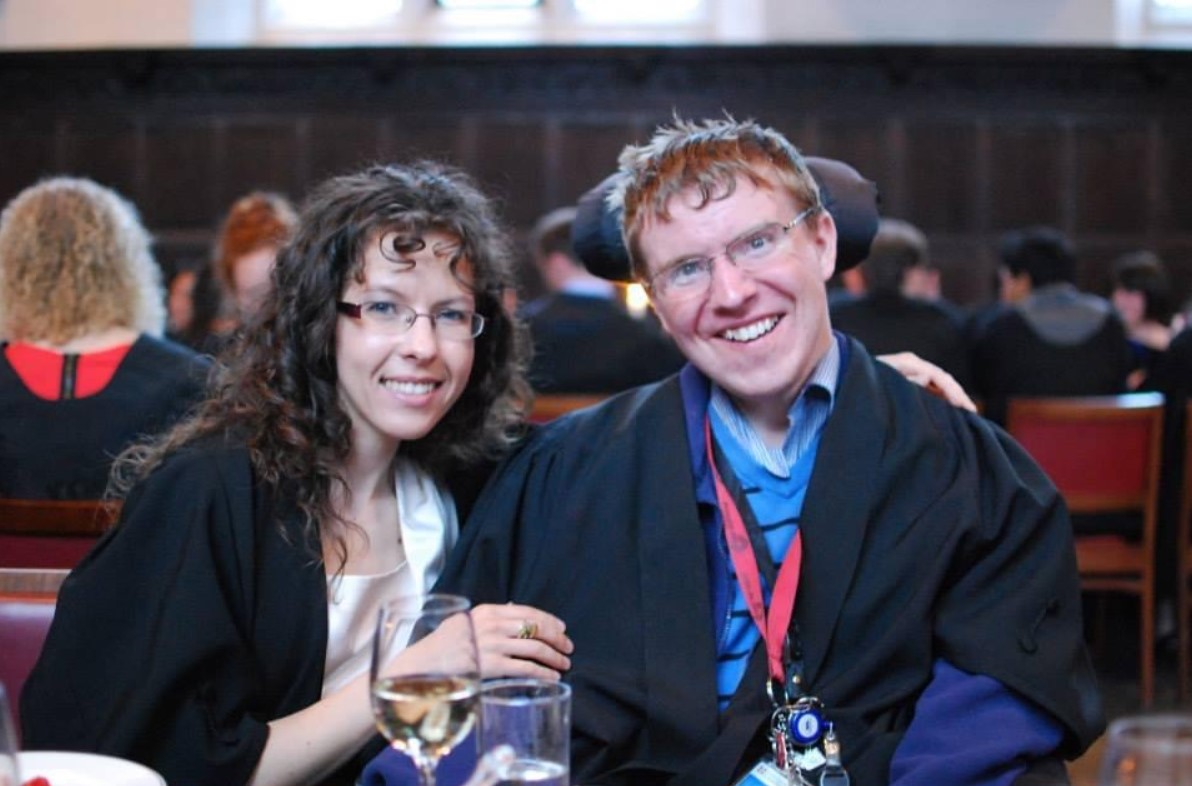 Jonathan misses St John's and the sense of community the College offers and, of course, the famous May Balls, but he isn't in a rush to return to Cambridge.
"I've been in Cambridge for a long time so I can't grumble too much about missing this period of time. I can't wait to go back to College but I'm going to be cautious for a while. Everyone at St John's really cares about the students. A lot has been done over the years to improve accessibility and the atmosphere is so special – I have always felt included and that I had a place and belonged. St John's has funded a typist and research assistant to help me to write up my PhD, I do a lot of it over Skype now of course and I'm nearly at the final editing stage."
Jonathan seems remarkably positive for someone who has faced great challenges for most of his life and is now housebound.
He explained: "I've learned to just get on with things. I found it hard when I had to stop eating because I couldn't swallow the food and it was dangerous. But I've also learned to live with danger in my life. I have even had to face my fear of needles to get the vaccination and if I can do that, anyone can."
*This article appears in the Lent Term 2021 edition of Eagle Eye.
Jonathan died on 15 April 2022. 
Published: 5/3/21 - updated 20 April 2022.