International online concert brings centuries-old Chinese music back to life

"This music could so easily have been lost forever. James Inman just happened to pick up a copy of this tiny flimsy pamphlet in Guangzhou, and gave it to his College Library"
Performers across the globe are uniting in an online concert to revive the melodies captured in a 250-year-old volume of Chinese music discovered in St John's College Old Library.
The special event features a 95-year-old grandmother from Guangzhou (aka Canton), where the now unique woodblock-printed book of 13 musical scores was created in 1770 – 34 years before finding its way to Cambridge in the hands of a St John's graduate.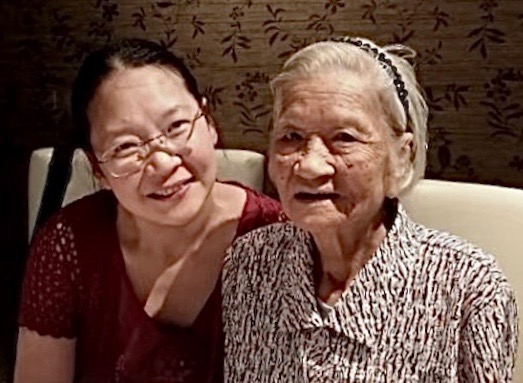 Entitled Xian Di Pipa Pu, which means Musical Scores for Chinese Flute and Lute, the book was discovered in the library by College Fellow Dr Joseph P. McDermott, now Emeritus Reader in Chinese History. In December 2013, he brought it to the attention of visiting scholar Dr Jian Yang, a musicologist. Dr Yang realised the book made use of a traditional Chinese system of notation known as gongche pu. Experts in China soon confirmed the volume was quite likely the only surviving copy.
Thanks to a grant from the College's Annual Fund, the book was made available for study in the University of Cambridge Digital Library and for the past five years an international team of scholars has been analysing and transcribing its content into Western musical scores, known as staff notation.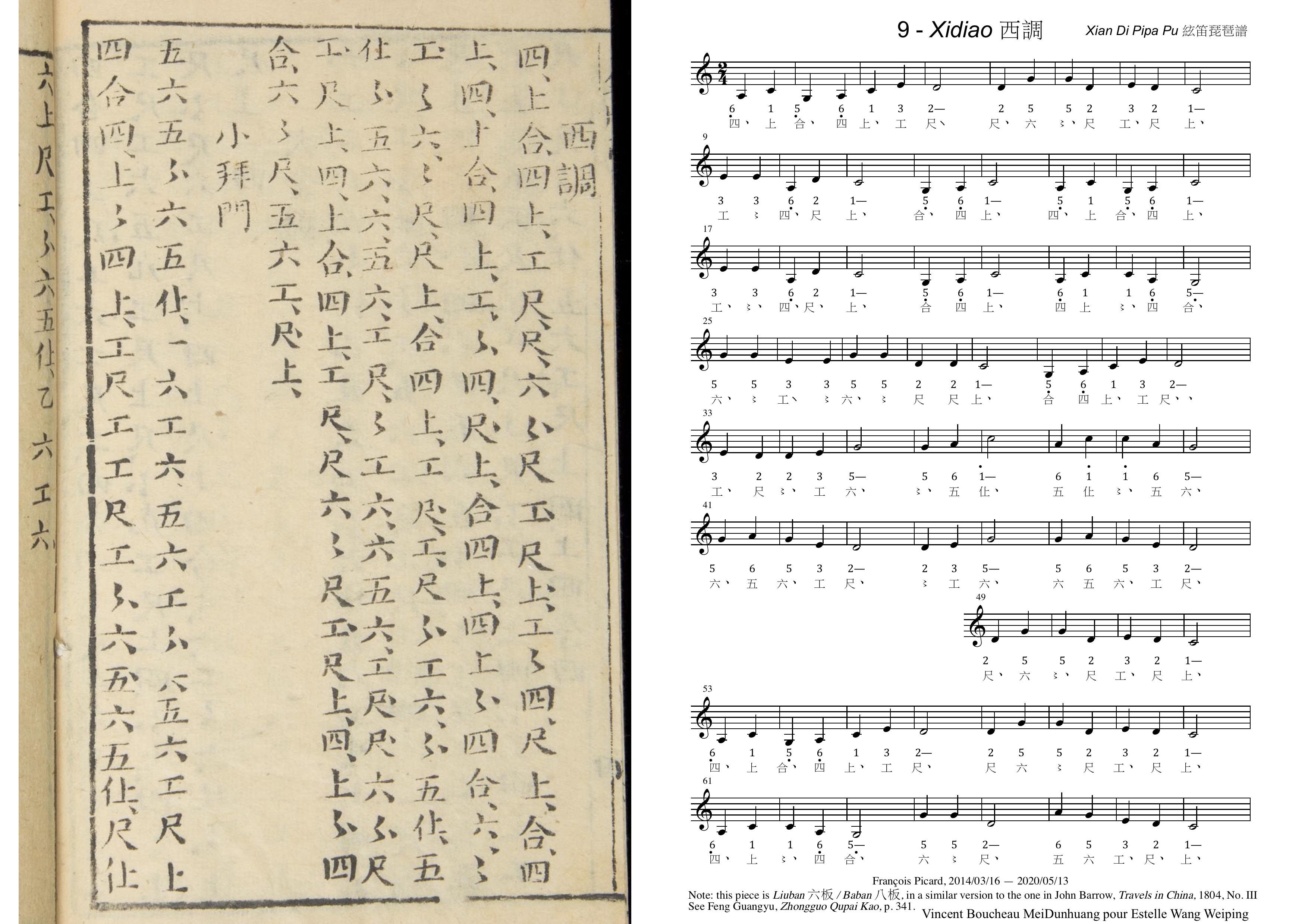 The transcription project was successfully completed last month and now, 250 years after it was printed, the music will be performed live in the modern-day world premiere taking place on Saturday 16 May 2020 (Sunday 17 May in the UK) on the Zoom online video platform.
Ethnomusicologist François Picard of the Sorbonne University, a leading authority on Chinese musical notations of the 18th century who led the project team, said: "In transcribing and researching this centuries-old material, my method and my objective have always remained linked to the idea that this work deserves to be published and that it was intended to be played."
Xian Di Pipa Pu was donated to the library by the Reverend James Inman (1776-1859), a mathematics graduate of St John's. He acquired it during a brief visit to Guangzhou in December 1803 on his way back to England from a Royal Navy voyage to the Antipodes. On route home, Inman's ship was caught up in the Napoleonic sea Battle of Pulo Aura. He survived to tell the tale and became a St John's Fellow in 1805.
St John's College Sub-Librarian and Special Collections Librarian Kathryn McKee said: "This music could so easily have been lost forever. James Inman just happened to pick up a copy of this tiny flimsy pamphlet in Guangzhou, and gave it to his College Library, where it stayed safe, but unrecognised for 200 years. It's thrilling that scholars and musicians from around the world have now been able to bring it to life."
The concert is being organised and directed by Gordon Lee, Artistic Director of the Aimusic School in San Jose, California, and presented by permission of the Master and Fellows of St John's College. 
The book's pieces will be played by 17 performers from the US, France and the UK on 13 different Chinese instruments. Among the guest performers are Prof Picard and David Badagnani, who is an ethnomusicologist and Director of the Cleveland Chinese Music Ensemble in Ohio and was also involved in the research, and Zi Lan Liao, Artistic Director of Pagoda Arts and the Pagoda Chinese Youth Orchestra of Liverpool, UK, and an internationally-renowned musician.
A vocal finale performed by Ms Liao will feature her grandmother Wei Qun (韦群), who was born in 1925 in Guangzhou and still lives there. She will be singing the words to The Little Rooster, a famous Cantonese children's song or lullaby whose melody appears in Xian Di Pipa Pu. 
The pair will be joined by Ms Liao's sons, Charlie and John Wardle, on the erhu and yangqin in a pre-recorded video production by her husband, the noted UK dub musician Jah Wobble, original bass player in the band Public Image Ltd. Mr Badagnani said: "Their performance will integrate Ms Liao's grandmother for a cross-generational finale to the concert, which will feature some surprises."
Ms Liao said it was her grandmother who remembered the words to the song from her own childhood. "I am amazed to have the chance to sing this lullaby again. When we sing these nursery rhythms, we don't really think about their history. I couldn't believe that it was my grandma who came up trumps with the lyrics. With the help from my family, we bring this 250-year-old song to a modern dub version."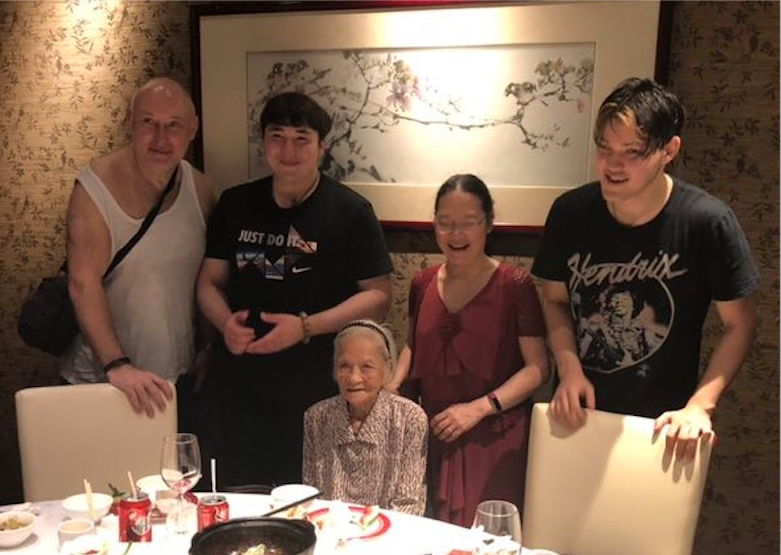 Well-known musicians in Guangzhou have now expressed interest in holding their own concert featuring pieces from the St John's book. "That brings things full circle," said Mr Badagnani. "It's a really good feeling. St John's College Library's policy to allow scholars access to these materials allowed all this to happen, and hopefully this is just the beginning, with many more similar concerts to take place around the world across 2020 and beyond."
The concert takes place 5pm Pacific Time on 16 May 2020 (1am on Sunday 17 May, UK time). Admission is free, though space is limited, and prior registration is required by emailing admin@aimusic.us.
Published: 15/05/20
19/05/20 update: Videos from the concert playlist are now available to watch on YouTube.
Zi Lan Liao's family performances from the concert, including Little Rooster, produced by her husband, Jah Wobble: